Everyone deserves some TLC, be it from your man, your best pal…or the expert healing hands of the masseuse at Nurture Spa Village Tagaytay. If you have yet to plan your Valentine or post-Valentine getaway, and you're checking out Tagaytay restaurants or Tagaytay hotels, then we suggest you give Nurture Spa a shot…if you haven't yet.

Nurture Spa "virgins" are in for a treat. This wellness spa has been around since 2002, and it's a popular destination for couples seeking to relax and be pampered together (and spend a few hours or a night or two) in a quiet, scenic spot. It's also perfect for super busy women who also know how to take a break the best possible way—by treating themselves to the best pampering session ever.

Nurture Spa offers various packages like Pampering, Romance, and Well-Being, which allow you to stay from half a day to a longer period of time, depending on your need. These packages include food, spa and wellness treatments, and accommodations. Everyone there is so nice, and their treatment of you so caring, you would really feel the love—yes, whether you're single or coupled up.

Check out our roundup of services you simply have to try in Nurture Spa Village Tagaytay, whether you'll visit with your man or with your girlfriends, for a blissful experience of healing and pampering at its best this season.

Where To Go

Nurture Spa Village Tagaytay is located at Pulong Sagingan, Barangay Maitim II West Tagaytay City, Philippines. For reservations or inquiries, you may call them through 0918-8888 SPA; 0920-950-5724; 0922-898-8654; (02) 584-4228; or (046) 483-0805. You may also email them at info@nurture.com.ph. Visit their website at http://www.nurture.com.ph.

How To Get There: From Tagaytay Rotonda, go straight ahead, going to Batangas. Your landmark is a group of restaurants (Starbucks, Leslie's, Dencio's, and Carlo's Pizza); right across is Magallanes Square (where Figaro and Mocha Blends are). Turn right and follow the signs leading to Nurture Spa.

Operating Hours: Weekdays (Sunday to Thursday), 9AM to 8PM (last call is 7PM); Weekends (Friday to Saturday), 8AM to 10PM (last call is 9PM).

Couple Treatment

One of the best ways to enjoy Valentine's Day with your man is to get a pampering treatment together. A massage is one thing you both would enjoy, so why don't you just go ahead and try Nurture Spa's famous Magsing-Irog Couple Massage (P2,800 for two people). This one hour intimate massage for two makes use of a sultry, seductive blend of sandalwood, ylang-ylang, and lavender essential oils, used by lovers through history to ignite passion. The treatment would be in a romantic couple's room, where you can first share a bath in the tub together.

You and your man will definitely enjoy the massage, as not only does it leave a relaxing, aromatic scent that would turn you both on, they are able to knead your tense muscles effectively, too. The treatment is so relaxing, you could actually fall asleep during the massage. However, you know you won't be able to resist getting some action once you're alone in your cozy room after a whiff of their aphrodisiac concoction.

You can get the massage as part of a package, so you can enjoy the newly renovated modern deluxe overnight accommodations at Nurture Spa, with a choice of forest view rooms or garden view rooms. The more adventurous guests can cocoon themselves in authentic hundred-year-old ulogs or native Igorot huts imported from the World Heritage Site Banawe Rice Terraces, for a one-of-a-kind overnight Filipino experience.

If you and your man have cash to spare, try their Romantiko package (P11,500, good for two persons), which includes overnight accommodation in an air-conditioned premium room with breakfast, lunch, and romantic dinner setup, plus the Magsing-Irog massage and Dilag facial or foot massage for two.

On a budget? If you're game to try one of their Ifugao huts, get the Ulayaw package, which is more affordable at P8,000, already good for two persons, and includes overnight accommodation at an Ifugao hut, full set lunch or dinner and breakfast for two, plus soothing full-body massage and Dilag facial or foot massage. You can also enjoy a half-day stay (four hours) in one of the Ifugao huts with the Magkasintahan package (P7,500, good for two persons), which includes a full-body massage for two, followed by Dilag facial or foot massage, with full set meal and snacks for two persons.

The Verdict: It's one of the most romantic, pampering experiences you can ever have with your guy, and with Nurture Spa's lush gardens, breathtaking landscape, and various cozy nooks, it would feel like your private paradise (yes, you really wouldn't see that many people around, even on days when they're fully booked).

Speaking of fully booked, they definitely would be on Valentine's week, so we suggest that you make a reservation NOW or opt to spend a post- or pre-Valentine getaway instead.

Single Pampering

If you're going to Nurture Spa for the first time, whether on your own or with your girlfriends who are also on a mission to pamper and prettify with or without a date on Valentine's, you may want to try getting their signature facial, the Mutya Natural Facial (P1,100), and Algotherm Balneotherapy (P2,500) treatment for your body.

The one-hour Mutya facial is a refreshing, all-natural treatment packed with Vitamins A and C, and natural antioxidants in honey, almond, yoghurt, and cucumber—which will all be layered on your face in a yummy-smelling concoction you'll have to try very hard not to lick off! It leaves your skin feeling clean, invigorated, super soft, and smooth, you can't help but touch it and marvel at how glowing you look! You can definitely go without makeup for a day!

If you're stressed, tired, and feel like your skin is drying (or maybe you're just missing the ocean, but you can't afford to go on a long beach vacation just yet), the one-hour Balneotherapy is a truly refreshing choice (just inform your therapist if you have sensitive skin, as your skin might react to the treatment). It's a heavenly combination of a fresh-smelling body scrub complete with a 15-minute bath soak treatment. It uses Algotherm Seaweed Salts combined with Laminaria seaweed, which provide you all the goodness of a real sea bath that keeps your skin healthy and beautiful. You can choose between a Seaweed Salt Bath or a Slimming Seaweed Non-Foaming Bath.

The Verdict: With the head-to-toe pampering you'll get, from your facial to your refreshing and soothing soak, who cares about being single? With the expert care of Nurture Spa's therapist, the wonderful results the treatments have on your skin, and the luxurious experience of soaking in a tub filled with gifts from the sea, you'll return to the city with beautiful, glowing skin, and a stress-relieved spirit.

Go to the next page for another lovely treatment in Nurture Spa that combines beauty and wellness.
[nextpage]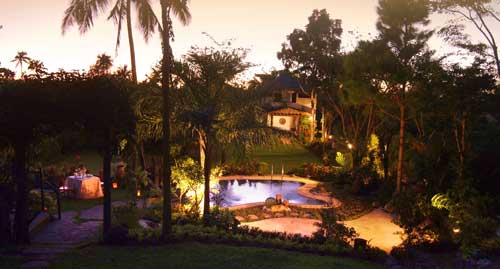 Combining Beauty And Wellness

Nurture Spa Village Tagaytay offers a new way of getting pampered and pretty, inside and out, with the use of natural methods and the lasting effects of a healthy lifestyle. They collaborated with renowned alternative medicine advocate, Dr. Sam Dizon, MD, Medical Director of the Institute of Natural Healing, for a full range of wellness programs called Joyful Health Programs, which are designed specifically for health enhancement.

Last year, we told you about their treatment that helps fight stress, called Stress Buster. This time, to get you pretty in time for Valentine's Day (yes, you need to be pretty, date or no date), we tried their Glowing Beauty Package (P14,500 for a minimum of two days and one night). Look your ravishing best after going through this program, which includes a Biodroga Golden Caviar Facial, Algotherm Detoxifying Body Scrub, a full body massage, and acupuncture treatments, which we shall detail in the next paragraphs.

Before the treatment, you'll first go through the DMS or Digital Meridian Scanner, a computerized checkup for overall screening to monitor symptoms of illness in its early stage. It is the only clinically-based internet health check system of its kind today, which produces, in less than 20 minutes, a quantified data based on human energy. It is proven to be 80 to 90% accurate, and is absolutely safe, non-intrusive, and non-invasive.

Then you can enjoy the one-hour Biodroga Golden Caviar Facial (P1,600 if you get it a la carte), which is one of the most luxurious and powerfully caring treatments you could ever get for your skin. This extra portion of luxury (imagine: caviar on skin!) pampers your skin superbly, as precious caviar extracts and essential vitamins in this treatment soak deep into your skin, nourishing and rejuvenating it, for consummate care.

After the facial, you would be treated to the Algotherm Detoxifying Body Scrub (P2,200 if you get it a la carte), which lasts for 11/2 hours. The treatment uses a scrub rich in minerals from Laminaria, Spirulina, and Lithothamnium seaweeds, which remove impurities and leave the skin all over your body clean, remineralized (yes, you do need those minerals!), soft, and regenerated. You'll feel "brand new" after the treatment!

After you get the wonderful full-body massage from Nurture Spa's trained masseuse (you can choose from Swedish, Shiatsu, Lymphatic Drainage, Accupressure, and the traditional Hilot massage), you'll be subjected to acupuncture, which is based on the oriental approach of treating diseases through stimulation of acupuncture points and unlocking energy channels.

The Verdict: The price may be steep, but with the kind of pampering you'll get (which also includes Qi breaking exercises in the morning, lifestyle counseling from their wellness experts, and a lovely air-conditioned room to stay in), it's totally worth it! After all your hard work and the accompanying drama you have to put up with at work or in your personal life, you totally deserve this treat!
Continue reading below ↓
Recommended Videos
913