Aching to climb a mountain solo or with your Friday night friends? Try hiking the beautiful Mt. Pinatubo caldera, and marvel at its scenic, straight-out-of-a-movie-set landscape for an adventure to remember.
More than a decade ago, this magnificent volcano stood at 1,745 meters above sea level near the Philippine provinces of Zambales, Tarlac, and Pampanga. But after the catastrophic eruption in 1991, Mt. Pinatubo's cone ceased to exist (most of it was blasted away along with a significant amount of ash), and the volcano's crater became  the beautiful lake we admire today.
We trekked to the site to check it out, and we're sharing our adventures with you! Before browsing through the gallery, check out these tips on planning your trip:
Start early, like at 2am (no kidding).
You can book a day trip with a tour outfit like Trail Adventours which specializes in mountain destinations for a hassle-free trip. A day trip to Mt. Pinatubo inclusive of transportation, government fees, and a tour guide will set you back by P2,400. Start your day early and leave Manila at 2:30 am or opt for a DIY trip and hop on a Philippine Rabbit bus for P207 one-way (buses leave every 30 minutes starting 7 am), and get dropped off at the Capas, Tarlac station.
Continue reading below ↓
Recommended Videos
Wear comfy sneakers, 'cos you'll do a lot of walking.
Head to Barangay Sta. Juliana, and begin your journey to Mt. Pinatubo on board a badass 4x4 jeep (P3,500 for 4 persons). Prepare for a 45-minute ride across a desert of ash and volcanic debris, while taking in the gorgeous sunrise.  Once you alight in the middle of the savannah, take pictures of the arid land, bordered on both sides by a mountain range of centuries-old ash.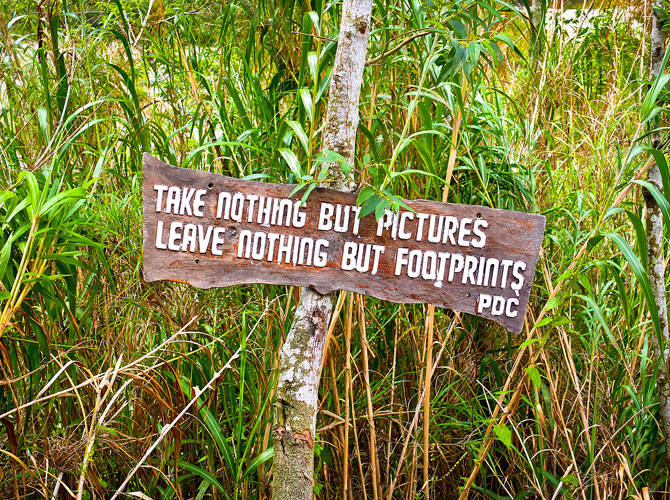 Pack lightly—you don't want to lug around stuff.
Start your trek at the jump-off point 7 kilometers from the Mt. Pinatubo caldera. Pack only the barest necessities to make your journey light and easy. Pass through the bottom of a canyon—made of hardened layers of ash—and marvel at the continuously eroding gorge and the steadily flowing river that carve out the face of the mountain. It's easy to let your mind wander as you traverse the slopes of Mt. Pinatubo, with the surroundings looking like the set of Lord of the Rings or some sci-fi flick.
Check the weather beforehand to maximize the trip!
As you get closer to the crater lake, the scenery changes from barren to lush, and you'll find yourself skipping from one moss-covered rock to another, into the thicket and out into the clearing at the top of the crater. Pause for a while as you come face to face with the out-of-this-world beauty of the Crater Lake, which used to be the belly of the volcano that has now been reduced to a 2.5-kilometer caldera. The lake is said to change color depending on the weather (and some marine plant life), so make sure you head out on a cloudless day to see its aquamarine waters.
Swimming is now prohibited, but you can take a boat ride.
Have a picnic in one of the cabanas that litter the crater area, or sit by the beach while snacking on homemade goodies you brought. Although swimming is now strictly prohibited because of the depth of the Crater Lake, you can try a short boat ride. You can also extend your stay on the crater by renting a tent (P100) and staying overnight.
It'll be a long way back, so brace yourself!
Pack up and trudge back the way you came, climbing man-made stone stairways and splashing through natural springs. After another bumpy ride on the 4X4, rest up and soak the stress away in a volcanic mud bath (P500) at the Mount Pinatubo Spa. You can avail of the massage (P500) and the volcanic ash spa (P500) along with a the mud soak for just P1,000 to get completely detoxified and relaxed after a long day.
To book a tour visit trailadventours.com or call them at 09175827517 for tour dates and details.

Mt. Pinatubo Spa is located on the same street as the Capas tourism office and 4X4 jeep terminal.
View the gallery for scenic snapshots of our trip!
2459