In celebration of Independence Day today, June 12, Cebu Pacific is bringing back the Piso Fare, which offers flights to your dream destinations for as low as one peso. From June 12 to 14, domestic and international routes are on sale for the travel period of August 1, 2019 to March 31, 2020.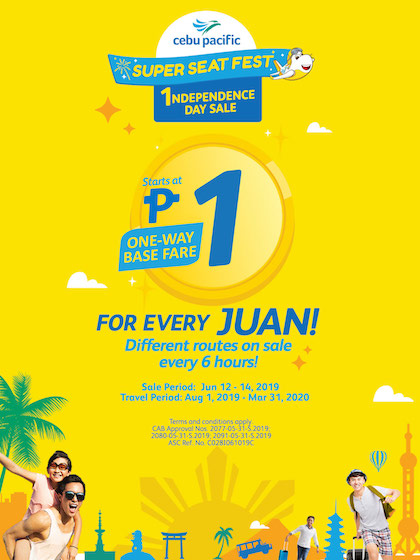 To help you zone in on your destination of choice, there will be specific routes on sale during the first two days. 
June 12 and June 13:
12 a.m. to 6 a.m.: Manila to Philippine destinations
6:01 a.m. to 12 p.m.: Manila/Clark/Cebu/Iloilo to Japan, China (includes the new Manila to Shenzhen route), Hong Kong, Macau, Taiwan, South Korea
12:01 p.m. to 6 p.m.: Clark/Cebu/Davao/Iloilo/Cagayan de Oro/Zamboanga to Philippine destinations
6:01 p.m. to 11:59 p.m.: Manila/Cebu/Clark/Iloilo/Davao to Singapore, Kuala Lumpur, Kota Kinabalu, Jakarta, Bali, Bangkok, Hanoi, Ho Chi Minh, Siem Reap, Brunei, Dubai, Sydney, Melbourne, Guam
Continue reading below ↓
Recommended Videos
On June 14, all the remaining seats on sale will be up for grabs all day. You can start booking flights via Cebu Pacific Air.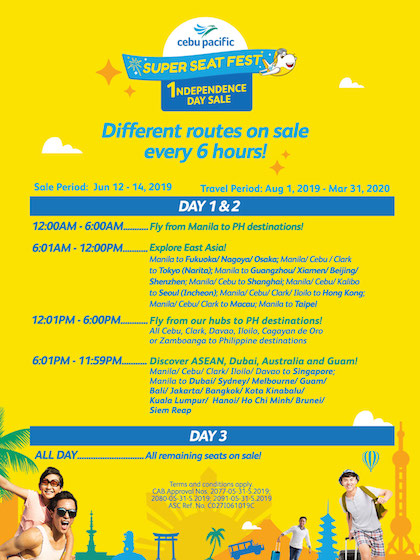 Follow Dyan on Instagram.