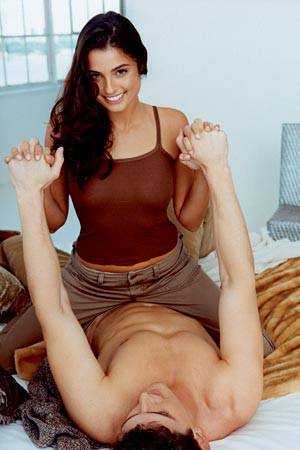 1. Whip Off His Belt

Show him who's in charge with a flick of your wrist. Instead of just unbuckling his belt, grab the buckle and pull it fiercely from the loops. Then, add a little flourish by snapping it like a whip before tossing it aside. "Guys often feel like they have to take control and initiate sex, and it can be a lot of pressure," says Ian Kerner, PhD, author of She Comes First. "So, when a woman takes charge and gets slightly aggressive, it's instantly arousing."

2. Tease Him With His Tee

Bet you didn't know his plain old tee shirt could be turned into something sexy to bind him with. Read and learn: Without letting him take his arms out of the shirt, grab the bottom of the front of his tee, pull it over his head, and slide it halfway down his arms (so they are behind him). That way, his chest and face are exposed, and his arms (still in the shirt) are stretched behind his back. "Before removing anything else, trail kisses from his neck to his lower stomach," says Candida Royalle, author of How to Tell a Naked Man What to Do. "With this move, you force him to do nothing but enjoy the sensations."

3. Sneakily Slide Off His Pants

Grab your shirtless man by the back of the neck, pull him down onto the bed with you, and treat him to a kiss with lots of tongue. As you're making out, slyly unbutton his pants, and push them down as far as you can with your hands. Then, bend one leg, hook your foot over his waistband, and slide your leg down his lower body, dragging his pants down with it. "He'll be so distracted with the passionate kiss that he won't even realize what you've done," says Royalle. "When you pull back and he realizes he's almost naked, he'll be completely taken aback by your skills and think of you as a total sex goddess."

4. Say Bye-Bye To His Boxer Briefs

Last but not least, wow him with a trick that takes removing his boxers from standard to smokin'. Let him watch as you slip off your own shirt, then circle behind him and press your bare breasts against his back. Reach around to the front of him, and trail your fingers down his chest until you reach his boxers. Slide them down, keeping your chest against him so it grazes over his back, bum, and upper thighs. "Guys love the feel of your breasts against their body," says Kerner. "And the combo of feeling you against him and freeing his erection from his boxers will excite him all the more."