Vianka Amurao and Coby Sarreal are both free-spirited, spontaneous, and adventurous, so it seemed ironic that the couple's greatest adventure yet would be forced to start indoors. Nevertheless, despite the COVID-19 pandemic putting a hamper on their supposed Sagada wedding this November, the two didn't let the current situation cripple their plans of saying "I do." After all, every day's an adventure when you're with the right person.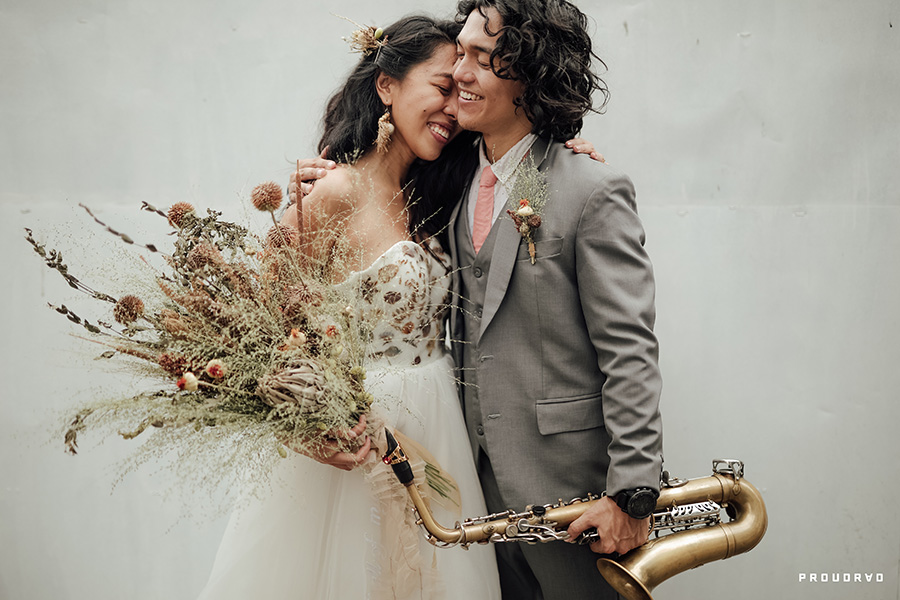 ADVERTISMENT - CONTINUE READING BELOW ↓
In lieu of their out of town nuptials, Vianka and Coby orchestrated a stay at home wedding instead, gathering their closest family and friends through a Zoom video call. "Living together during quarantine, we've been catching up with friends through the Zoom app and that sparked the idea of holding a Zoom wedding," Vianka tells Preview. "Always choosing love in any circumstance, we decided to go for it and to gather our loved ones to witness and celebrate with us, as soon as possible within our resources."
Below, Vianka talks to Preview about how they organized their virtual wedding.
ADVERTISMENT - CONTINUE READING BELOW ↓
Recommended Videos
Why did you decide to push through with your wedding and what gave you the idea to host it on Zoom?
"The lockdown happened and we both agreed that given the circumstances, holding a Sagada wedding won't be 100 percent safe for our guests even later this year. It would defeat the purpose of gathering all our loved ones to witness our special day."
"The same spontaneity brought us to the idea of a Stay Home Wedding. The theme was #LetsMakeItHappyn: We can make love and happiness happen, in every situation which we believe is something that goes beyond our wedding."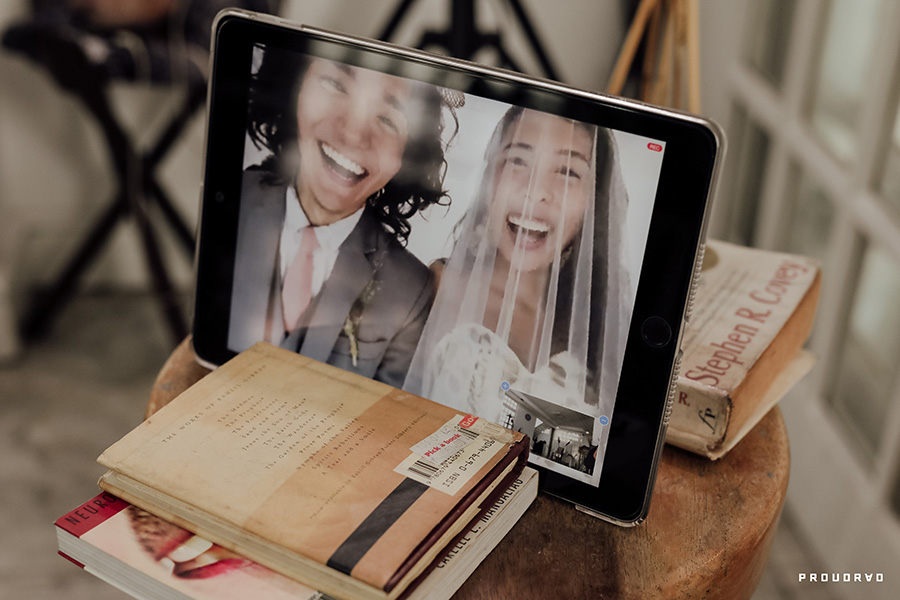 ADVERTISMENT - CONTINUE READING BELOW ↓
How did your family and friends react to it?
"The event is like a ray of sunlight and a breath of fresh air, so our guests were all looking forward to dressing up and attending too! One of our ninangs said that it's a beautiful reflection of our personalities—spontaneous, lightness of being, and creative."
Could you take us through how the ceremony progressed?
"As a wardrobe stylist working in the production industry, I am used to preparing necessary logistics in a short period of time. We made it happen by reaching out to nearby friends and suppliers I have worked with. Everything was coordinated online and delivered via Lalamove or Grab."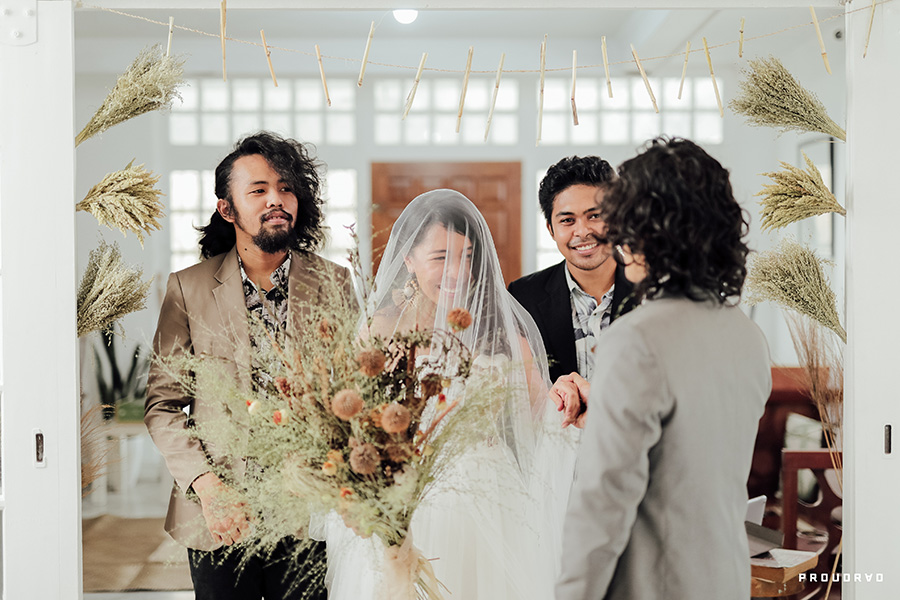 ADVERTISMENT - CONTINUE READING BELOW ↓
"We had online meetings with our friend Carlo Suamaoang, who is our officiant and master of ceremonies, and my bridesmaid Keina Sabay, who became our Zoom Event Director. We scheduled a tech run with the guests the day before, and had the kids'  parents who will 'virtually' march as entourage rehearse with us via Zoom."
"The wedding day started with us doing the styling in our home, adding dried flowers to accentuate the space. Then I had the usual bridal preparations in our room. I am lucky that my bridesmaid Janina Saspa of Heleyna Bridal was able to send me a beautiful wedding gown from her available collection. The flowers are preserved in the bodice and love letters were embroidered to the skirt."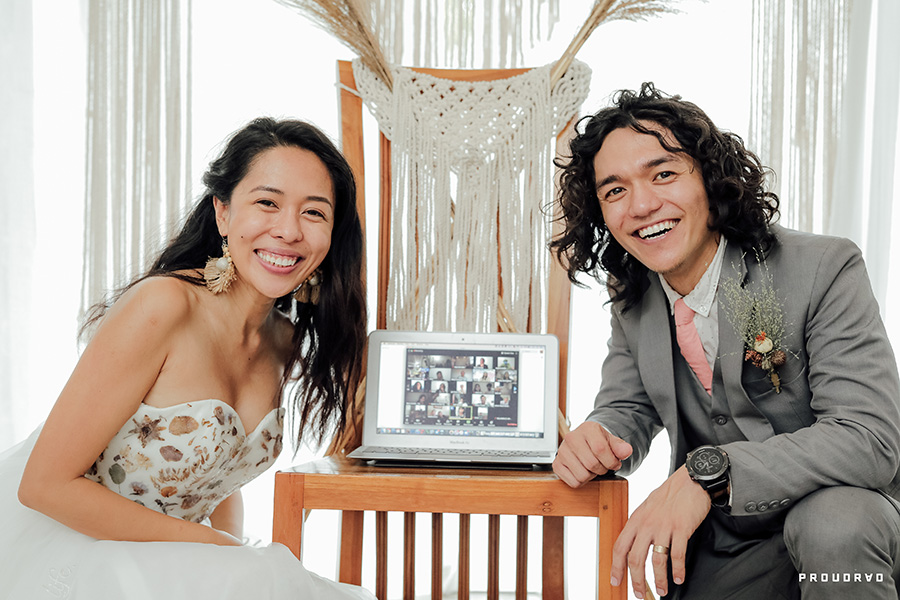 ADVERTISMENT - CONTINUE READING BELOW ↓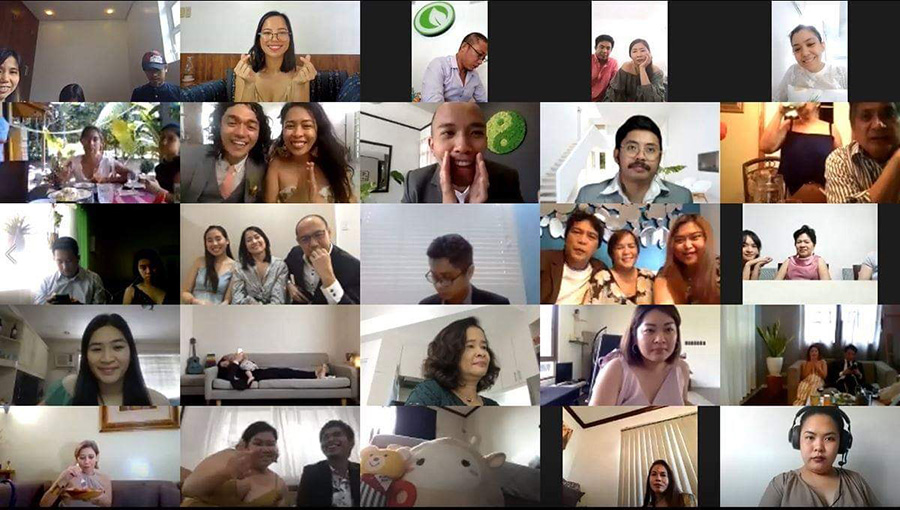 Did you face any problems?
"For the attendance, my sister was stuck in Laguna during the lockdown so she wasn't able to go back to Manila. It was my two brothers who are in the house who [were] able to attend. Coby's parents also wanted to attend physically, but we advised them to just watch us via Zoom for safety, and we will celebrate once it is allowed. For the bouquet, there's a limited source of flowers so we shifted to dried flowers that were gifted by a friend."
ADVERTISMENT - CONTINUE READING BELOW ↓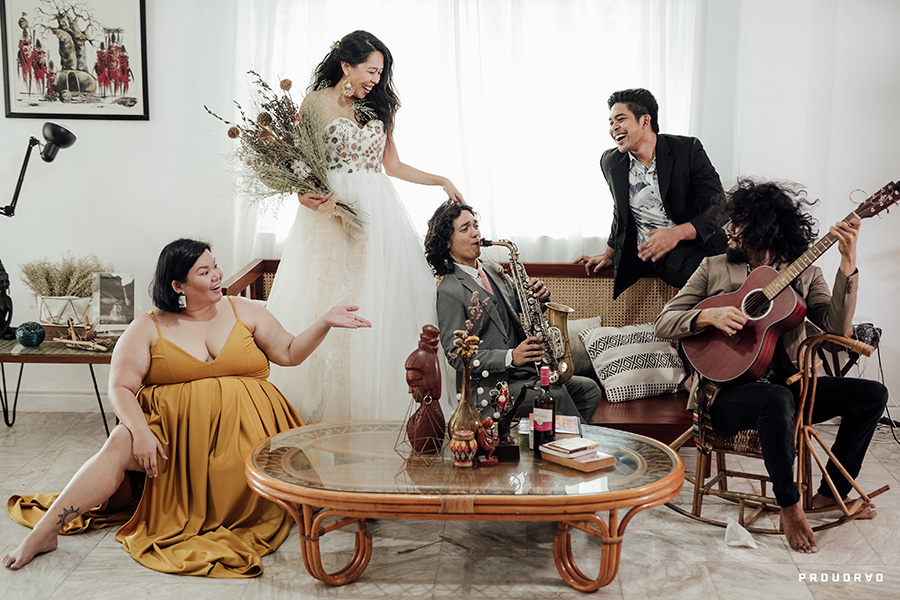 Any more wedding plans for after the lockdown? 
"Given the preparation, ceremony, and the program, we considered this recent wedding in our house as 'grand.' We still wish to physically celebrate with our families and friends when the situation allows, but in simpler gatherings. We are looking forward to having our civil wedding right after the quarantine has been lifted."
ADVERTISMENT - CONTINUE READING BELOW ↓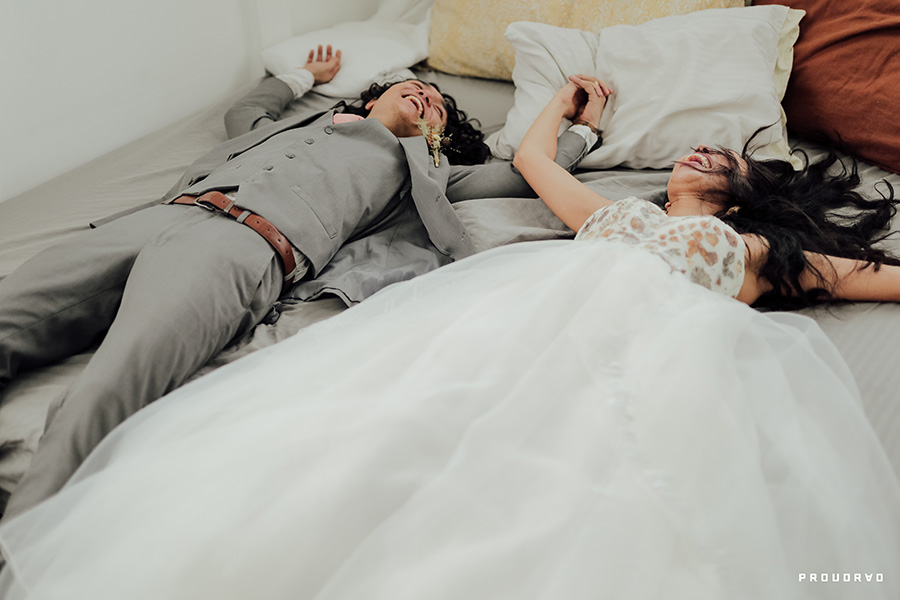 Any advice for other engaged couples right now?
"Even if plans seem to be perfect, there are things that we cannot control. Go back to that one thing that bound you as a couple. We focused and stayed in love. Look beyond the event itself and focus on the bigger picture—your marriage life and the people, even a few of them, you want to share it with."
ADVERTISMENT - CONTINUE READING BELOW ↓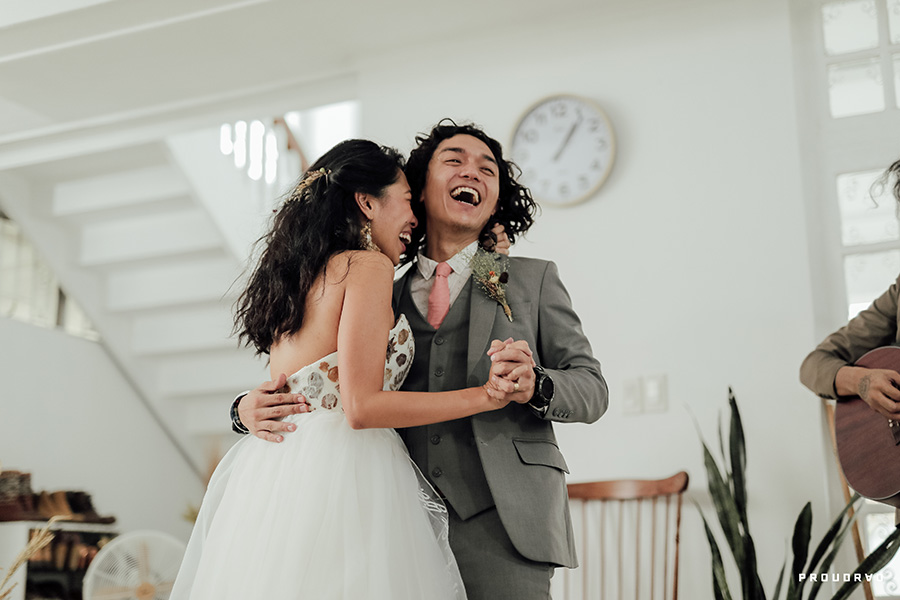 EXPLORE COSMO