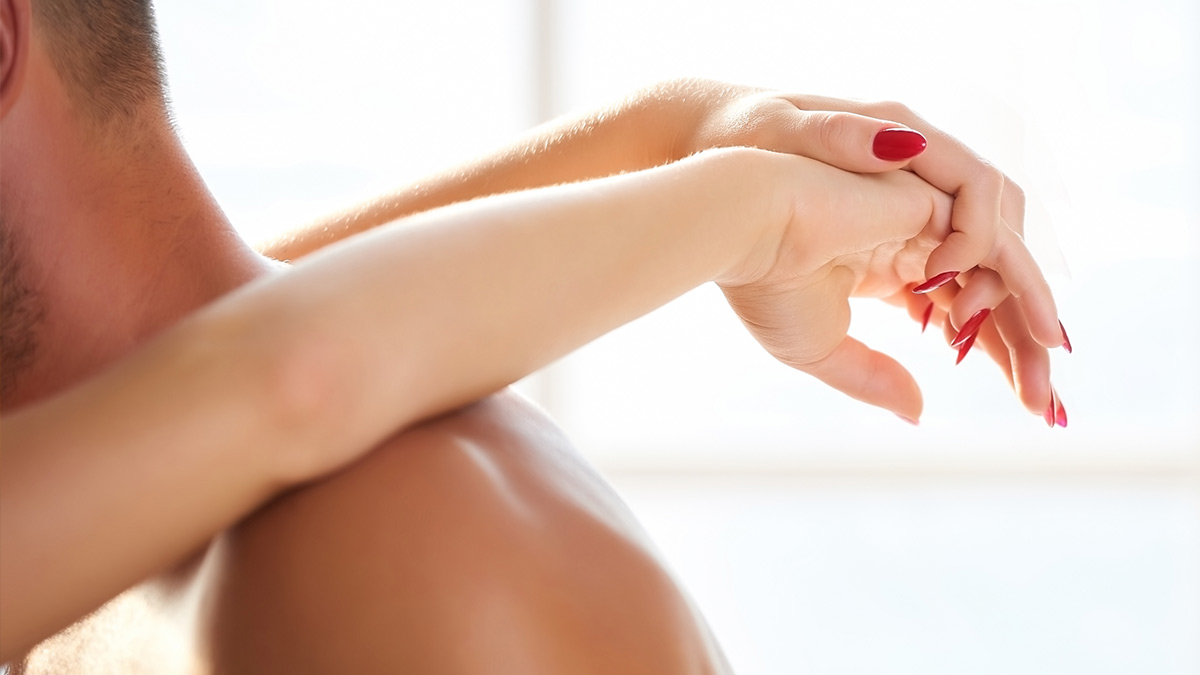 One night stands are a gamble: A great one is a memorable flash-in-the-night (and extremely good gossip fodder among friends), but a bad one is a complete waste of time and valuable sleep. And without a real Human Connection to bind them to your memory, mediocre one night stands fall into the deep pit of forgotten things that you remember only occasionally, when something else reminds you of them. Or when the guy you hooked up with shows up as a "person you may know" on Facebook a few weeks later.
Here, 10 guys recall the one night stands they'll never forget.
"I had a one night stand that I still think about, for sure. We met when I was in Brussels, and the whole thing felt like it was out of an art house film. We had this amazing connection, but she knew I was going to be leaving the next day. We walked around, she basically took me to a few taverns, and we had amazing sex. I still think about her sometimes, but who knows if I'm romanticizing it in my head and she forgot about me completely." —Steve, 28
"I met a girl at a party at school and she was really cool and ended up inviting me back to her apartment, which was like a five-minute walk away and we had really good sex, and then I left. I don't remember her name and I wanted to find her after that but never could." —Bryan, 27
"There was one where she was interested in a t-shirt I had made and was wearing in my profile pic, and I told her I had an extra one. We had a nice night getting drinks somewhere local. She was cool—was a lawyer working for a non-profit. She ghosted me afterwards, though." —Ethan, 27
"I had a girl tell me she needed to get over her ex breaking up with her when we were at a house party. She told me outright, that's all it was. I was fine with that. Really and truly, just sex and nothing awkward afterwards." —Zack, 26
"I was hanging out with some friends and we went over to one of their friend's apartments who was female and had three female roommates, and me and another one of her roommates basically just agreed to have a one night stand." —Ryan, 26

"Technically, this was a two-night stand. But we weren't apart for those two days and then we never saw each other again. So I think it still counts. I went to visit a friend of mine who moved to Chicago, and the plan was to spend a long weekend there. The first night, we go out for drinks with his friends and their friends. So I meet someone who is like, once removed from my friend. We hit it off, and I wind up going back to her place. We hang out the whole next day. It was mostly just a bunch of sex with a few breaks to eat. And that was kind of… it. I did leave her my number, and she could definitely get in touch with me if she wanted. But I'm okay with how it all turned out. I remember that trip fondly." —Scott, 28
"I met a woman in France while I was backpacking. We had a good time together, but I left my watch at her place. I realized soon enough after leaving that I could've gone back to get it, but I liked the idea of letting her keep it—it wasn't an expensive watch. I also liked the idea that maybe she'd try and return it to me. She didn't." —Will, 29
"I had a really rough breakup. I thought I was going to marry this woman and she basically dumped me out of nowhere after we had been dating for years. Like, I had this whole plan in place for the rest of my life, with her in it. I was super depressed. After weeks of me basically being a shut-in, I let my friends drag me out. I meet this woman, we're flirting, and she finds out I just went through a bad breakup. I'm sure it was stupidly, like, the first thing I said to her. I'll spare you all the awkward flirting, but we hooked up and it was magic. It was just what I needed and she knew it. It wasn't a cure-all or anything. I still had a lot of work to do. But it was a wake-up call. I was like, 'Oh, other people are out there and you'll find someone else you fit with.' I think she knew that. I think she did me a favor." —Greg, 28
"I have only had a one night stand once in my life. I generally don't love the idea. Yeah, I know, I know—I made an exception once. She was ridiculously attractive. It's not like she told me it was a one-night stand, but we were two very different people who just happened to have a lot of sexual chemistry. We had sex until the sun came up, it was like an R&B song. Then we had a cigarette on her roof and that was the last I ever saw her." —Adam, 26
"I don't know if I'm the luckiest guy in the world or what, but I can literally count the number of one night stands I've had on one hand, and one of them was a three-way. I met these two roommates at a party and we spend most of the night talking. They took me back to their place to smoke and one thing just led to another. I got the feeling I was the first guy they did this with, but I'm not complaining." —Joel, 27
***
This article originally appeared on Cosmopolitan.com. Minor edits have been made by the Cosmo.ph editors.
Recommended Videos