As I scrolled through my feed, stomach churning with the nausea I'd become increasingly accustomed to over the past 14 weeks, I did a double take. There, made up in pixels on the screen, was a photo of my six best friends. They were smiling, rosy cheeks pressed up against one another as they merrily sipped cocktails. Sitting at home in my old, dotted pajamas, soft and comforting as a hug, I felt a stab of jealousy. Why hadn't I been invited?
"We didn't go out out," Laura reassured me down the phone the next day. "I just had a few people round, and I know you've not been feeling well lately, so I didn't think you'd want to come."
I was a week into the second trimester of my first pregnancy, learning the hard way that morning sickness certainly isn't just confined to the mornings, and I was feeling lonely. At 27 years old, I was the first in my close circle of friends to get married and have a baby. We had been friends since school and did everything together—except, it seemed—getting pregnant. While they continued to head out for bottomless Prosecco brunches, I clung to a sick bucket in bed, feeling sad and isolated at the time I needed my friends most.
Continue reading below ↓
Recommended Videos
I usually confided in my girls about everything, but for some reason I couldn't bring myself to tell them how I was feeling about this.
Women are having babies later and later. In the UK, data from the Office for National Statistics shows the average age of first time moms is currently 28.9 years old, having steadily crept up since the 1970s. And it was the exact same in my friendship group; At 27, I was the first and only one to have experienced pregnancy, leaving me ill-equipped to handle all the unexpected feelings that came with it.
I usually confided in my girls about everything, but for some reason I couldn't bring myself to tell them how I was feeling about this. Being social was such a huge part of my life and I had no idea who this new version of me really was. The more deserted I felt, the more I doubted myself and started to question everything. Was I really ready to swap nights out for diaper changing?
After the hundredth time mentioning my morning sickness, I was starting to bore myself. Was I already turning into that stereotype of a woman with children? The one that's so often harshly depicted in pop culture? I had uncomfortable visions of me being just like Miranda in that Sex And The City scene, where she struggles to hold a conversation and her baby at the same time. I would wince at the idea of having my friendships described as "the platonic version of no longer wanting to have sex with a long-term boyfriend," just like the mom of two, Katherine in Dolly Alderton's novel, Ghosts. I didn't want this to be the way my close circle viewed me, before my baby was even born. And it seems I'm not the only one to have had this concern.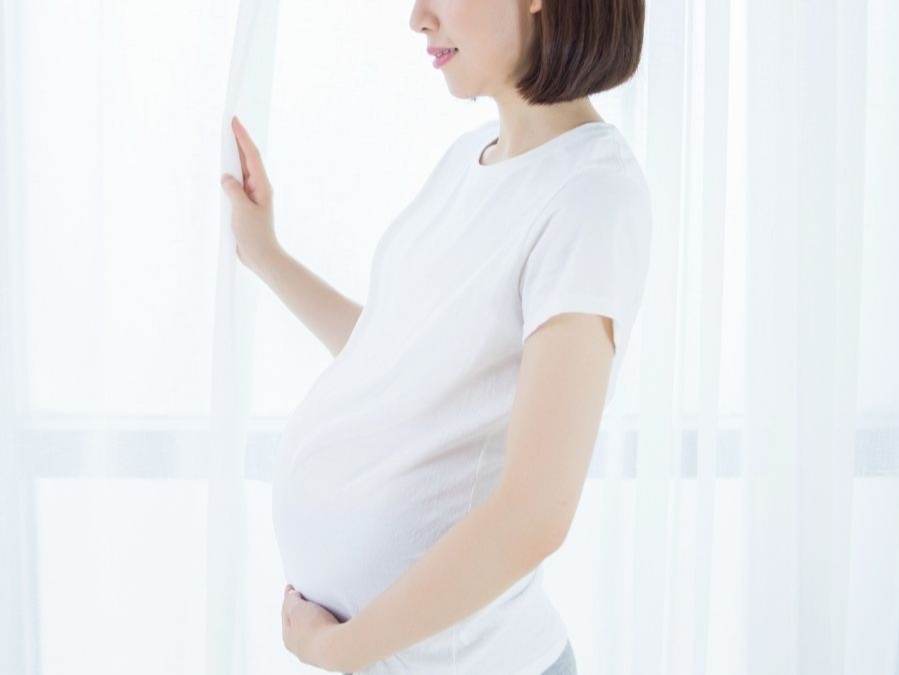 "Before meeting up with friends who don't have children, I ramp up what I have going on just so I have something interesting to talk about," confesses Phiona, 36, who became pregnant soon after she moved out of London at 27 years old. Phiona was determined to prove to everyone that she could have it all—a career, nights out, and a family—but her desire to juggle everything soon began to unravel.
"On my first night out after having my baby, I burst into tears when I struggled to think of anything fun to talk about. My chest tightened and I felt so embarrassed," recalls Phiona. "My friends once said that I'm not 'like' other mom friends because I don't always talk about my children, but that has only made my anxiety about it even worse. I'm so worried about being seen as boring."
Before meeting up with friends who don't have children, I ramp up what I have going on just so I have something interesting to talk about.
The fear of losing friends as you move into parenthood is absolutely a real thing, confirms therapist Tasha Bailey. "It's natural to feel a sense of loss, as your time and identity are really adjusting to your new role. You might worry about being forgotten or mourning parts of your life before parenthood."
The distance between friends at different life stages can feel like it's wide enough already, but this can often broaden further because of a miscommunication between the two parties. "Some friends assume that new moms want space, but actually that can heighten feelings of loneliness and FOMO," she tells me. "This feeling is often amplified through social media, when you can see photos of your friends heading out as normal and, perhaps, without inviting you."
The changing dynamics in my friendships led me to develop feelings of guilt and shame for missing my old life; I had a precious baby on the way and felt so thankful I was able to conceive, but I couldn't shift the thoughts when they came. This, Bailey reassures me, is also completely normal. "With guilt, a mother might be thinking it's bad to miss their life before motherhood. With shame, a mother would turn that inward and would believe they are a bad mother altogether. The truth is that you're not and the more you talk about these difficult feelings, the less feeling of shame that you will carry," explains Bailey.
"Perhaps we just don't have anything in common," Heidi, 36, remembers thinking, while contemplating why her friendship with Louise* fizzled out five years ago. The pair had met at work and were inseparable at first; Louise had even been Heidi's bridesmaid at her wedding. But soon after announcing her pregnancy, Louise stopped wanting to go out. "I just couldn't understand why I wasn't seeing her. I felt really sad about it," Heidi tells me now, on reflection. "But what could I do? I decided she had changed, and I needed to move on."
What Heidi didn't realise at the time, however, was that it wasn't Louise's intention for the friends to grow apart; it was just how she was adjusting to being pregnant. From her perspective as a single woman, Heidi couldn't understand it from Louise's point of view. But all that changed when Heidi went on to have children of her own. "I had no idea how emotional and tiring pregnancy is," Heidi, now a mom-of-two, says. "There are so many questions I didn't ask Louise when it came to how she was feeling, but I genuinely didn't think to."
As we continue to chat about Heidi's lost friendship, she shares some advice she wishes she had been told all those years ago, about how to support a friend who's expecting a baby. "Do not assume anything. Ask questions, educate yourself on what pregnancy is like, and be patient. Your friend may not be able to share how they're feeling in the moment, but make sure they know you're there for them if they need to talk about more than what baby name they're going to choose."
Therapist Tasha Bailey also shares some useful advice on how to protect friendships to ensure you don't lose each other as your lives evolve. "By being honest and vulnerable with one another, we strengthen the sense of safety and connection in the bond we've made," advises Tasha Bailey. "Try to check in with each other where you can, and validate each other's emotional experiences."
In some cases, however, damage has been done and it's more complex to repair. "Good indicators of a wounded friendship can include flakiness, competitiveness, and one-sided conversations," says Tasha. "An open conversation is the way forward to resolving this; if you feel it, it's very likely that your friend feels it too." The expert advises it can also be helpful to acknowledge when a friendship is past saving. "If you are met with defensiveness, perhaps it's time to gain some space or move on altogether. It's important to reflect on what you miss about the friendship and whether those things are still in reach. Fear of loneliness or missing the social side of things are not good enough reasons for hanging on to a relationship that has run its course," suggests Tasha.
If pregnancy and its challenges had come as such a shock to me, how could I have expected them to know how I was feeling?
When it came to me and my friendships, it took bravery to start that open conversation for us to get back on track. Heavily pregnant, and overcome with emotion at a group gathering I had been invited to, I blurted out across a tangle of conversations: "I'm finding this really hard." As soon as the words had left my mouth, I felt better—but the tears kept coming, especially when I saw how surprised and concerned my friends looked. For months I'd convinced myself that they didn't care about me, but as I opened up about feeling rotten, missing out on everything, and doubting the support I had around me, I quickly realized they'd just had no idea. If pregnancy and its challenges had come as such a shock to me, how could I have expected them to know how I was feeling?
Six years on, I'm now a mom of two. And as the lives of myself and all my friends have changed around us throughout the years, I've learned something crucial about friendships: They take work.
With adulthood comes many commitments, and it becomes harder to catch up with our friends without the regular commonality of school or work. Friendships require both parties to make time for one another. I've learned how important it is to remember your shared history, and what it is that brought you together in the first place. Where a few friends did stop calling, so many more made the effort to see how I was. And because of that, now whether I'm chatting down the phone to them while wearing those faded, dotty pajamas, or sipping Prosecco alongside them on an all-important night out, I'm so glad we stuck together.
*Name has been changed.
***
This article originally appeared on Cosmopolitan.com/uk. Minor edits have been made by the Cosmo.ph editors.