Facebook Dating: Looks like Facebook is trying to make a comeback because Facebook Dating is finally here. We first heard about this in-app surprise in May 2018 when CEO Mark Zuckerberg launched it during a Facebook conference. Unlike other dating platforms, Facebook wants users to build meaningful relationships, not hookups. Their words, not ours.
In a press release, Charmaine Hung, the Technical Program Manager of Facebook Dating, shared, "Currently, there are more than 200 million people who have listed themselves as single in their relationship status on Facebook. Many of them already use Facebook to start meaningful relationships. We view this as an incredible opportunity to connect people should they choose to explore meaningful romantic relationships. People in the Philippines already use the platform to connect and celebrate relationships, and we are excited to offer them new ways of doing so."
It's been a year since Facebook Dating became a thing, and now, it finally found its way to the Philippines. Here's everything you need to know.
Will you need to download Facebook Dating?
No, Facebook Dating can be found within the existing Facebook app. All you have to do is download the most recent version of Facebook and then create a Dating profile—a separate profile from your existing one, which you will still need to be able to use Facebook Dating. It has a dedicated space within the app, but, don't worry, your dating activity won't be shared on your profile and won't appear on anyone else's feed.
Continue reading below ↓
Recommended Videos
Who can see your Dating profile?
Not everyone can see your Dating profile. It'll only be visible to your suggested matches and users to whom you're suggested. Even your Facebook friends won't be able to see you unless you activate this feature. People are suggested to you based on your preferences, interests, and Facebook activity because the goal is to find people you have in common with—not just people who are in your existing circles.
How does Facebook Dating work?
Facebook Dating will automatically import your name and age, and Dating will only be visible to users above 18 years old. One of the coolest things about Facebook Dating is the unique messaging system. A potential match can send you a single message. They won't be able to harass you or message you again until you respond. Another factor that makes it different from other dating apps is that messaging is limited to text messages only. People won't be allowed to send you links or photos—to avoid inappropriate content. Once you've established mutual trust, respect, and of course, interest, you can move to another platform that lets you send non-text messages.
If, however, that isn't enough to keep someone from making you uncomfortable ('cause ugh), you can block or report them from inside the Dating message or from your Dating profile.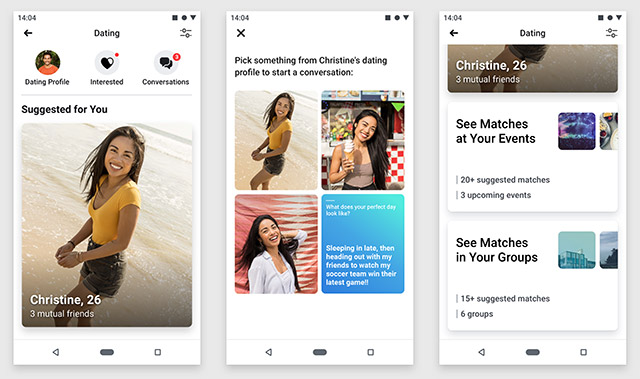 Gender preferences on Facebook Dating
You'll get full control on who you want to match with. Facebook worked with external LGBT Community Organizations and NGOs within their Network of Support, which includes Gay & Lesbian Alliance Against Defamation (GLAAD) and Transgender Law Center, to make sure the "options are safe, inclusive, transparent, and intuitive."
Key feature: Secret Crush
Remember having crushes when you were younger? Facebook Dating has introduced a new feature called Secret Crush. This lets you match with people you're already familiar with. You know, just in case the idea of meeting someone in your current circles doesn't immediately repulse you.
Secret Crush lets you choose up to nine Facebook friends who you're already interested in. If your crush has a profile on Facebook Dating, they'll get a notification saying that someone's interested in them but won't automatically disclose your information. If your crush includes you on his or her Secret Crush list, then it's a match! Again, you don't need to be afraid: If you guys don't match, no one will know you've entered your crush's name.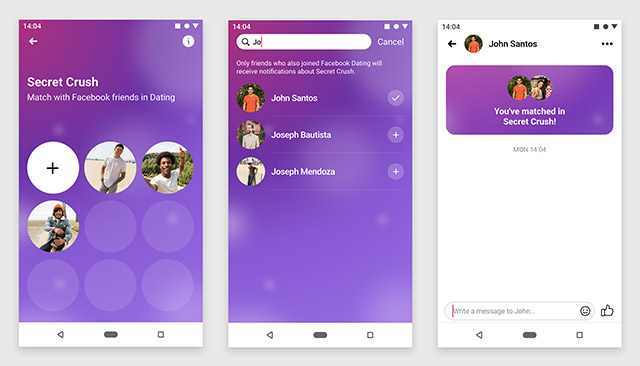 Key feature: Events & Groups
You know how sometimes you get notified when a Facebook friend is attending an event that's near or in your area? Facebook Dating has a variation of that. You can opt to see users with similar preferences and interests in Events & Groups. Just remember that if you can see them, they can definitely see you.
Can you delete your Facebook Dating profile?
Yes. But if you choose to delete your Profile, you will lose all the data. If and when you're ready to believe in love again (lol), you'll have to start fresh—which, frankly, isn't the worst thing in the world. For anyone who doesn't want to give up completely, Facebook Dating has a "pause" option. You'll still be able to access your profile and hold conversations, but you'll no longer be sent new Matches.
Facebook Dating Safety Tips
Dating is fun, but it can also be dangerous. Facebook suggests not including any of the following in your Dating profile: last name, financial information, email, home address, phone number, place of work, or any identifying information. If you feel uncomfortable, report anyone who asks for any of the said pieces of information. And no, they won't know you've reported them.
Scammers may also create fake accounts to trick you into giving them money or gifts. Warning signs include: wanting to talk outside of Facebook Dating immediately, claiming to be in love with you right after a few messages to get you to talk to them more, and planning dates that never really push through.
Trust your judgment. Facebook suggests never agreeing to send money, wire transfer money, or make a donation of any kind to whoever you meet on Facebook Dating. To stay on the safe side, feel free to report the person who asks you to do any of these.
When you agree to meet someone in person, tell a friend or relative about the date. Agree to meet in a public space and arrange your own transportation. In a perfect world, everyone understands the meaning of consent and boundaries, but unfortunately, we still have a long way to go, so stay alert and know your limits.
Follow Vivien on Instagram.