Pornhub just released their annual report, and The Philippines is one of the countries that spent the most time on the said porn video site. Pinoy visitors use the platform is at an average of 11 minutes and 31 seconds. In terms of site traffic, we just finished ninth —the United States, United Kingdom, and Japan top the list.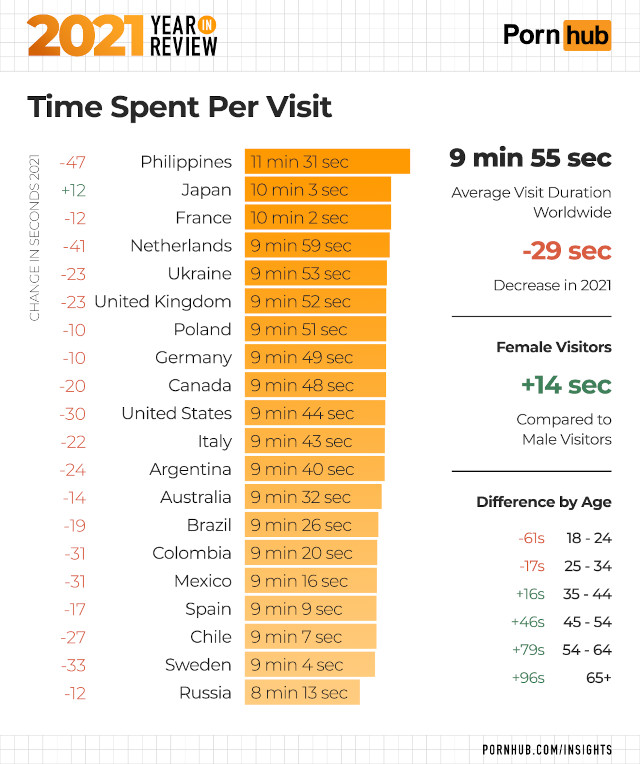 ADVERTISMENT - CONTINUE READING BELOW ↓
The one interesting tidbit about Pinoys' behavior on Pornhub? Pinays (yes, women) spend more time than Filipino men! In fact, the Philippines is also the only county that had more female than male visitors. We're talking about 52 percent are females versus 49 percent males. (Globally, female viewers are on Pornhub 14 seconds more than male users, on average.)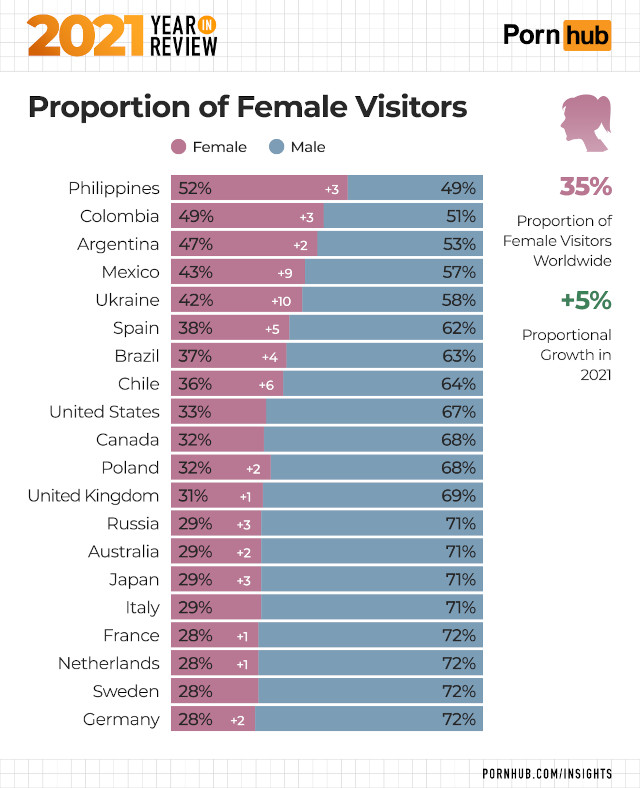 ADVERTISMENT - CONTINUE READING BELOW ↓
Female visitors search for Japanese, lesbian, MILF, threesome, mature porn videos the most. Women view the categories "scissoring," "solo male," and "pussy licking" more than men.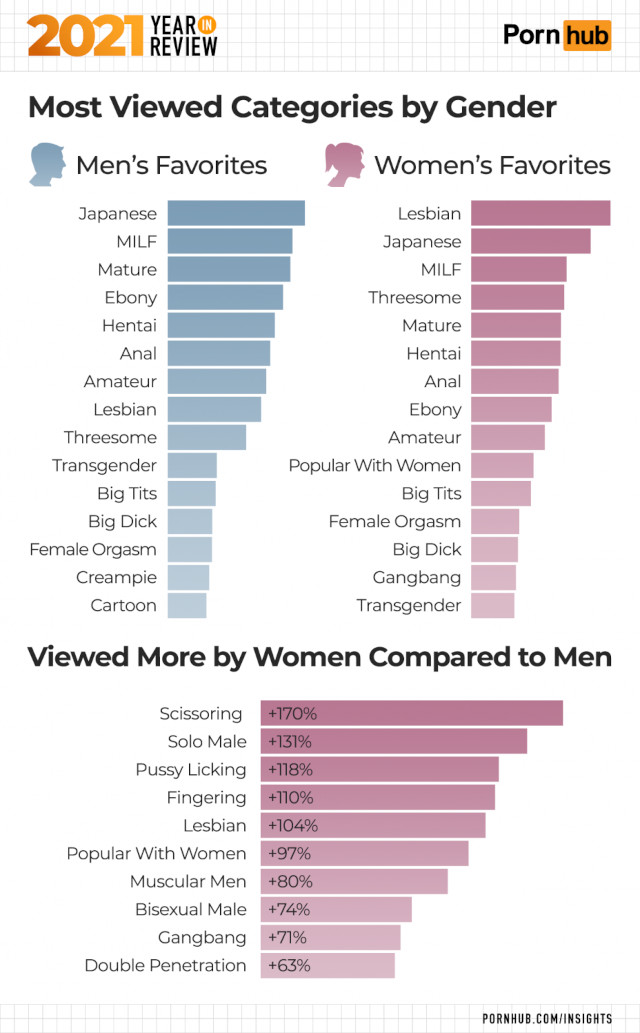 The most searched gay terms are "twink," "femboy," "hentai," 'straight," "black," "Japanese," and "Pinoy." The most viewed gay categories are Straight Guys, Black, Bareback, Daddy, and Twink.
ADVERTISMENT - CONTINUE READING BELOW ↓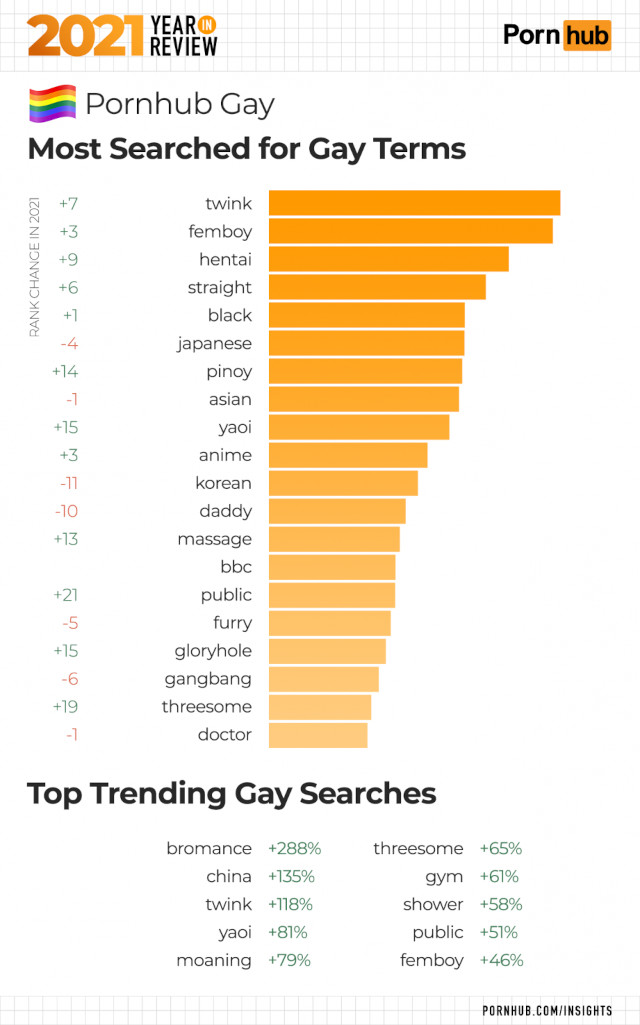 Worldwide, the most popular porn categories are topped by the following: Japanese, Lesbian, MILF, Anal, Mature, and Amateur.
Pornhub also cites that there is an upward trend for the said categories: Big Ass, Bisexual Male, Female Orgasm, Solo Female, and Popular with Women.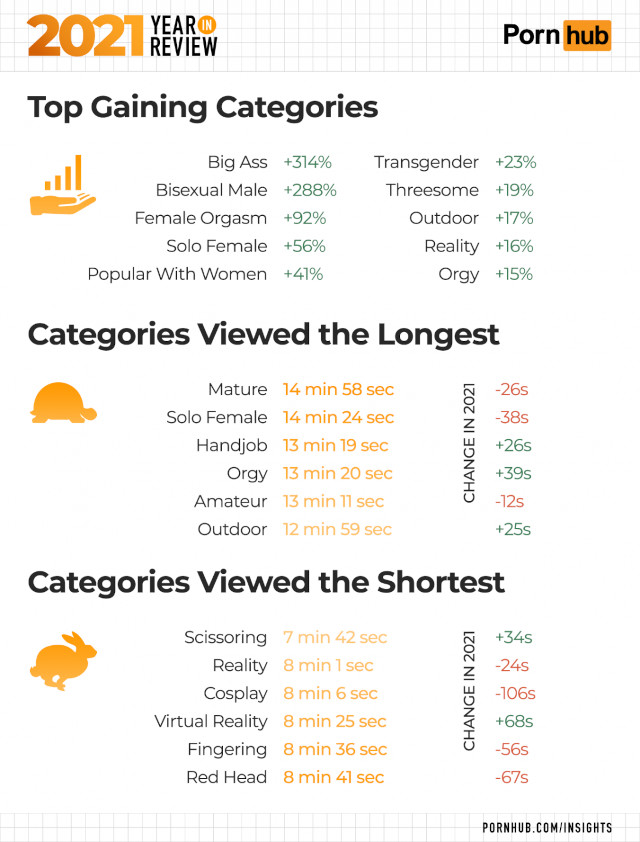 ADVERTISMENT - CONTINUE READING BELOW ↓
Popular categories for Gen Z are Lesbian, Hentai, Anal, MILF, Cosplay, Feet, Transgender, and Cartoon. For ages 25 to 34, Asian, POV, Creampie, and Threesome top the list. Cartoon is the most searched and viewed category for those who are 35 to 54 years old.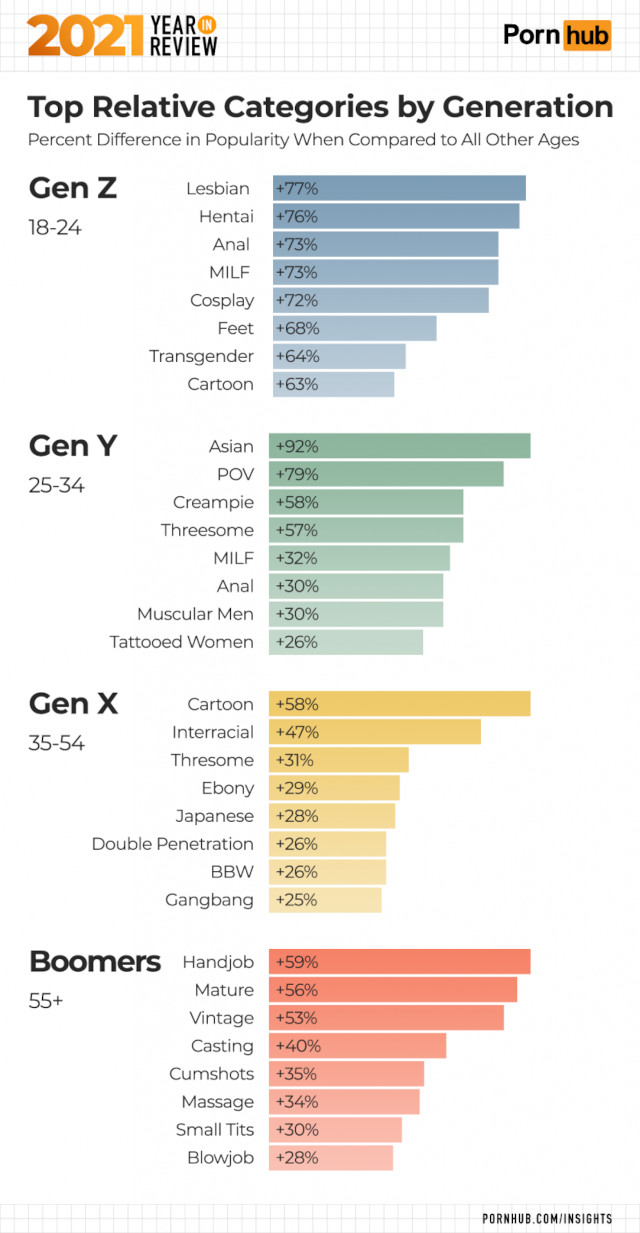 In case you're wondering about the peak hours of Pornhub use, a spike in traffic happens between 11 p.m. until midnight—on a Monday. Anyone who'd want to interpret this behavior?
ADVERTISMENT - CONTINUE READING BELOW ↓
MORE STEAMY STORIES
6 Steamy Things To Watch On Netflix With Sex Scenes That Are Better Than Porn
12 Women On Their Go-To Category Of Porn