Valentine's Day triggers all sorts of emotion: excitement over romantic getaways, happy for a free pass to be your most sappy self, and sometimes, even anxiety from the pressure to plan something big for your significant other. 
What's Valentine's Day *really* like for Filipinos? 
Picodi.com, an international e-commerce company founded in Poland, attempted to answer this question by including the Philippines in the 38 countries they surveyed.
The survey had 6,400 participants in total, and here's what they found out about how Pinoys share the love: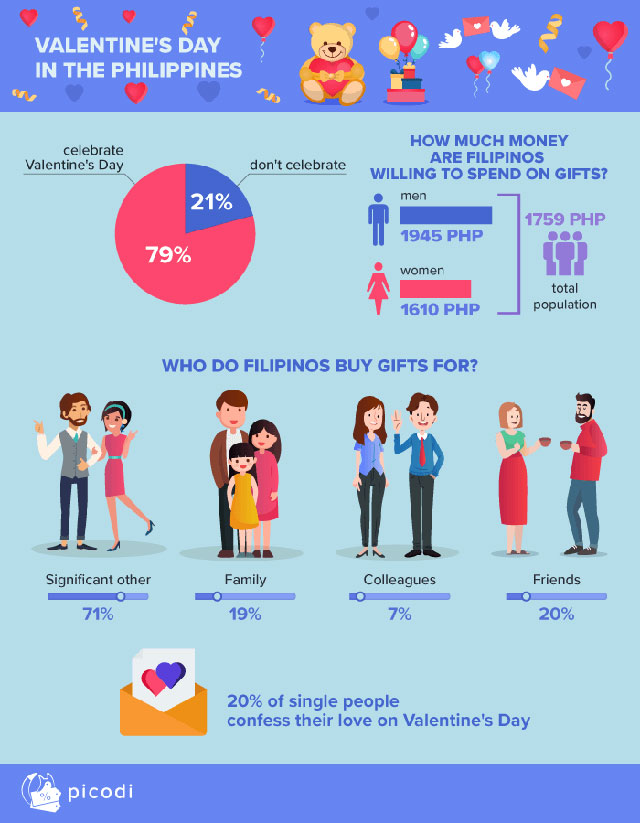 For one thing, 79 percent of Filipinos still celebrate V-Day; yes, it's not overrated! While it's not uncommon for people to buy gifts for their family, friends, and officemates, an overwhelming number of people (71 percent) still focus on their significant others. 
On average, we're willing to spend P1,759 on a gift, with men saying they shell out around P1,945 vs. women who spend roughly P1,610. Out of the 38 countries surveyed, we spend the least on gifts.

Continue reading below ↓
Recommended Videos
And apparently, we don't think about Valentine's Day until February hits. 
In general, Picodi.com's survey also found the most and least wanted gifts for both men and women. 
The most desired gifts:
Valentine's Day card (39 percent)
Electronic devices (34 percent)
Clothing (33 percent)
Sweets (22 percent)
Money (22 percent)
The least desired gifts:
Valentine's Day card (24 percent)
Sex toys (23 percent)
Flowers (20 percent)
Stuffed toys (19 percent)
Underwear (16 percent)
Follow Ysa on Instagram. 
EXPLORE COSMO