With the motto of "Life is short. Have an affair," Ashley Madison is the dating website flocked by married people (or people in a committed relationship) who want to commit adultery. To put it bluntly or crassly, it's for cheaters.
Ashley Madison was reportedly hacked last month and was threatened to stop its operations or else the names of its nearly 40 million users will be released online. Since it continued to run, the hackers have so far leaked data twice. Released just last week, the first batch was 9.7 gigabytes big, while the second was 20 gigabytes big.
The files included the account data of 32 million users: their names and home and e-mail addresses. Because people who join the Ashley Madison community can give fake names and addresses (since the website doesn't ask for confirmation), the hackers went ahead and also included users' credit card transactions, where for sure the details are true, in the data released. (Male members pay to upgrade their membership status so they can open and reply to unsolicited messages from female members.)
Most people on Ashley Madison are male, as found by Tecnilógica, a Madrid-based digital agency. For a project called Malfideleco ("infidelity" in Esperanto), it mapped the Ashley Madison users and identified the percentage of males in each city around the world.
Continue reading below ↓
Recommended Videos

For the interactive map, visit CartoDB.
We can see from the photo that North America and Western Europe have the highest concentrations of Ashley Madison users (perhaps thanks to their access and openness to using dating websites), while Russia, China, and most of Africa are Ashley Madison-free.
The red dots on the map mean that at least 85 percent of the users in the area are male, while the yellow ones mean that less than 85 percent of the users are male. Don't think that just because you see yellow dots it means that majority of the cheaters are female. In the case of Quezon City for instance, 84.64 percent of the users are male; it has a yellow dot but males are still the majority. The same goes for yellow Makati with 83.92 percent male users and Taguig with 81.64 percent.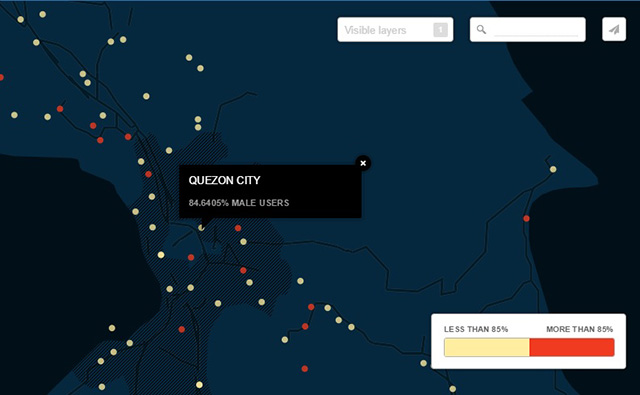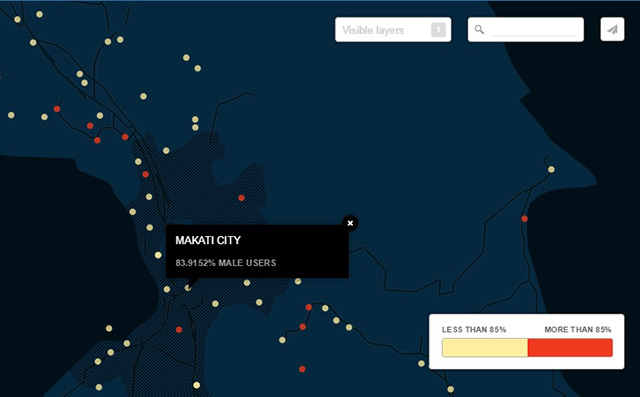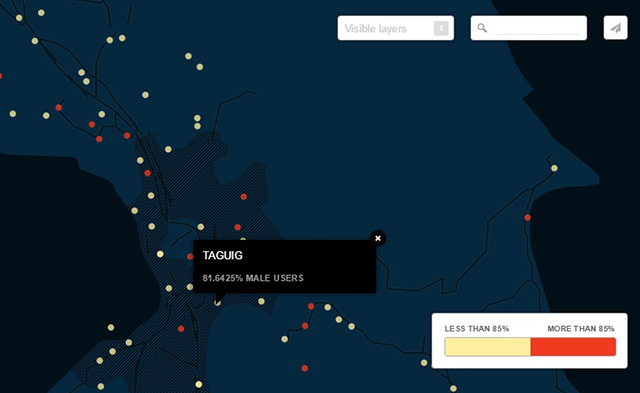 This isn't just a question of why a whole lot of males cheat, but more of why they actively seek another woman—or other women—out. We then eliminate cases of falling in love by chance with a female stranger, acquaintance, friend, and ex-girlfriend.
One user had written on his Ashley Madison profile that he's looking for "someone who isn't happy at home or just bored and looking for some excitement. I love it when I'm called and told I have 15 minutes to get to someplace where I'll be greeted at the door with a surprise—maybe lingerie, nakedness. I like to ravish and be ravished…I like lots of foreplay and stamina, fun, discretion, oral, even willingness to experiment." It was found, through the hack, that his name and phone number match those of someone who works in Canada's Customs and Immigrations Union. (FYI, about 15,000 of the e-mail addresses leaked ended in .mil or .gov, suggesting that these users work in the military or the government, if not military men or officials themselves.)
Someone who isn't happy at home? Bored? Greeted at the door with a surprise? Could this instance, among similar ones out there, further affirm the recent study on which partners are likely to cheat?
Last June, research published in the American Sociological Review showed that there's a 15 percent chance husbands will cheat if they don't earn, whereas the numbers fall to 4 percent if they're the sole breadwinner. Males seem to want to earn 70 percent of the income, and their chance of infidelity further drops to 2.9 percent if they earn that much. Places like New England and parts of the Upper Midwest in the U.S. where female employment is remarkably high and females are fairly well off (because they're educated) in a rural low-income area, according to Tecnilógica's map, have the highest concentration of dots, i.e., the most number of cities with Ashley Madison users—and majority of the members are male.
"We compare ourselves to our partners, and we want to feel like winners....," states Christin Munsch, the University of Connecticut professor who conducted the study. "Especially for men, being the sole breadwinner can make them feel as if they can get away with more, whereas cheating can be considered a display of hyper-masculinity if they feel threatened by their partner's success." Meaning to say males want to be the obvious and identifiable provider to display their masculinity. If they're not, they'll look for someone else they can be the provider to.
Because males desiring to be the provider or doing what they can to assume that role prevails in the face of feminist ideas and sentiments that have been going around for more than four decades in the U.S. and then to other parts of the world, it could mean that feminism or actually powerful or influential women haven't really caught on.
Or does society have an implied requirement that males just have to be the breadwinner? Something filed under "obvious gender roles" or "this is how to be a real man because you need to be a real man?"
What a society we live in that males still feel they have to prove themselves more capable.

Follow Stephanie on Twitter.