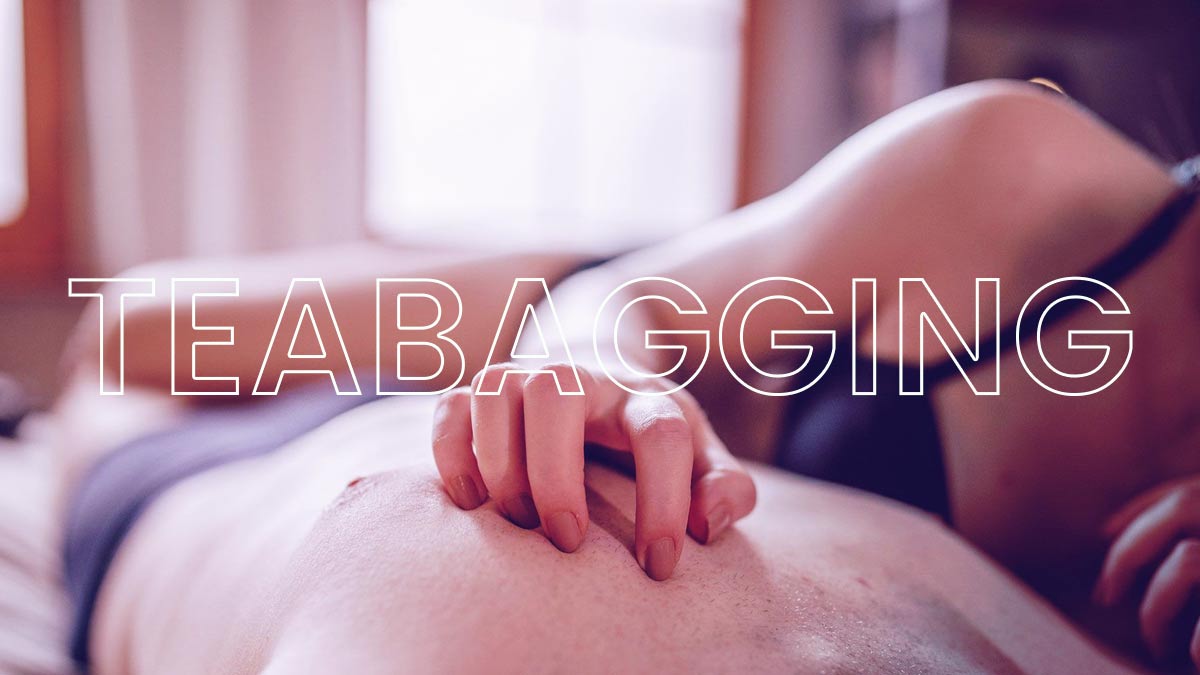 What exactly is teabagging? I think we all know it involves testicles. But that's about as deep as most of our knowledge runs. Topher Taylor, sex expert for sex toy retailer Clonezone, explains that it's probably not what you think it is. "People always confuse it with sucking balls," he says And tbh, I've always thought that's what it was. D'oh!
Here, Topher explains what it actually is, why you might want to try it, and how to do it well.
What is teabagging?
Topher explains, "Teabagging is the action of a man dipping his balls in and out of your mouth. I could throw anatomical jargon at you but that's the clearest way to explain it. The name comes from the act's similarities to dipping a teabag in-and-out of hot water, to strengthen and disperse the brew. But this kind of teabagging has very little to do with your caffeine intake and more to do with your intake of testicles."
He makes it very clear we're not to confuse teabagging with "sucking, licking, or cupping balls with your mouth" as that's just the act of giving oral pleasure to someone. He explains the difference is that with teabagging, you're the receiver and the person with the testicles is in control.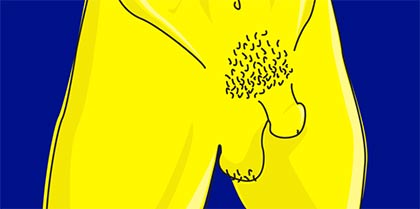 Why do people do it?
Turns out it can be pretty damn enjoyable to the owner of the testicles! "There are lots of deliciously sensitive nerve endings on someone's scrotum, causing it to be very sensitive. There aren't as many on a penis, but balls are definitely receptive to pleasure, pressure, and most noticeably, warmth. You'll find that the longer you have them in your mouth, the droopier they'll get. This is because the body pulls them in to keep them warm and protect them."
Topher explains for the person you're teabagging, it'll probably feel a little ticklish and warm. That's as long as you're super-careful and gentle—we all know how receptive to pain they can be. As for the person receiving the balls, Topher explains it's obviously down to personal preference. But "if you enjoy giving oral sex and the intimate sensation of genitals in your mouth, then you'll most probably enjoy it."
"There's [also] an element of dominance and submission involved with teabagging, which is where you can make the act extra interesting," he adds. "As someone is dipping their testicles in-and-out of a mouth, they are ultimately in control."
But Topher firmly believes you don't have to be kinky to enjoy teabagging play, "Even the smallest desire to please your partner is enough to enjoy the act."
Preparation
Communicate. "Talk to them about what they enjoy, why they want to do it, and how sensitive they are," Topher explains. "This doesn't have to be a formal discussion, it's just a clear way to set boundaries and not cause unnecessary discomfort. If you can't clearly communicate with each other, then I wouldn't recommend having their testicles in your mouth!"
"Clear your airways. The receiver would benefit from blowing their nose to clear out the airways, and allow them to receive the balls without 'gagging' due to the lack of air."
"Be hydrated.

 

No one wants to dip their nuts into a dry and croaky mouth. Nor will it feel nice for you."
"Get the giver to wash beforehand.

 

The area around someone's testicles, perineum, and inner thighs can get especially sweaty and this isn't necessarily pleasant being lowered onto your face. Unless you're into that."
"Pubic hair. I would never recommend anyone to insist on how their partner trims, shapes, or shaves their pubic hair. Have a chat. Communicate."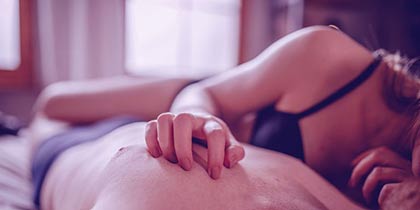 How do you do it?
"Open your jaw wide and try to retract your teeth as far back as you can behind your lips, without giving yourself lock-jaw. Going out of your way for your partner can be very sexy for them, but don't hurt yourself."
"Rest your tongue around the base of your mouth, curving around to your bottom lip so that it covers your bottom set of teeth."
"Wet the inside of your lips to help the testicles glide inside. Dry lips increase the chances of them catching your lips and knocking into something, which might give the receiver a horrible shock."
"Practice makes perfect. As with most sex acts, the more you do it, the better you become at it. But remember not to put too much pressure on yourself."
What are the best positions?
"There are lots of positions to teabag, darling. Your head just has to be underneath their balls, with a good few inches of leverage space so they can dip," Topher explains.
"The easiest one? Kneel or sit below them with your head tipped back, so they can bend their knees and dip 'em in and out. This way you can look up at them as they do it."
"Lay flat on your back across the bed, with your head hanging off the end (support your neck with a pillow) but let your head tip back. This way, they can dip into your mouth whilst reaching over to play with you. The views pretty nice for them, too.
"Lay on the mattress, or on the floor with your head and neck propped up. They can then kneel over your body, eventually straddling your shoulders and head. This will allow them to drip them into your mouth with ease. Plus, I find people look really sexy from this angle."
***
This article originally appeared on Cosmopolitan.com/uk. Minor edits have been made by the Cosmo.ph editors.
Recommended Videos