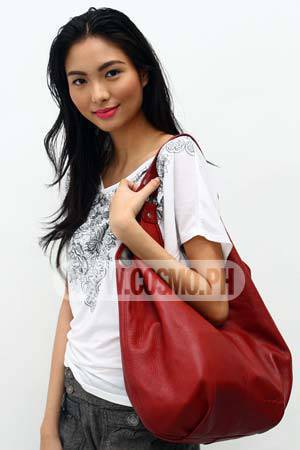 The general impression most people have of models is that their job is all fun, extravagant, and easy to do. But, there is a lot more to modeling than meets the eye, as PMAP model Ana Sideco will be quick to point out in her blog The Unglamorous Model.

If Ana's face looks familiar, it's probably because you've seen her on countless billboards, magazines, print ads, TV commercials, and runway reports all over the country. Her stunning chinita features got her gigs around Asia, and she was even tapped by the prestigious Major Model Management in New York to be a beauty and catalog model.

But, she gets real in her blog, where she shares stories of her adventures in modeling, as well as her own insider's tips on skincare, haircare, and more.

This month, Cosmo brings back an old feature called "Cosmo's 8 Sexiest" as the magazine's special fashion editorial, which includes this successful model and entrepreneur (she's the CEO of online fashion retailer duHub shop).

At her shoot, we tried to find out what a top model like her needs to maintain her looks on a daily basis. So, she gladly opened up her red Kenneth Cole hobo bag to show us her fave makeup products and accessories that she uses to stay fabulous whether on busy work days or days off.


Launch the gallery to see the things that Ana had in her bag during her photo shoot!
1590
Continue reading below ↓
Recommended Videos