It started with a thread that went viral on Twitter. Bianca Felipe, a 22-year-old Multimedia Producer, posted a series of photos showcasing five days' worth of her OOTDs. "This week I decided to document my outfits to help bigger girls have an idea on what to wear, how to style, and where to buy clothes that work well with our builds," she wrote. Bianca continued to break down each of her looks including where she got each stylish piece that she wore.
She also addressed a question a lot of people were asking: How is she so confident sporting sleeveless tops? "I really just don't give a shit what others would think! You just really gotta carry yourself as you please. Super totoo yung nasa 'pagdadala' mo how an outfit would seem on you."
We got to talk to Bianca about fashion, style, body positivity, and self-love:
What made you decide to share your fashion tips + OOTDs publicly on Twitter? What is your goal for this?
Prior to this thread, a tweet of mine wearing a one-piece swimsuit went viral. While it was going around, a lot of girls messaged me saying thank you, how I motivated them to wear more daring outfits, and that it's rare to see local plus-size girls present on online platforms. It was then I realized how, locally, there was a lack in representation of plus-size girls.
Initially, this passion project was something more self-motivated; I just wanted to get more experimental with clothes I already own. But looking more into it, I realized this seemed like the perfect output to both motivate and represent plus-size girls [so they can be] more experimental and daring with their outfits. I wanted to keep the momentum to hopefully reach more girls, to continue the awareness I already started with that first tweet.
Continue reading below ↓
Recommended Videos
What was the best response that you got about it?
The overall and general response was pretty heartwarming and overwhelming. The fact that a ton of girls told me that I nudged them to go out of their comfort zone, that they're finally represented and no longer alone, and how I simply gave them an idea of what outfit to wear next.
Getting the conversation started with this movement is the best feedback. That overall dynamic I stirred. That was pretty cool.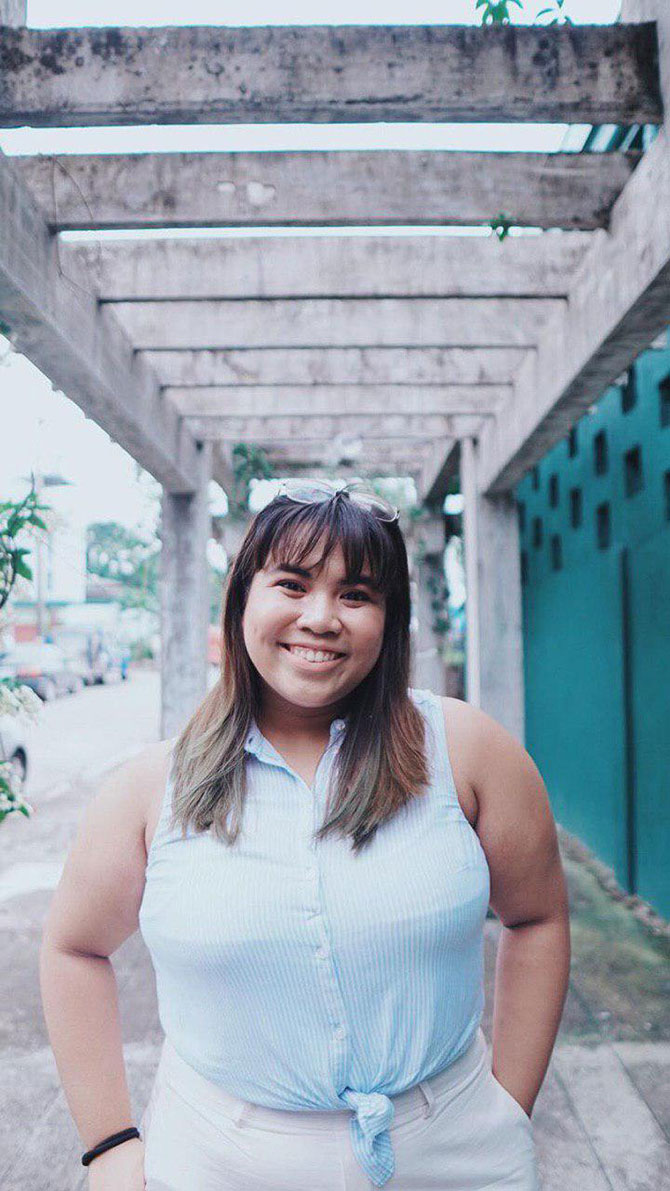 Where do you usually shop for plus-size clothes?
I usually shop in Forever 21, Uniqlo, and H&M. Both Forever 21 and H&M have plus-size lines. They have quite limited selections compared to the regular size styles, but enough to have options! They're quite trendy too and [have] decent quality for the price.
Meanwhile, though they don't have a plus-size line, most of Uniqlo's styles are loose and comfortable which makes their sizes run bigger than the usual—an advantage for us plus-size!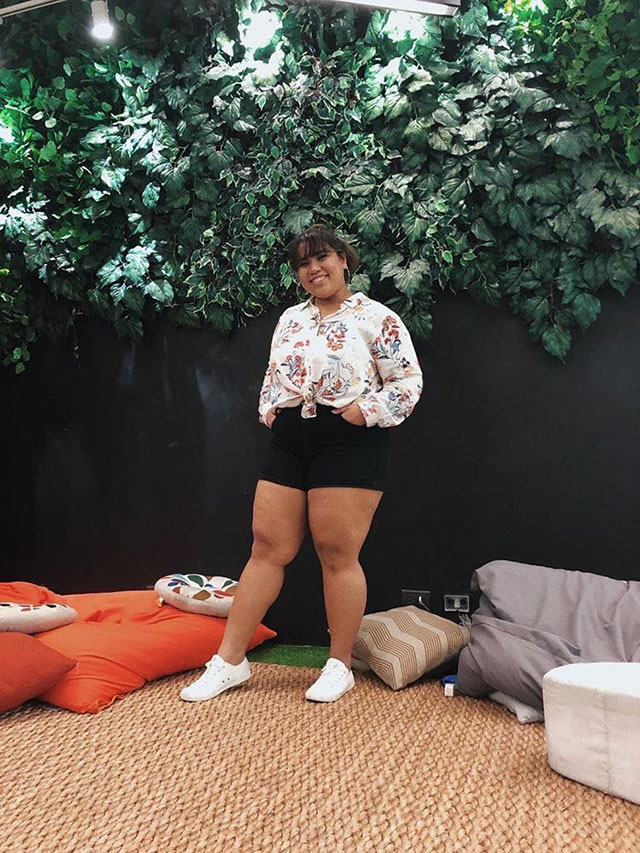 I'd really rather go thrifting, however, which is a more sustainable (and not to mention economical) way to shop for clothes. I haven't been able to explore or try local brands that advocate sustainable fashion. There's yet to be one that caters to plus-sizes. So for now, the mentioned brands would do.
How would you describe your own style? Do you have a power outfit that you love wearing?
I don't think I have a specific style. Rather it has to be three things: 1. In style 2. Laid-back (that it's easy to put together and match with my other items of clothing) and 3. Needs to go well with white sneakers!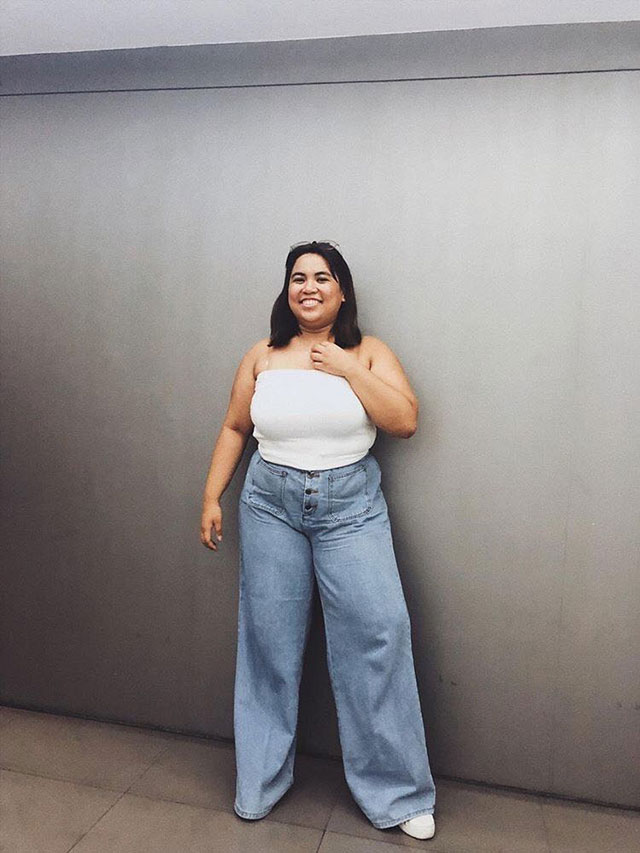 My power outfit I guess is my black tank top and black cullotes with, of course, white sneakers. It's comfortable but still looks stylish.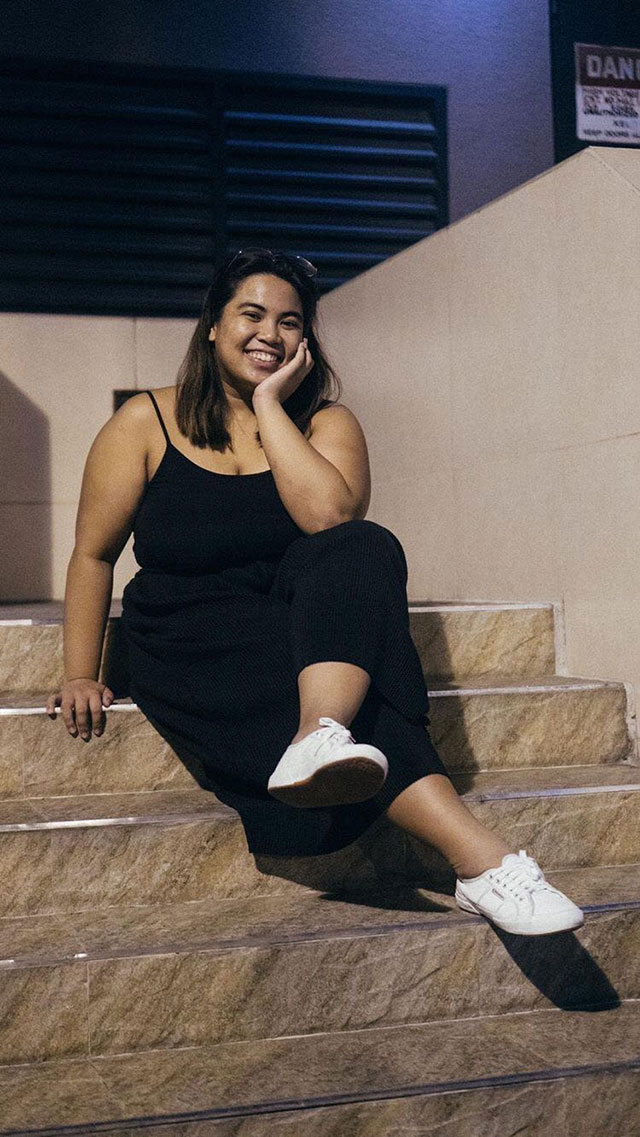 What are your tips for plus-size Pinays who are still afraid to try out fashion trends and experiment with their style?
The first real step is getting to know your body and accepting it as it is. Sounds super cliche but you really have to love every bump and curve it has, and learn how to roll with it. Find the middle ground for what works best for your body shape and what you're comfortable in. From there you'll be able to curate your wardrobe.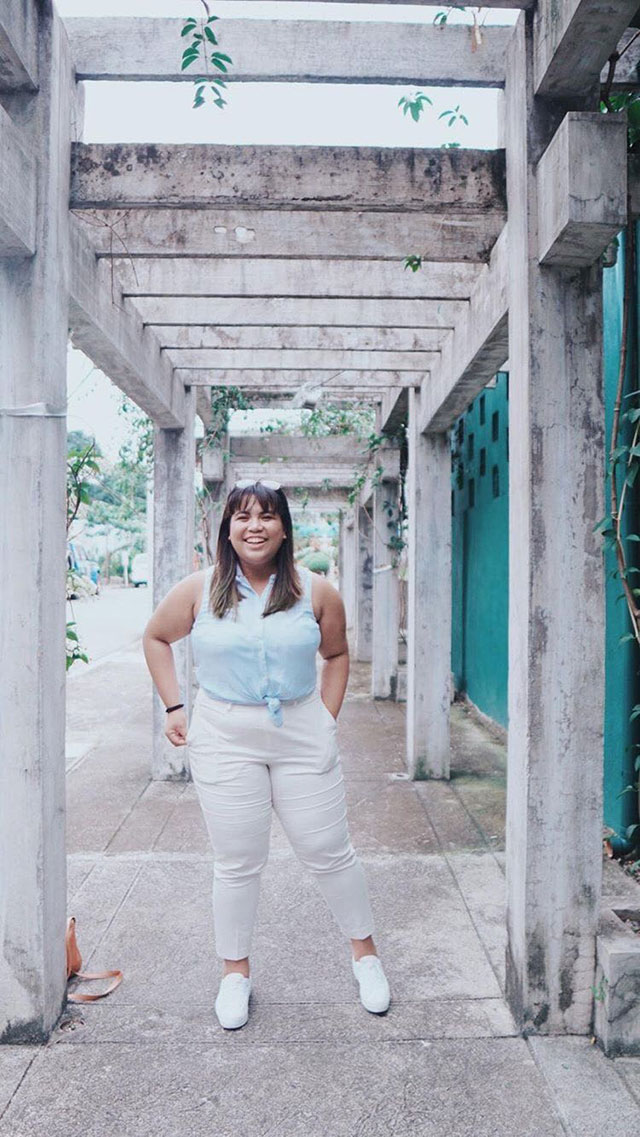 If that seems like a daunting opener, you can start with these. Pretty sure you can start doing them the moment you're done reading this:
Learn not to give a shit about what people think. If you feel good, sexy, and cute in it, THEN BY ALL MEANS WEAR IT! How people see you [is a reflection of] how you feel about yourself. So if you keep telling yourself that you look ugly in certain outfits, then others would feel that. But if you radiate so much confidence while wearing it, people will also be able to tell and feel it too!
Surround yourself with people that make you feel good about yourself. My confidence was reinforced by my closest friends. I'd share my outfits [with] them and they'd really always hype me up! But they're also the most honest. When something doesn't look right they help me figure out my way around it and really make sure that I'd be looking my best.
Populate your feed with brands and online personalities that advocate self-love. Brands and people that resonate with you, that represent and empower you. Other than my aforementioned local brands you could also look into Girlfriend Collective, justgirlproject, Iskra Lawrence, Ashley Graham, and Riley Hemson.
My mentioned brands and personalities are international that's because locally, even though there's representation (though very niche), there's really not much of a conversation around it. No other form of awareness is sent out to the audience other than posting photos and a catchy caption. We need to remind, nudge, and amplify the movement by educating and being more personal and honest. Not all just fluff. I'm trying to change that slowly—one post after the other.
A side note:
Let me just put it out there that representing plus size DOES NOT mean I'm tolerating an unhealthy lifestyle. My goal here is to allow people to see that beauty is also found in other "sizes" per se. The topic of having a healthy lifestyle is a completely different conversation.
Ultimately, self-love is what starts it all. Almost like your umbrella for your life goal and lifestyle. From being accepting of your body and everything that comes with it to curating a healthy lifestyle that works best for you.
Follow Retty on Instagram.