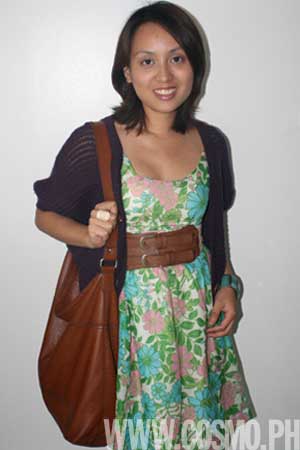 Cosmo deputing managing editor Camyl Besinga has been very open with us about her life. She writes stories about her married life in her monthly editors' blog Miss Taken. She's shared with Cosmo readers her wedding and honeymoon photos and discussed the doubts and delights of a married woman. We now also know she and her husband are part of a band called the Techy Romantics, which in turn gives us an audio insight into their chemistry with each another.

Now, Camyl is revealing something else to you gals: the contents of her purse! What are the essential items a deputy managing editor of a magazine needs to get by? From kikay stuff like makeup to practical things like medicine and eco totes, you can sneak a peek at the contents of her handy carry-all—and maybe get a few pointers on how to manage what you bring in your daily bag.

Launch the gallery to see what's in her H&M hobo bag, along with little anecdotes about each item!
1097
Continue reading below ↓
Recommended Videos