Heart Evangelista has done it again! She never fails to look absolutely gorgeous in every SONA she's attended so far, and today is not an exception. The actress stepped out today in a white Filipiniana gown designed by Mark Bumgarner. But if you look closer, you'll notice the most important part of her outfit.
Have you spotted it yet? Need a little help?
Blink, and you'll miss it! She's got a rainbow flag pin attached to her gown! Check out the screenshot from her IG story below: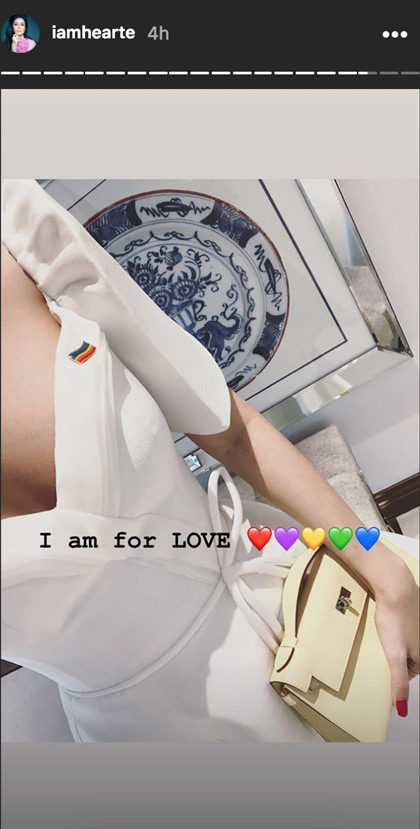 Continue reading below ↓
Recommended Videos
In a separate Instagram post, Heart explained that she wore the rainbow flag pin to show her support for the Sexual Orientation and Gender Identity and Expression or SOGIE bill, also known as the Anti-Discrimination Bill. "Everyone has the right to live, work, and dream. The SOGIE bill is a step in the right direction to guarantee the protection of those rights, especially for our friends in the LGBT community. Last year the bill made great progress but we still have a long way to go. My husband and I are in full support of this bill and hope to see it move forward and become a law. #sona2018 #LoveIsAllWeNeed," she wrote. 
Our Pride hearts are soaring! We stan a woke kween!
Senator Sonny Angara's wife, Tootsy Angara, also wore the pin today. She wrote on Instagram, "Wearing this pin to show my all out support for the Anti Discrimination Bill as I join the call to fight for equality and end all forms of discrimination. Imagine a world where you will not be judged for race, gender, faith, ethnicity, where love can flow freely. Imagine a world where people use their powers not to create conditions of oppression that lead to violence, but conditions of freedom that lead to peace."
It warms out hearts to know that these women stand for equality as much as we do!