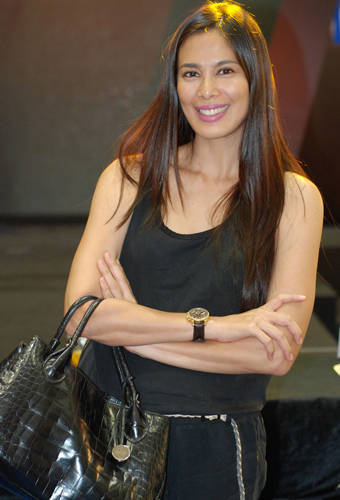 On our most recent trip to Hong Kong, we bumped into a local celeb who is no stranger to the Cosmo family. Angel Aquino has appeared on three Cosmo covers and many other magazine and web features, but this encounter was different because we got to see her in, well, an entirely foreign setting.

Angel's jobs as actress, model, and TV host take her to many places around the world. When we saw her in one of the most popular fashion capitals, we were eager to get her style tips for girls who plan to go abroad this holiday season. We also asked if we could see the what's inside the Furla handbag she was toting around Hong Kong, so we can tell how her travel essentials differ from the everyday items we found in her past bag features. You'll find that some of the items she has there have been with her daily since we first photographed her bag in 2009!

Read our brief interview with her below, then launch the gallery to see the contents of her travel purse.

Can you share some travel fashion tips?

Me, kasi, I'm a light traveler. I don't like packing a lot of stuff kasi eventually--especially if you're going to Hong Kong--you'll definitely go home with a heavier bag. So make sure that you bring a bigger luggage with you, even if it's only a quarter full. Maybe even bring another bag to tote around with you. Leave space for all the new acquisitions.

Bring shoes that are comfortable and stylish also, so that you're not always walking naman in your slippers lang--although they are the most comfortable footwear when you're going shopping. Always carry FitFlops with you 'cause they can be trendy, fashionable, and also very comfortable. Bring light clothes, and if it gets colder, bring one basic trench or jacket and a scarf--you can't go wrong with that. Bring a pair of jeans, a pair of shorts, and very light tops lang so that when it gets too warm you can just take your jacket off.

What should girls always have when they travel?

You know, I just realized that I don't have a raincoat! I think that [would be] a good investment, especially since it rains so much in the Philippines. Maybe next year it will get worse, so it will be nice to invest in a raincoat, kasi those thick jackets, after a while, they will get smelly and they're too heavy to bring. A raincoat would be perfect, and a nice, sturdy umbrella.

Name five things every girl should have in her closet.

A nice white collared polo shirt or a boyfriend shirt, skinny pants, a tank top, a little black dress, and a black belt.

What are your current favorite trends?

I really enjoy prints now--polka dots and animal prints. Of course, I probably won't be in a full outfit that's just head-to-toe animal-print, but I would probably have an accent of that.

Who is your fashion icon?

In the Philippines, I like Daphne Osena. I find her very stylish--she can pull off a black dress that has no shape, but when she wears it, it looks very elegant. Abroad, I like Gwyneth Paltrow and Kate Moss.


Launch the gallery to see what's in Angel's travel handbag.
Continue reading below ↓
Recommended Videos
1707