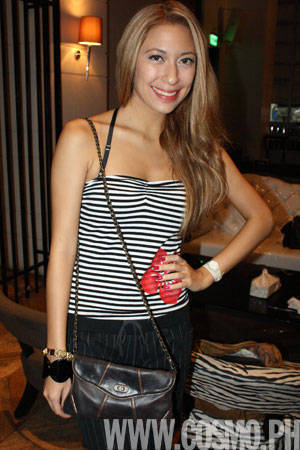 You see statuesque models on the fashion pages of Cosmo in every issue, but it's not every month that we really try to get to know the lovely ladies who don the trendy clothes. Mia Ayesa is an exception.

We've interviewed the it-girl and her fellow "Zombettes" Ornusa Cadness and Sanya Smith many times, and learned new things about beauty, fashion, modeling, and travel from them. Now, we'll treat you to another insider info: what a model stashes in her purse before heading over to a fashion shoot.

During their "It-Girl Style" Cosmo fashion shoot at Opus Restaurant and Lounge, we got to hang out with Mia, and ask her what in-demand models like her bring to photo shoots.

We loved Mia's distressed chain strap shoulder bag from Accessorize—it's small, lightweight, versatile, and easy to grab when she has to run off to her next glam assignment.

As with most of the girls we feature in the mag, Mia didn't bring her entire kikay kit since there was a makeup artist on set for the shoot. Instead, we got to see the bare essentials that a top model uses on a daily basis. In Mia's case, it includes several lip products. She also had a funky pink keychain given by Sanya!

Launch the gallery to see all the contents of Mia's bag, and look out for Ornusa and Sanya's bag features soon!
Continue reading below ↓
Recommended Videos
1438