South Korea's capital is high on many Filipinos' must-visit lists for tons of reasons. It has just about everything on offer for different kinds of travelers, from the foodie who likes eating her way through the city (samgyeopsal and samgyetang, anyone?) to the artsy chick who loves her street art and museum fix. Let's not forget the K-drama fans who want to relive all those kilig scenes by visiting various shooting locations, or the K-pop lovers dying to worship at the altar of YG, JYP, and SM Entertainment!
But if I'm being honest, one of Seoul's main draws is the amazing shopping experience. Countless beauty road shops and dizzying duty free stores aside, what every Cosmo girl shouldn't miss out on are the stores and boutiques that sell the trendiest, most desirable clothes. If you've always admired how your favorite actresses and idols dress on and off the stage, these shopping destinations will help you get the look real quick.
Hongdae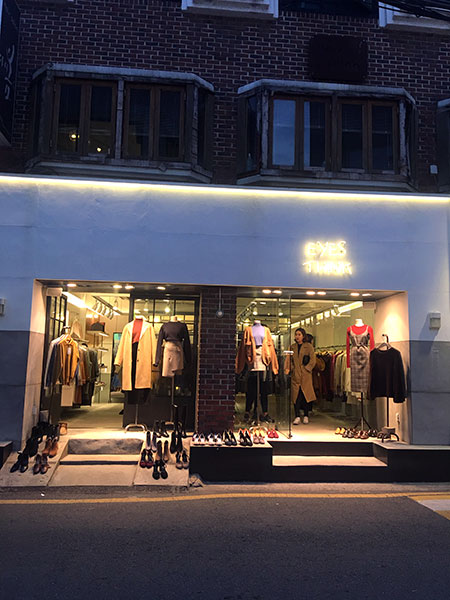 The area around Hongik University is buzzing with restaurants, watering holes, and loads of small shops—and they're all relatively affordable, given the student community that thrives there. The alleys that run past the huge H&M near exit 9 of Hongik Univ. station are the most chaotic (even more so on the weekends!), which make shopping during peak hours an experience. My tip is to come out of exit 8 and walk across the street of restaurants to the other side (you'll spot a 7-11 in the distance!). This area is detached from the crowd and rarely gets packed, even on Saturday nights, and—best part—is lined with boutique after boutique selling all the frayed jeans, flat mules, and pajama-style blouses your heart could ever desire. One of my favorite brands for clothes and makeup, Stylenanda, also has its Hongdae flagship here!
Continue reading below ↓
Recommended Videos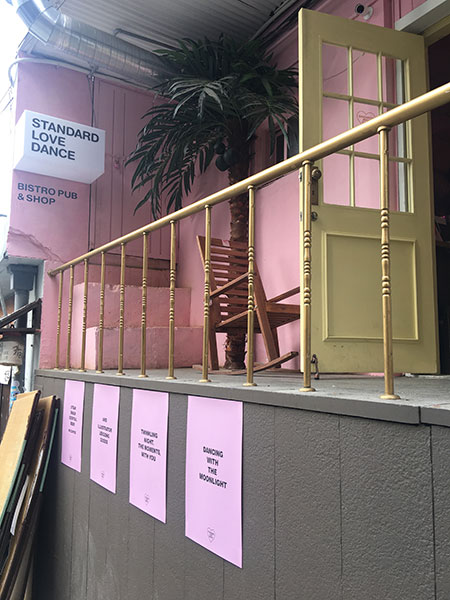 Edae
I love visiting Ewha Womans University for the gorgeous campus—brick buildings creeping with ivy are the norm here! There's also a sleek and shiny glass valley running through the center of it all, which houses classrooms, offices, and stores. And with a primarily female student population, Ewha's immediate neighborhood understandably caters to just that. Here, you can find charming boutiques peddling first date-worthy dresses, adorable handbags, and enough accessories to complete the look. Prices in Edae are even cheaper than Hongdae, so be prepared to go crazy! *wink*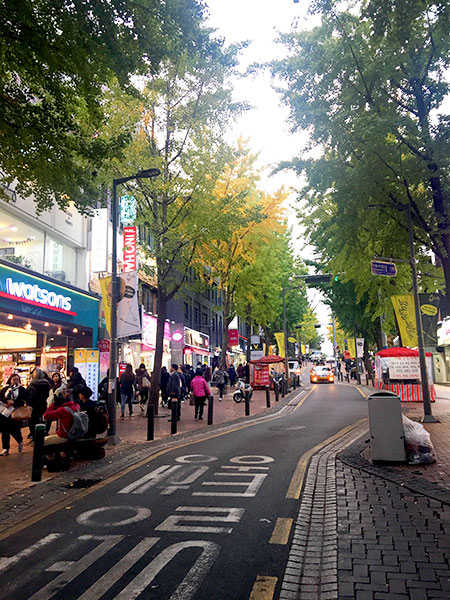 Garosu-gil
Seoul has an abundance of Instagram-worthy places, and Garosu-gil in Gangnam is no exception. Bordered by the posh neighborhoods of Cheongdam-dong and Apgujeong-dong (where you should go if you want to blow off your money on designer fashion), Garosu-gil, in contrast, caters to hipsters with a pulse on emerging trends. The ginkgo tree-lined main street is home to independent boutiques and carefully curated lifestyle stores, most bearing proudly Korean brand names. If you find yourself in Garosu-gil, be prepared to shell out more than you would in Hongdae or Edae—the exclusive feel of the neighborhood reflects on the items being sold in stores. And if you do come up empty-handed, you can always find comfort in the adorable cafes tucked in hidden alleyways!
Dongdaemun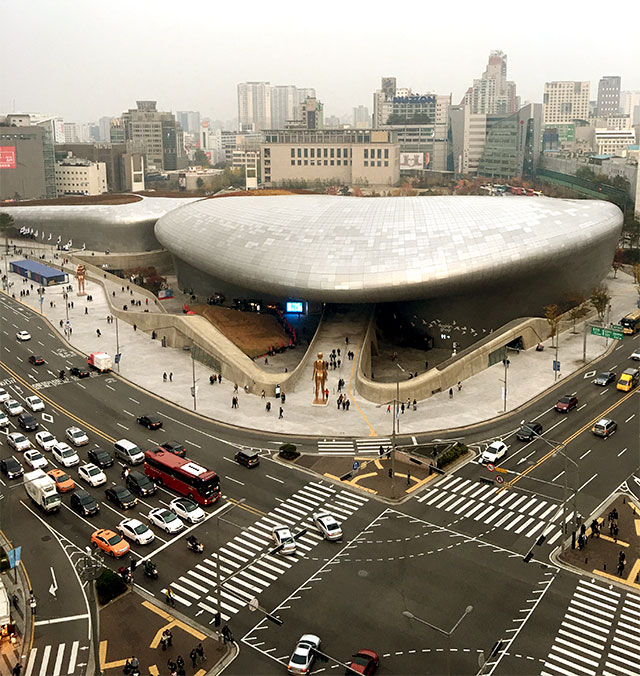 If you're really, really serious about shopping, you absolutely cannot miss Dongdaemun. It's home to a complex of high-rise buildings which, as you might have guessed, are all retail spaces. Unlike Hongdae and Garosu-gil's street-level boutiques, Dongdaemun's malls are very similar to the tiangges in Greenhills. One section of Dongdaemun Market caters solely to wholesale buyers, but luckily, regular shoppers like me and you will be more than satisfied with the trend-led clothes and accessories available at Doota, Migliore, and Hello apM. You can even try your hand at haggling—though it might be tougher doing so in Korean. But what really sets Dongdaemun apart from the others on this list is the INTENSE shopping hours: many stalls operate from 10 am to 5 am the following day! My tip is to rest in your hotel after dinner, then come out again during the wee hours of night for a different shopping experience. Just note that you'd have to take a cab to and from Dongdaemun, as the subway shuts down at 12 am, so make sure you have your accommodation's address (in English and Korean) with you!
Follow Patricia on Instagram.