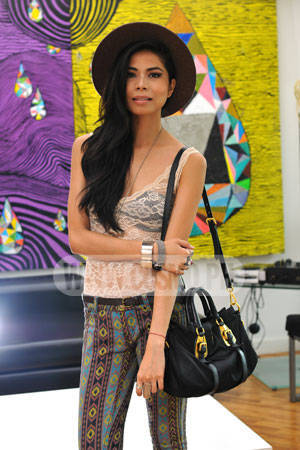 Cosmo recently visited the home of supermodel Raya Mananquil to shoot her bedroom for this month's "At Your Place" page. She looked chic as always in a lace top and printed pants when she welcomed us into her modest and artistic abode. After a little tour of her condo, we asked if we could photograph her bag for the second time, since her bag feature back in 2010 (which we also shot in her home) got lots of positive feedback from you, dear readers. She was happy to oblige, and even shared some back stories about some of her more unique belongings.

As a supporter of People for the Ethical Treatment of Animals (PETA), Raya avoids leather as much as possible. She shares, "I've never been big on buying designer bags at all, if anything, because I'm vegan, so I avoid buying leather products. I normally use extremely ratty bags that I get from vintage stores in my travels, and my mom was just so appalled!" Since her mother, renowned lifestyle editor Millet Mananquil, insisted on giving her a designer bag, Raya made an effort to choose one that has the least amount of leather. Her pick, a roomy convertible Prada bag, is stylish and spacious enough for all her daily essentials.

If you compare her bag contents now to those she had two years ago, you'll notice that she's upgraded her gadgets, but her beauty stash has only slightly changed. She also keeps an interesting collection of souvenirs from her travels abroad.

Launch the gallery to see all the items we found in her purse, and read her anecdotes on some of them.


Grab a copy of the April 2012 issue of Cosmopolitan Philippines with Marian Rivera on the cover, and flip to p.172 to see Raya's bedroom feature "Artsy Rocks." Watch for behind-the-scenes photos from our shoot in her home, soon!

Continue reading below ↓
Recommended Videos
1916