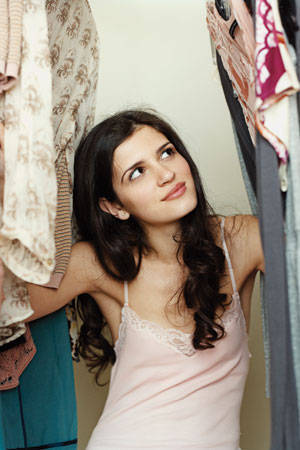 It's always a good idea to declutter your closet every so often and update your wardrobe with the hottest trends. But before you throw anything out, take note of a couple key pieces that you should hold on to and invest in.

We consulted with Cosmo's Fashion Director Donna Cuna-Pita about the 8 wardrobe items every 20-something Cosmo girl should own. Whether it's for a job interview or a hot date, these must-haves will surely score you extra points and boost your confidence!

Read through our checklist here:

1. A well-made suit. Regardless of it being a pants suit or skirt combo, having at least one set will ensure that you have something to wear for interviews and important meetings. Choose a neutral color so you can mix and and match with other items in your wardrobe.

2. Wrinkle-resistant, classic LBD. You need at least one little black dress that you can wear to a date, meeting, trip abroad, etc. Keep the cut or style sleek and classic so you can layer it with other items (blazer, long sleeves underneath, etc.) and accessories.

3. Strategic underwear. By now you should be familiar with your body type and know which areas need support or cinching. Having good quality underwear will make your body look smashing in seconds!

4. Comfortable but sexy shoes. Beautiful shoes are useless if you can't walk or dance in them. Make comfort a priority to save you from foot and back injuries.

5. A structured work bag. You need a sturdy and structured bag for work to keep your files and other things in order. A slouchy bag will ruin your streamlined work outfits.

6. An evening clutch bag. For all your cocktail and formal events, you need a pretty clutch to hold all your essentials.

7. Good fitting jeans. Find a style and brand that suits and flatters your body.

8. A bold colored dress. It can be red, or bright yellow, or even gold—but have at least one high-impact dress that you can wear for occasions when you want to be remembered.

What's the one wardrobe item you can't live without? Let us know by commenting below!
Continue reading below ↓
Recommended Videos