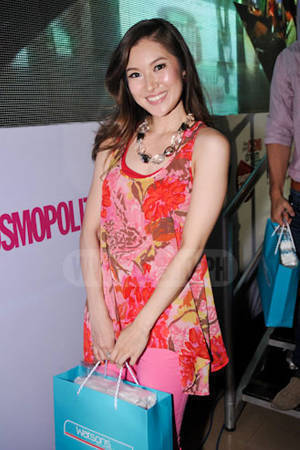 At a mall event, we caught up with recording artist and YouTube star Stephanie Dan, known for rocking the airwaves with her acoustic renditions of hits such as "Price Tag," "Need You Now," and "Firework." Read our exclusive interview with her below.
What are your beauty tips and tricks?

I always bring something to moisturize my lips. The eyes and the lips are what most people look at. For the eyes naman, I like the clean look. Just fresh. I usually put concealer right under [the eyes]. [After some] blush, I'm ready to go.

Another beauty tip is when I wash my face, sometimes I use a towel. It's [a way to] exfoliate. You don't have to buy any other product to exfoliate your face; you just need your towel. Just soak it in warm water and put your facial wash on it and then just scrub away [gently]. I do it at least twice a week, but not on consecutive days. It smoothens the skin.

Any style tips?
Since it's pretty hot here in the Philippines, most of the time, I like to wear light, flowy clothes, like my top right now. [I like sheer fabrics],  lace, and bright colors. 

Do you have money-saving advice for girls like you?

I usually prioritize. What do I need most and can I use it for a long time? Is it a classic? If it's a classic style, then it's going to [last] for a long time. Another thing I keep in mind when I shop is comfort. I'm always for comfort. If it's comfortable, [it has a] good price, and the quality's good, just get it!
Continue reading below ↓
Recommended Videos