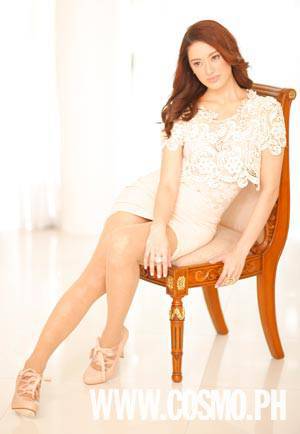 Cosmopolitan Philippines dares all women to bare their natural beauty and to love their body--whatever shape or state it is in. To inspire you, we got celebrities to tell you how much they love their own curves, and even go without makeup! And, we got the flawlessly beautiful actress and model Maricar Reyes to grace our cover this month.

Cosmo Editor-in-Chief Zo Aguila says Maricar is perfect for this month's cover because she is one of those stars who really glow and look beautiful, even without makeup and all the fuss. All the team needed to do for her cover shoot is emphasize Maricar's lovely features with very subtle makeup and bring out her amazing figure in clothes done in lace and nude tones.

So, we dare you to let your natural glow and body shine through in lacy, sheer outfits done in creme, beige, peach, light pink, and light brown that flatter your complexion and your figure. Channel Cosmo's them this month. Click through the gallery of clothes stylist Alyanna Martinez pulled out for this month's cover shoot.
Continue reading below ↓
Recommended Videos
604