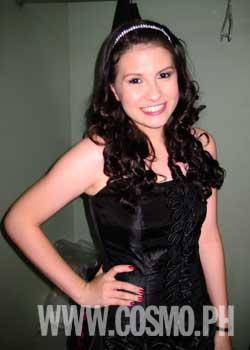 There's a new girl in town whom music aficionados should watch for. You may already recognize her from some YouTube videos and a couple of theatrical shows here in the country, like
Seussical, Beauty and the Beast, Grease,
and
Children's Letters to God.
The young singer we're talking about is
Tippy Dos Santos
, who is not really new to the music industry. At age 9, this sweet girl began attending theater workshops, like Trumpets and Ateneo Children's Theatre. She also does a lot of shows with fellow Stages talent
Sam Concepcion
. Just recently, they sang "No Air" in
Christian Bautista's concert
.
With her looks and talent, Tippy is sure to go a long way in the music industry. In fact, in 2008, she joined the World Championships of Performing Arts (WCOPA), where she became a grand finalist. She even garnered three gold medals, one silver, one bronze, and three overall awards in that single event!
When Cosmo dropped by Christian Bautista's
Romance Revisited
concert in Music Museum recently, we thought of asking the fresh-faced girl for some tips when dressing for concerts this summer--whether to perform as she did or simply just to watch, as she has done several times, too.
What tips can you give Cosmo girls
for looking
fashionable when in concerts?
"Wear something colorful and bright! If your outfit is simple, pile on accessories; or when your outfit is 'woah,' wear less accessories. Just try to balance it."


How much makeup should they put on during concerts?
"For me, I'm more on
makapal
for night concerts. But wear light makeup for events."


Describe your style.
"My style is simple
lang
. It really depends on how I feel. Usually I would wear flats and jeans."
What are your summer fashion staples?
"Shorts, shirt, and flats again."

What are your plans for this summer?
"[Attend] Trumpets! I do that every year, and then [go to] Bora, La Union...lots of beaches!"
Continue reading below ↓
Recommended Videos