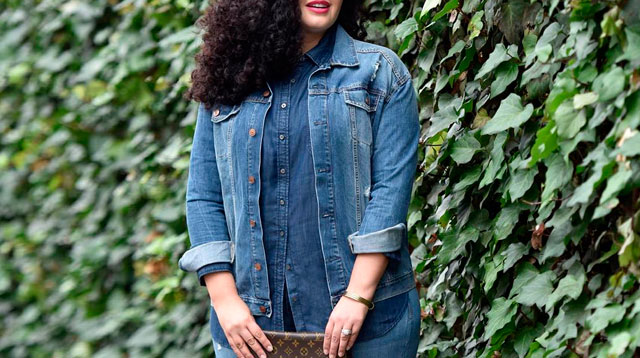 Instagram/taneshaawasthi
Curvy girls, now is the time to stop hiding your body in drab, shapeless clothing! It's normal to feel apprehensive when trying a look you're not sure would work, but you wouldn't completely know until you try it, right? Shut down those naysayers and prove these things actually work on your full figure:

1. Layers
When layering clothing, go for soft pieces that skim your curves. Try not to overwhelm your frame with bulky fabrics, and always remember to show off a little skin.
ADVERTISMENT - CONTINUE READING BELOW ↓
2. Busy prints
Don't think twice about wearing playful patterns! Start off slow—a printed top with solid bottoms, and vice versa—before you take the plunge into wearing print from head to toe.
3. Denim on denim
The Canadian tuxedo is actually a good look for you because it's a play on monochromatic dressing! Keeping it cohesive with just one color gives the illusion of a sleeker body.
4. Light colors
Who says you should only wear dull, dark colors? When experimenting with white, nude, and blush, a flattering fit is your bestest friend. Try a nipped waist to show off an hourglass figure.
ADVERTISMENT - CONTINUE READING BELOW ↓
5. Bodycon
If you've got it, flaunt it, right? When wearing silhouettes that enhance your every curve, look out for details that give you peace of mind—say, a thicker fabric that holds everything in or a halter neckline that keeps your boobs in place.
ADVERTISMENT - CONTINUE READING BELOW ↓
6. Stripes
Stripes may seem like a tough look to master, but here's one tip that will never fail you: Choose vertical lines that trick the eye into making you look taller and slimmer. Thinner stripes are a safer option, too.
7. Bikinis
This last pointer is less of a styling tip and more of an affirmation. Yes, you can wear bikinis to the beach! At the end of the day, the amount of confidence you have—not your size or shape—is what people will notice. If you're really apprehensive, try a super chic one-piece or maillot first before progressing to a high-waisted two piece. Then, once you're ready, take the plunge and go for a bikini! Kaya mo 'yan, girl!
ADVERTISMENT - CONTINUE READING BELOW ↓
Follow Patricia on Instagram.