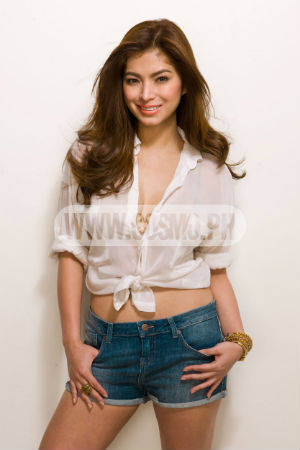 After putting her on the cover of Cosmo several times (five, to be precise), we already know that Angel Locsin is an easy-going and fun-loving gal who's game for anything. Her free spirit is what keeps us captivated each time we shoot her for the cover, and when you girls asked us to put her on the cover again, we gladly obliged!

You've seen Angel in different Cosmo cover looks (see them all here), but we wanted Angel's fifth Cosmo cover story to stand out by making her look more casual and fun--not too glammed up. Cosmopolitan editor-in-chief Zo Aguila explains, "Usually we like dolling up our cover girls, but this time, we took a different approach. She's more comfortable and casual. We wanted to capture her like this because we wanted to show another side of her...it's our way to let the readers get an inside peek at how [she is] on days off: relaxed, but still super beautiful."

You've already seen what Angel brought to her cover shoot at the Ronac Art Center, so now see what we brought for her to wear! We pulled out lots of comfy wardrobe options, including sweaters, cardigans, shorts, and button-down shirts. There were also a few flirty dresses thrown into the mix, in case we needed to show off her more feminine side.

Associate art director Paula Pangan explains the concept behind the outfits, saying, "For the color palette of the wardrobe, we used neutrals like whites, grays, and cream with hints of blue to bring out her [laid-back] personality. We wanted a low maintenance look to show that she's a very chillax person."

Launch the gallery to see all the laid-back outfits stylist Pam Quinones picked out for Angel, including the fierce shoes that added a touch of chic to the casual looks.

View behind-the-scenes footage of Angel's photo shoot on CosmoTV, and watch for our behind-the-scenes gallery and interview video soon!


Don't forget to grab a copy of the October issue of Cosmopolitan Philippines, with Angel Locsin on the front cover and John Lloyd Cruz on the flipside--in stands NOW!
Continue reading below ↓
Recommended Videos
1562