It's no secret that we love anything Korean- and Korean beauty-related here at Cosmo HQ. So when we asked the team if anyone wanted to get a ~*Korean hair makeover*~, our Associate Art Director, Mixi Ignacio, quickly said yes! She could not be more perfect for this transformation because she has dyed her hair multiple times over the years (She has gotten purple and blue hair!), but she's never actually gotten one similar to her Korean idols.
Keep reading to learn more about her hair transformation at Marqed Salon!
Name: Mixi Ignacio
Hair type: Dry and unevenly dyed jet black
Haircare routine: Shampoo, Hair Mask (3x a week), Hair Oil or Serum (2x a week)
Current hairstyle: A collarbone-grazing lob with side bangs, dyed jet black
Salon
Marqed Salon, located at 59 Connecticut Street, San Juan City
Price
Haircut starts at P250; Hair color starts at P2,500
Experience:
Once I was in the chair, the lead hairstylist, Rey, examined my strands and scalp to see if my hair would be able to take the color I wanted. Quick backstory: I wanted to get my hair dyed ash gray/ash blonde because CL from 2NE1, my K-Pop kween, has the same shade. Here is the actual peg I showed him and his assistant, Kristine:
Continue reading below ↓
Recommended Videos
Next, Rey scanned my hair and scalp to see their true state. He took out a machine that looked like an ultrasound machine OB-GYNs use. It had a small display screen and a device connected to it that examines the scalp and there, it showed a scaled version of it. I was amazed because ~technology~! Along with this, he showed me a chart that determines whether my scalp is dry, normal, or oily. He said that portions of my scalp are dry while other portions are normal. He explained that this is due to a lot of factors—my skin type, the sun's heat, the chemicals that I put in my hair, and the heat-styling methods I do.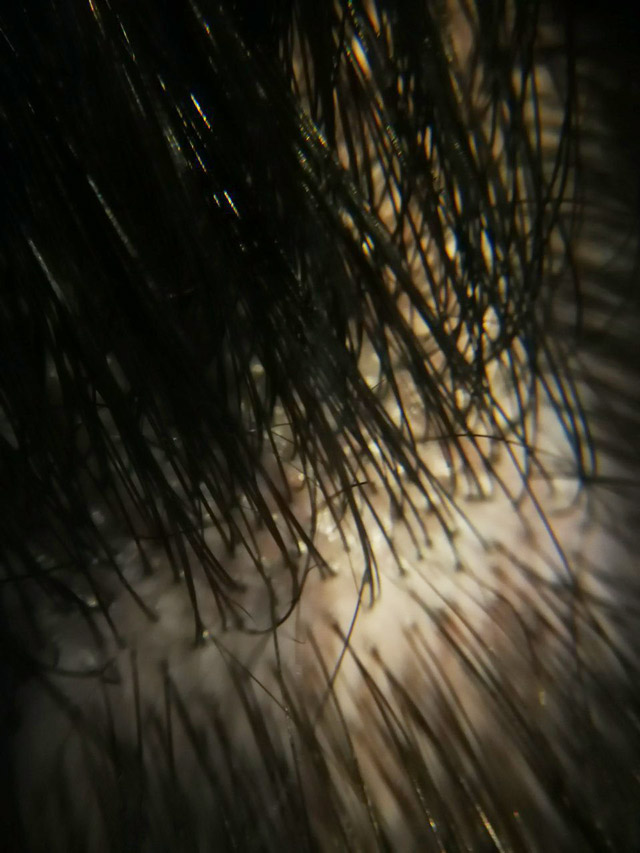 After the scalp test, he examined my strands. I was pleasantly surprised when he was able to guess my hair history! He confirmed that I dyed my hair jet black (to which I said yes). After some more examination, he concluded that we wouldn't be able to achieve the light ash gray hair color because, as he pointed out, certain parts of my locks are dyed black, some are brown, and some are natural. Due to the unevenness, if my locks were to be bleached, it will create uneven patches on my hair. (Ed's note: Bleach can't strip off black dye on the hair.)
He proved this by bleaching a small portion of my hair to see if it will get light enough to achieve our ash gray peg. Unfortunately, it didn't. Rey explained that aside from being unevenly dyed jet black, I have Asian hair. Asian hair, according to him, is harder to lighten without being severely stripped off by bleach. Because of this, we agreed to an ash gray balayage, bleaching my hair only once to lighten it and to look as close as possible to my peg. 
As for the haircut, I asked for something shorter because I had my collarbone-grazing lob for a while, and I was really bored of it. I settled on a blunt bob with micro bangs, being inspired by Joy from The Liar and His Lover! While I was initially afraid of getting micro bangs, it dawned on me, "It's just hair! Tutubo rin ito in a few weeks!"
After the haircut, it was time for the bleaching process. He, together with Kristine, began to apply the bleach on the lower back of my scalp and slowly to the front. My bangs were the last ones bleached. I loved how their bleach didn't hurt AT ALL! The bleach felt soothing, cooling, and minty, almost relaxing, to my head. It felt like my scalp was being treated with a mentholated shampoo.
We waited for the bleach to work its magic on my hair for 45 minutes. During the waiting period, he constantly checked to see how my hair was doing. When they washed off the bleach, I had a head of warm, golden locks—like Rapunzel, but with a bob. He was right about the uneven patches of bleached hair. He showed them to me, but assured me that I would not have to worry about the end result.
Rey proceeded to tone down the brassiness of my locks by dyeing the area near my roots with dark brown. To achieve a balayage effect, he applied a medium ash on the middle to the ends of my mane, ensuring each strand was properly covered to make the transition smooth and seamless.
Once my tresses were blowdried and styled, I was amazed with how the ash gray balayage looked! Plus, while I already accepted that my locks couldn't go lighter anymore, I was shocked when after showering the next day, my hair got lighter but not brassier!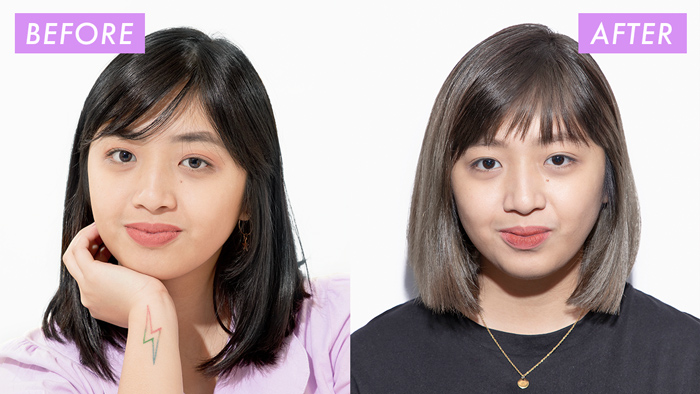 In the past, I underwent a bleaching process without professional supervision, so I have firsthand experience on how problematic bleached hair can get. My hair became so damaged and brittle! But this time around, the texture of my hair is soft and manageable! Combing my hair is no longer a problem when I'm in a rush, because it doesn't become sticky and tangled. Yay!
Is Marqed Salon's haircut and hair color worth it?
Definitely! With my hair originally being damaged, it looked like I wouldn't be able to achieve the hair color I wanted. But their hairstylists were able to compromise and helped me get a shade that's really close to the one I initially wanted! Not to mention, the whole process only took two and a half to three hours! I was fully prepared to sit in the chair for half a day!
Would you get this haircut and hair color again?
While it actually took me a while to get used to my new 'do (I was shy at first!), I love how it has inspired me more to dress like my favorite K-Pop and K-drama idols. And I love how the dark ashy color has given me an edgy-meets-cute vibe. It's safe to say I'm down to get this lewk again and again, but maybe with my bangs just a teensy bit longer! 
Follow Mixi on Instagram.
Follow Tisha on Instagram.