I'm obsessed with any product that will keep my head feeling fresh. I've got an oily scalp and colored hair, so I always use dry shampoo to get rid of the sticky feel and hair serum to hydrate the tips. These products, while they do make my locks smell fresh and look healthy, they form a residue on my scalp and strands. This buildup results in a malagkit feeling and an itchy scalp.
To get rid of the mentioned issues, I've been practicing a detoxifying regimen for years now. (I even shared my fondness for rinsing vinegars and wrote an article about scalp routines, too.) Not to brag (but totally bragging), weeks before PAGASA made an offish announcement that the hot weather is here to stay, I took my haircare game up a notch. I found a product that made my squeaky clean scalp dreams come true: The Scentence Acidic Green Salt Scrub Shampoo. Read on to find out more about this ~sensational~ find.
What's the texture and smell of the Scentence Acidic Green Salt Scrub Shampoo?
It's a salt scrub, so it feels a bit rough at first. But don't worry, it's not that abrasive on the scalp because the granules are so small. It has a zesty citrus scent that will wake you up on tamad mornings.
Continue reading below ↓
Recommended Videos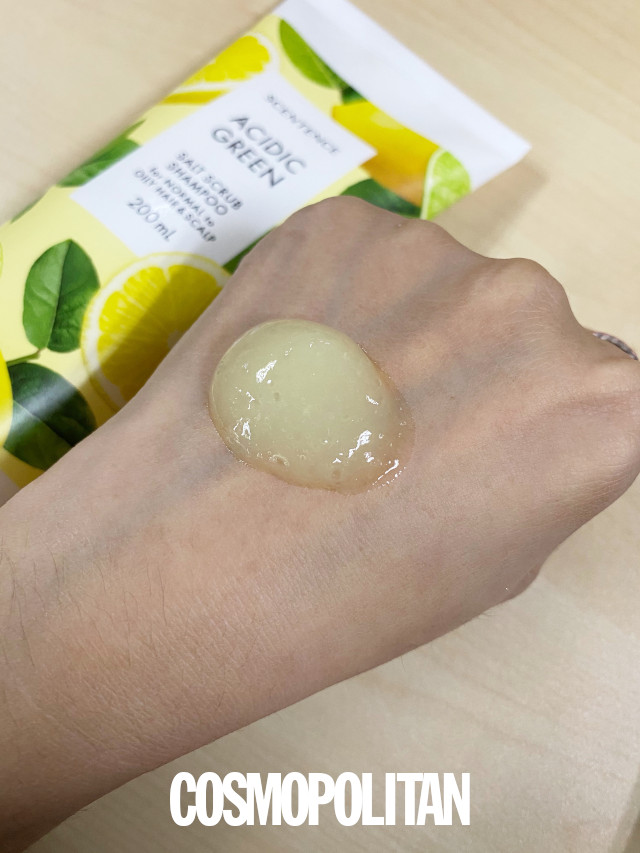 What can the Scentence Acidic Green Salt Scrub Shampoo do for the hair and scalp?
Because of the salt granules, it acts like a scalp detox + shampoo in one. You gently rub it on damp scalp and hair to exfoliate the surface.
How do you use the Scentence Acidic Green Salt Scrub Shampoo?
While your hair is still damp (not sopping wet), massage the product to dislodge buildup on the scalp. Splash with more water to create more lather. Use this twice a week as an exfoliating treatment.
Here's why the Scentence Acidic Green Salt Scrub Shampoo is my official summer hair care item.
My scalp condition has never been better.

After regular use of the Scentence Acidic Green Salt Scrub Shampoo, I've noticed improvements on my hair and scalp. 1) It never feels sticky, even during hot weather or after a sweaty commute. 2) My roots look lifted instead of being flat. 3) I haven't seen flakes since using it, too.

The citrus scent is addicting.

For some reason, I associate the scent of lemons to being squeaky clean and fresh. The shampoo's citrus fragrance gives me the satisfaction that I'm effectively dislodging residue and dirt on my hair and scalp.

It has a lasting cooling feel.

The peppermint and eucalyptus extracts leave an icy feel even after rinsing. It's so perfect for hot weather.  

My locks have become less frizzy and they appear bouncier and shinier.

When the scalp is healthy, the hair follows suit. I've been using this twice a week for a month now, and I'm happy with how my locks look—they're shiny and healthy. They feel so light, too!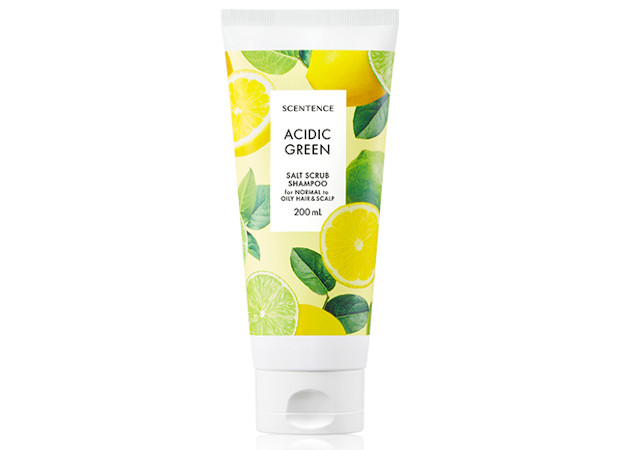 Scentence Acidic Green Salt Scrub Shampoo, P680, Robinsons Department Store
Follow Ira on Instagram.
Follow Cosmo PH Beauty on Instagram.
***
We are officially on Viber! Be part of the Cosmo Viber Community by clicking here! You can also visit the Sticker Market and download the "Cosmo Girl Sticker Set" here to be automatically part of the group. The stickers will only be available until April 27, so don't miss out on the fun!