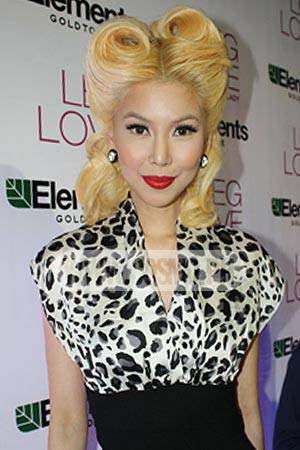 Twitter question from @letsfollowserah: "Hi Ms. @Bianca_Valerio! Just wondering, how did you get hair 'bleached' like that (Barbie blonde)?"

I've had countless people ask me about my hair ever since I dyed it and went bleach blonde for my Leg Love campaign, and even now that it's "Ombre" style (a gradient color of dark roots with lighter tips). Since we're on the subject of new things for the New Year, sporting a new 'do or, in this case, a new hair color is something I'd gladly shine much needed light on. Here's the lowdown on the hair coloring/bleaching process.

1. If your hair color is dark and you wish to go lighter, you will need to bleach your hair.

Since our strands are filled with pigment, bleach (a.k.a. hydrogen peroxide) "takes away" the pigment. The darker the hair, the more bleach is needed to achieve the desired "level" of lightness. Once the pigment has been drawn out, only then can the hair color be dyed in for the strands to take on the new pigment.

Think of it as foundation for the face. You need to cancel and neutralize all the undertones of your skin tone so that the true colors of your shadows and blushes will appear.

2. Bleaching is not the same as hair coloring!

Bleaching is the lightening process of removing pigment from the hair strands. Hair coloring, on the other hand, is adding pigment to the hair strands. You can do one without the other. Meaning, you can dye or color your hair without bleaching separately.

Hair coloring products already have an amount of bleach in them, but not enough to lighten dark hair considerably to match the exact color on the product label. That's why it's much easier to use hair color products on blonde hair, since they already have a "clear" base to start with.

3. Bleaching dark hair can take up to several hours.

I had medium length, naturally dark reddish-brown hair the first time I had it done. To get the blonde tone I wanted, they had to bleach my hair "five levels up." In my case, this was the process: First, they bleached my hair then left it for 30 minutes to set once all the strands were covered. Next, they rinsed and blow dried. Then, they bleached again. Which leads me to...

4. Bleaching is not for the weak of heart!

I bleached my hair four times the first time around, which took about six hours! And boy, I tell you, this is one experience that is not for the meek: if you think heartbreaks, giving birth, or menstrual cramps are a killer, just wait 'til you go through bleaching. Really. My scalp was sensitive to the touch for a week and had a few scabs from the bleach's burning effect (which is, unfortunately, a common after-effect of extreme bleaching).

I was supposed to do it one more time, but I was already in tears from the burning feeling on my scalp. Hair color was supposed to follow the bleaching, but it was too painful. I had to go back to Boudoir Salon in Somerset Olympia Building on Makati Avenue two weeks later to finally have my hairstylist, L'Oreal Professionnel brand ambassador and senior trainer Danny Katalbas, dye in the blonde color. It was a few months later when I finally went bleach blonde. Since they only bleached it up "one level" to get my already blonde hair to bleach status, the pain was barely noticeable.

5. Bleaching is also not for the weak of hair (strands)!

Unfortunately, like bones, not everyone's hair is built the same--some are strong, while others are brittle. Some people's hair can only take so much bleach before it starts to fall out during and after the actual bleaching process. Their hair becomes so damaged that it looks like cotton candy at its worst state. The only solution is to chop it off for new, virgin hair to grow out.

As we age, our hair becomes more brittle, so harsh hair colorants and products aren't recommended in order to retain its vitality. In the industry, my hair has been known to be Herculean, so I was fortunate that after all the coloring, bleaching, and chemical processes, my hair has remained strong and relatively healthy.

6. You can color your hair even without bleaching.

If you hair is already light and you wish to go darker, definitely go for it! You can also color your hair sans intense bleaching, but like I said, the exact tone won't come out. Bleaching can be very painful, while hair coloring (for the most part) is not. It depends on your hair's condition, the hair color brand, and your tolerance for pain.

7. Your hair will unfortunately be damaged from hair color and, more so, from bleaching.

Any form of chemical we put in our hair, no matter how "natural" it claims to be, will eventually cause some form of damage. That's why it's not even good to shampoo daily, as this strips off the natural oils of our hair strands.

Hair treatments and a healthy diet are essential to maintaining great hair color and, more importantly, healthy-looking hair. It is recommended to get a monthly hair treatment for regular maintenance, even if you don't use hair color. Depending on the state of your hair, you can do it from twice monthly to twice weekly.

Tip: If you use at-home hair treatments, here's how to get the full effect:
Step 1: Shampoo and condition as usual, then rinse with warm water to open up hair follicles.
Step 2: Squeeze, and I mean seriously squeeze out excess water. This "empties" hair strands to take in the treatment more effectively.
Step 3: Apply treatment by concentrating mid-shaft to tips where damage is more apparent.
Step 4: Apply the least amount to your scalp so as not to cause excess oiliness.
Step 5: Emulsify, emulsify, emulsify! Massage the treatment into the strands--avoiding your scalp--thoroughly for at least 10 minutes.
Step 6: Rinse with cold water. This closes hair cuticles and locks in shine.

8. Hair color is a great alternative to plastic surgery!

It truly is! If you don't like it, you can always color it back again or just chop it off since hair always grows back anyway. It's not permanent unlike most plastic surgeries that leave you botched up, in utter regret, or utterly broke!

It's one of the most fun things I've ever done to myself and for myself! So, go to a trusted hair color specialist to make sure you get the best products and results you and your precious locks deserve!


Thanks for asking, @letsfollowserah! Girls, send me more of your queries at @Bianca_Valerio or @cosmo_ph. Your question just might be chosen next month!
Continue reading below ↓
Recommended Videos
EXPLORE COSMO