That time skip in Itaewon Class' 13th episode was so satisfying on so many different levels. (Spoiler alert!) After all, a lot can happen in four years—a small pub like Park Saeroyi's (Park Seo Joon) Dan Bam can become a full-blown corporation, and an inexperienced employee like Jang Geun-Soo (Kim Dong Hee) can climb up the ranks and become Jangga Group's company director.
The best glow-up award, though? We think it goes to Jo Yi-Seo (Kim Da Mi). She didn't just step up to become IC's CFO; she got a major style overhaul, too! Take a look at her transformation below:
Yi-Seo's signature dip-dyed bob did not make it to 2020. She eventually grew her hair out and kept it in a solid color, a look that's mildly reminiscent of Oh Soo-Ah's (Kwon Na Ra) locks from years prior. The difference lies in the high contrast layers—a true Jo Yi-Seo touch.
Continue reading below ↓
Recommended Videos
The businesswoman also seems to have grown out of her biker chic look. Four years later, Yi-Seo favors structured business attire (think Yoon Se-Ri's of Crash Landing on You's office OOTDs), minimal patterns, and dressy statement tops. That said, we do still see a hint of her old style in the way she pairs officewear with leather pieces and comfy boots.
The difference between these two all-black outfits alone is telling of how much she's changed her look!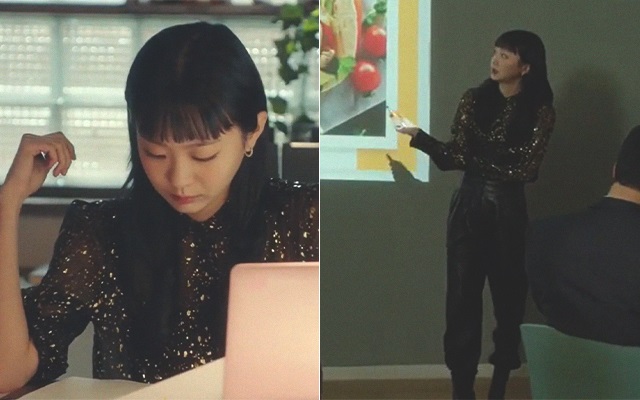 She changed her take on monochrome looks and suiting, too.
When it comes to dressing for the cold, her loose knits and dark coats have been replaced by lighter, structured pieces and some pattern-play here and there.
What do you think of Yi-Seo's new vibe?