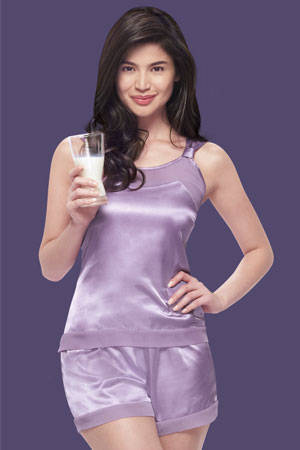 No matter how many times the ever-alluring Anne Curtis makes an appearance in Cosmo, we never run out of things to admire about her. With her undeniable wit, charm, and bubbly personality, she's always fun to interview and photograph! And just taking in her goddess-like features--from her naturally radiant glow and bombshell bod to her lusciously full lips--it's no wonder she has been our cover girl six times already!

How does Anne stay so gorgeous? We round up some of her must-haves so you, too, can channel her dyosa vibe!

1. Lipstick
Anne's famous pout wouldn't be complete without a lippy to match! It's something she knows she can wear every day. She's a big fan of deep reds or bright pinks. 
2. Lip Care Products 
Anne makes it a point to use a lip care product each day to give her that soft pucker. She applies a lip cleanser on her lips for about 15 seconds, wipes it off with a warm towel, then uses a lip scrub to buff off all the dry skin, then tops it off with a lip moisturizer.
3. Hairbrush And Hair Ties 
To keep her lovely tresses tamed, Anne stows these hair grooming essentials wherever she goes. 
4. Body Lotion
To maintain her dewy, kissably soft skin, Anne keeps a tube of her favorite moisturizing product in her bag.
5. Blush
A pop of these on Anne's cheekbones instantly defines her face!
6. Eyelash Curler
Anne gives life to her peepers by letting her long lashes accentuate them.
7. Compact Mirror
Every girl's must-have! It lets Anne make sure she looks perfect, no matter what activities she's got lined up for the day.
8. Wipes
Since Anne likes to travel a lot, she keeps these handy wonders to keep her feeling fresh and clean. They're also perfect for dealing with minor makeup mishaps!
9. Sleep
In an industry that demands a lot of sleepless nights and early call times, Anne still tries to sneak in as much beauty rest as possible, with several catnaps throughout the day. On her non-working days, she makes sure to get at least eight hours of sleep to recharge. 
10. Milk
As part of her nighttime beauty regimen, Anne downs a glass of yummy Athena milk before going to bed. You may not know it, but milk actually has prettifying nutrients and antioxidants like Vitamin A, Vitamin E, and zinc for that natural glow!