We raided the everyday makeup bags of 10 girls to find out how different each of their routines are.
Ginyn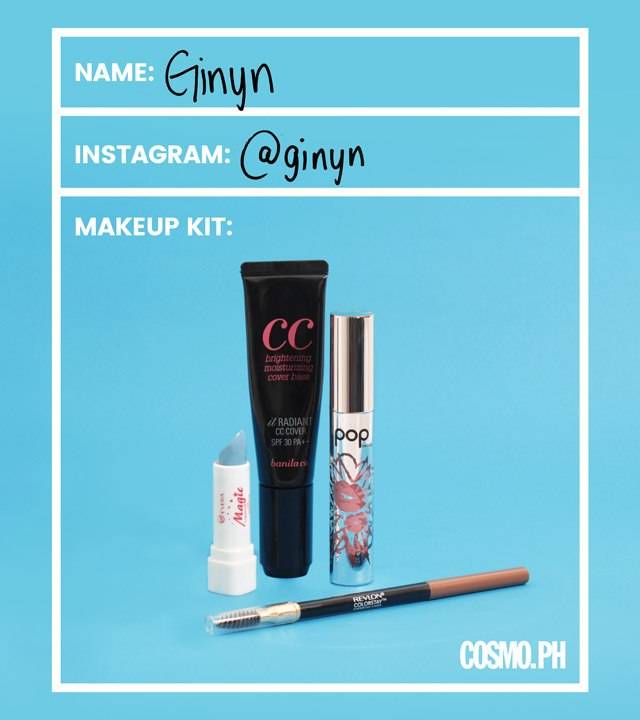 Skin Type: Combination
Products: Banila Co. It Radiant CC Cover, P1,215; Revlon Colorstay Brow Pencil, P575; Ever Bilena Magic Lipstick, P80; Pop Beauty Permanent Pout Liquid Lipstick, P750
Total: P2,620
The Banila Co. CC cream is the first base that didn't break my skin out. For my brow pencil, I love it because of its built-in spoolie. My favorite liquid lipstick is long-lasting. Finally, the ~*magic*~ lipstick was just something I discovered and decided to try because it didn't cost much, and I wasn't disappointed! It's long-lasting, transfer-proof, and not a bitch to remove.
Mixi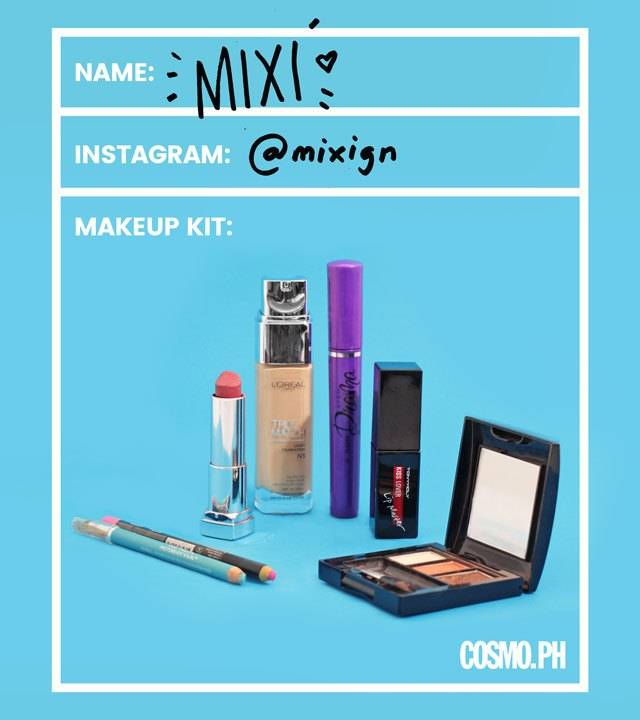 Continue reading below ↓
Recommended Videos
Skin Type: Dry
Products: Human Nature Mineral Eyeshadow, P350; Revlon PhotoReady Kajal Matte Eye Pencil in Matte Marine, P575; BYS Eyeliner Pencil in Hot Pink, P169; L'Oreal Paris True Match Liquid Foundation, P520; Tony Moly Kiss Lover Lip Master Lip Tint, P440; Avon Super Drama Mascara, P349; Maybelline Creamy Mattes Lipstick, P299
Total: P2,702
I wear foundation every day because I feel like I look tired without it. Since I'm also super pale IRL, I use the tint on my cheeks and lips to add color to my skin. As for my eye makeup, I always use colored eyeliners and waterproof mascara. For my lips, my go-to is a rose-colored one just in case I suddenly have to go out with my friends. For my kilay, I only use the "Torch" color in the Human Nature Mineral Eyeshadow palette!
Ysab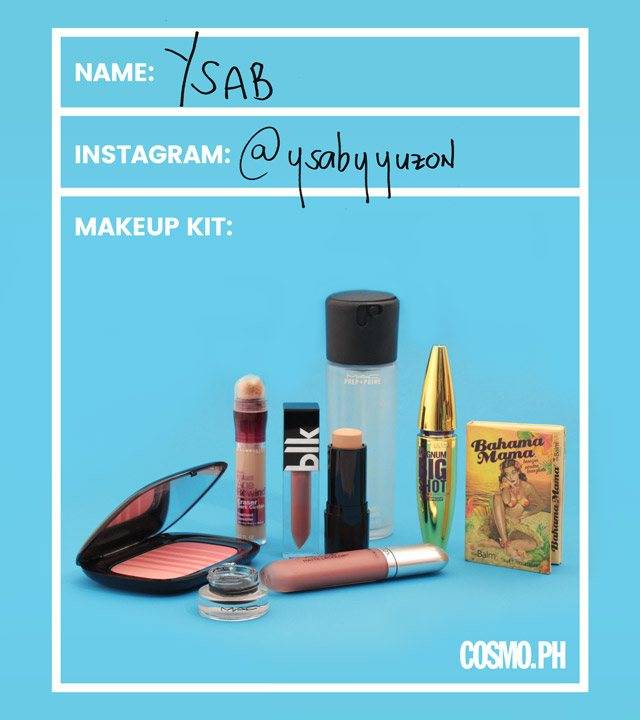 Skin Type: Oily
Products: MAC Prep and Prime Fix+ Spray, P1,250; Maybelline Instant Age Rewind Concealer, P399; Maybelline Fit Me Foundation Stick, P399; TheBalm Bahama Mama Matte Bronzer, P925; Marc Jacobs Air Blush Soft Glow Duo in Kink and Kisses P2,620; MAC Pro Longwear Fluidline Eye-Liner Gel in Blacktrack, P1,100; Maybelline Magnum Big Shot Waterproof Mascara, P349; BLK Cosmetics Long-Lasting Liquid Matte Lipstick in Simple, P349; Revlon Ultra HD Matte Lipcolor in Forever, P575
Total: P7,966
I love facial sprays and mists, which is why MAC's Fix+ has been my go-to primer for years. Maybelline's Fit Me stick is also my fave because it suits my exact skin tone and it never looks plakado. For my blush, I love the Marc Jacobs one because it gives me that natural glow without having to use a highlighter. For my lipstick, though, I usually go for something lightweight instead of long-wearing because I'm always drinking or eating something anyway LOL. I switch between two MLBBs because they don't feel drying even after I reapply them.
Tisha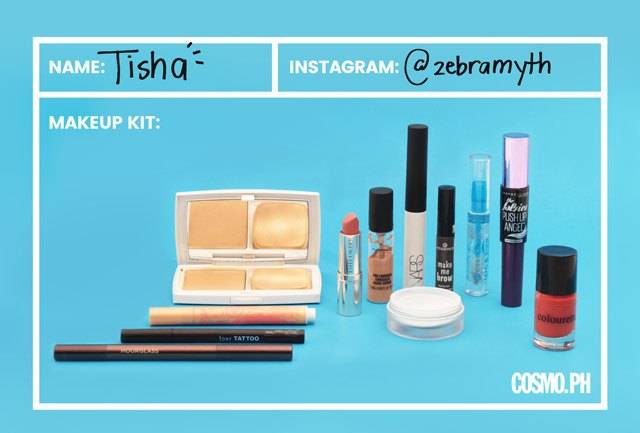 Skin Type: Combination
Products: Nars Pro-Prime Smudgeproof Eyeshadow Base, P1,350; MAC Pro Longwear Concealer, P1,300; Althea Petal Velvet Powder, P210; Essence Make Me Brow Eyebrow Gel Mascara, P249; Essence Lash & Brow Gel Mascara in 02, P279; Hourglass Arch Sculpting Brow Pencil, P2,150; Colourette ColourTint Lip & Cheek Oil in Dione, P229; K-Palette 1 Day Tattoo Real Lasting Eyeliner in Black Brown, P795; Maybelline Volum' Express The Falsies Push Up Angel Waterproof Mascara, P459; Estée Lauder Pure Color Love Lipstick in Raw Sugar, P1,275; Happy Skin Don't Get Mad Get Even Hydrating Powder Foundation, P1,399; Happy Skin Yes, I Dew! Fresh Glow Highlighter Pen, P899
Total: P10,594
I've been using the Nars, MAC, and Essence products for years now because they can last through ~everything~. When it comes to my blush, mascara, and lipstick, I switch products around so I can use everything in my makeup collection, but I've been using the ones above for more than four months now, so that says something.
Marla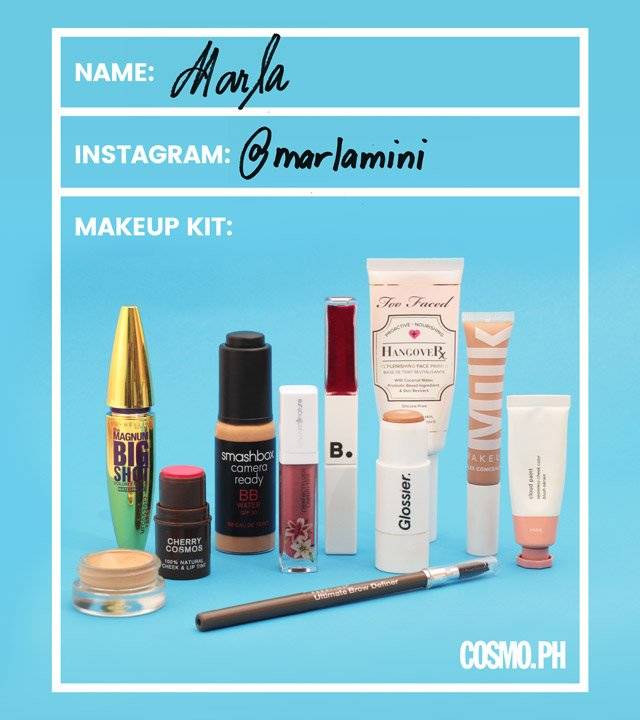 Skin Type: Combination
Products: Too Faced Hangover Primer , P1,888; Smashbox Camera Ready BB Water, P2,300; Milk Makeup Flex Concealer, $28/P1,413.02; Glossier Stretch Concealer, $18/P908.37; Prestige Brow Definer, P550; Maybelline Magnum Big Shot Mascara, P349; HAN Cheek and Lip Tint in Cherry Cosmos, P700; Glossier Cloud Paint in Dusk, $18/P908.37; Glossier Haloscope in Topaz, $22/P1,110.23, Human Nature Cream Tint, P395; Banila Co. Two Kisses Dual Tint, P695
Total: P11,216.99
I use this combo of products because they're all easy, glowy, fuss-free, and no tools needed. I used to take forever to do my makeup, but I've learned to simplify my routine and can now finish it in 10 minutes. I love cream products and anything I can just swipe on and go!
Charlene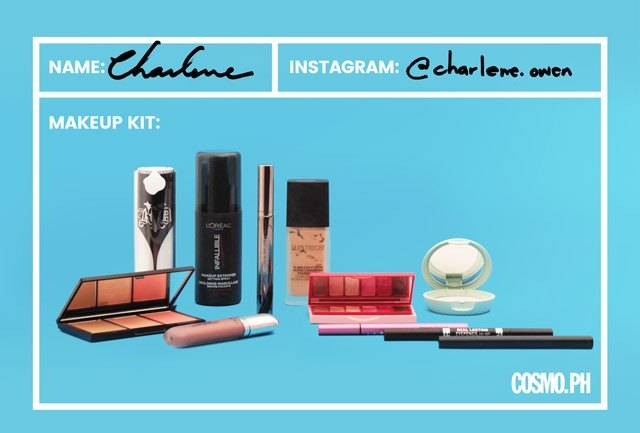 Skin Type: Combination
Products: Kat Von D Lock-It Hydrating Primer + Base, P2,003; Laura Mercier Flawless Fusion Ultra-Longwear Foundation, P2,350; Etude House Berry Delicious Eye Shadow Palette, P848; K-Palette One 1 Day Tattoo Real Lasting Eye Pencil 24H, P795; Y.E.T. Me7 Waterproof Colorful Liner in Pink, P320; Nichido 24Hr Tattoo Effect Eyeliner, P238; VMV Hypoallergenics Ooh-la-lash! Volumizing Mascara, P1,275; BLK Cosmetics Contour, Blush, and Highlighter Palette, P499; Innisfree No Sebum Mineral Pact, P480; L'Oreal Paris Infallible Pro Spray & Set Make-Up Extender Setting Spray, P600; Fresh Sugar Advanced Therapy Lip Treatment, P1,300; Revlon Ultra HD Matte Lip Color, P575
Total: P11,283
I especially like the Laura Mercier foundation because while it never feels heavy on my skin, it really stays on the whole day. The Etude House Berry Delicious Eye Shadow is another "ride-or-die" product because I use it both as an eyeshadow and a blush, while the Innisfree No Sebum Powder is really serious about oil control.
Jillian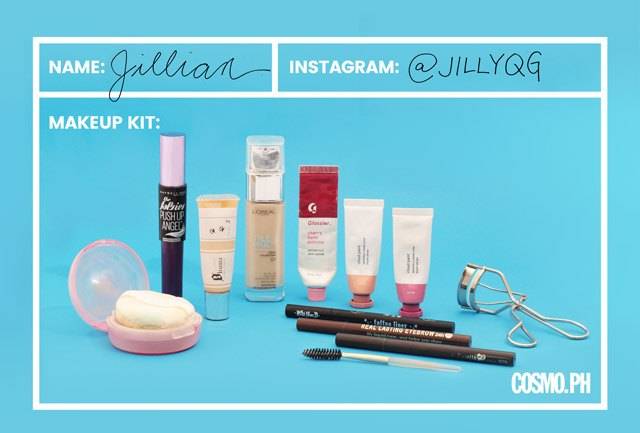 Skin Type: Combination
Products: L'Oreal Paris True Match Liquid Foundation, P520; K-Palette Zero Kuma Concealer, P795; Glossier Cloud Paint in Dusk, $18/P908.37; Glossier Cloud Paint in Haze, $18/P908.37; Glossier Balm Dotcom in Cherry - $12/P604.92; K-Palette 1 Day Tattoo Real Lasting Eyebrow 24H in Natural Brown, P795; K-Palette 1 Day Tattoo Real Lasting Eyebrow 24H in Grayish Brown, P795; Clinique Blended Face Powder, P1,800; Kat Von D Beauty Tattoo Liner in Trooper, P1,233; Shu Uemura Eyelash Curler, P1,999; Maybelline Volum' Express The Falsies Push Up Angel Waterproof Mascara, P459; Tweezerman Brow Brush (comes with brow scissors), $19/P947
Total: P11,764.66
I love these products because they're easy on my pores (not heavy at all!) and they've never given me skin issues. Also, all the items are buildable, depending on the coverage I want. I might add eyeshadow, highlighter, and lipstick on some days, but the basics will always be there.
Ira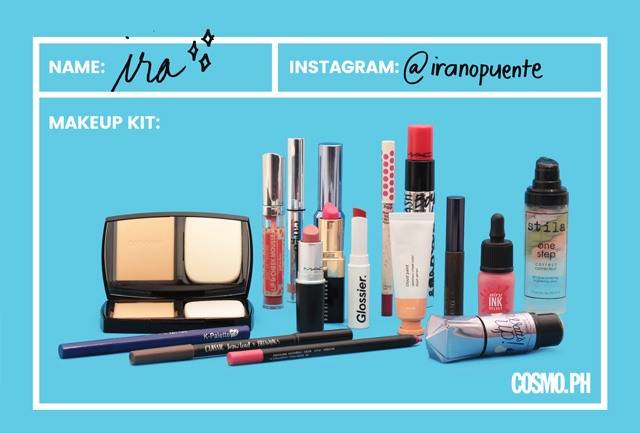 Skin type: Oily
Products: Stila One Step Correct, P1,750; Benefit Cosmetics Watt's Up Cream Highlighter, P1,950; Chanel Vitalumiere Compact Douceur, P2,950; Glossier Cloud Paint in Beam, $18/P908.37; Browhaus Classic Brow Lead, P648; Estée Lauder Brow Now Volumizing Brow Tint in Brunette, P1,430; Cargo Cosmetics Swimmables Longwear Eyeshadow Stick in Botany Bay, P1,050; K-Palette 1 Day Tattoo Real Lasting Eyeliner 24h Micro, P795; 3CE Creamy Waterproof Eyeliner in Wow Pink (discontinued shade), $13/P648.21; Etude House Drawing Show Creamy Eyeliner Color Pop in #08, P348; Benefit Cosmetics They're Real Lengthening Mascara in Beyond Blue, P1,500; MAC Bold and Bad Mascara, P1,500; Happy Skin Shut Up & Kiss Me Lip & Cheek Mousse in Fall in Love, P699; Glossier Generation G Lipstick in Zip, $18/P908.37; MAC Lipstick in Brave, P1,050; Bobbi Brown Lip Color in Neon Pink, P1,300
Total: P19,434.95
I don't wear foundation on the reg. I smooth out discoloration and imperfections with a color-correcting primer serum and layer it with a pressed powder (Okay, I know it's pricey, but this never gets cakey on my face!). I like using a cream blush and highlighter stick to create a ~dewy~ and fresh touch.
I'm a big fan of colored eyeliners and mascara because I'm too lazy to do a full eyeshadow look every day. I think I have five other pink liners hiding somewhere in my vanity! For lipsticks, I'm a bit of a pack rat, so I bring both playful and classic shades.
Bianca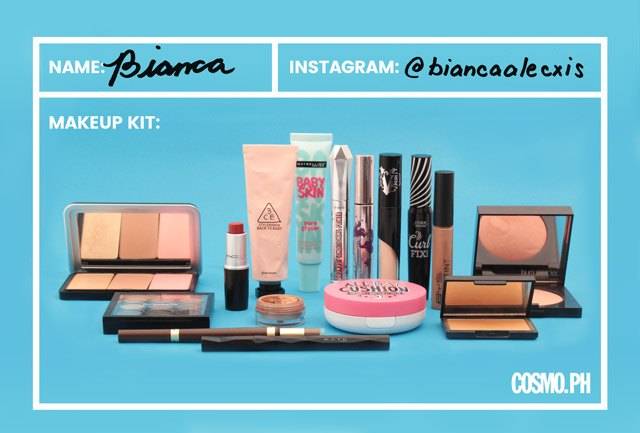 Skin Type: Very Dry
Products: Maybelline Baby Skin Pore Eraser, P299; 3CE Back to Baby Glow Beam in Pink, P1,156; Kat Von D Lock-It Concealer Creme, P1,541; Yadah All-Day Cushion, P895; Benefit Browvo! Conditioning Primer, P1,800; K-Palette 1 Day Tattoo Real Lasting 2Way Eyebrow Liquid 24h, P895; BYS Brow Tint, P349; MAC Amber Times Nine Eye Shadow Palette, P2,900; Bare Minerals Mineral Eye Shadow, $15/P754.65; Kate Tokyo Super Sharp Liner EX, P660; Koji Eyelash Curler, $9.99/P502.60; MSH Labo x The Little Mermaid Love Liner Treatment Mascara Long, $29.99/P1,508.80; Etude House Lash Perm Curl Fix Mascara, P848; Laura Mercier Windflush Color Powder For Cheeks and Eyes, P1,850; Sleek Blush, P425; Make Up For Ever Artist Face Color Limited Edition, P3,800; MAC Lipstick, P1,050
Total: P21,234.05
It seems like a lot, but these products emphasize my natural features without making me look like I'm wearing a mask. And since my skin is very dry, I need a good mix of face products that seal in the moisture, flatten my dry flakes, and brighten my complexion. My favorite part of my routine, though, is highlighting. The highlighter in the Make Up For Ever Jessie J palette is crazy—it has a golden tone and looks natural up close, but you can bet you can blind somebody a mile away!
Retty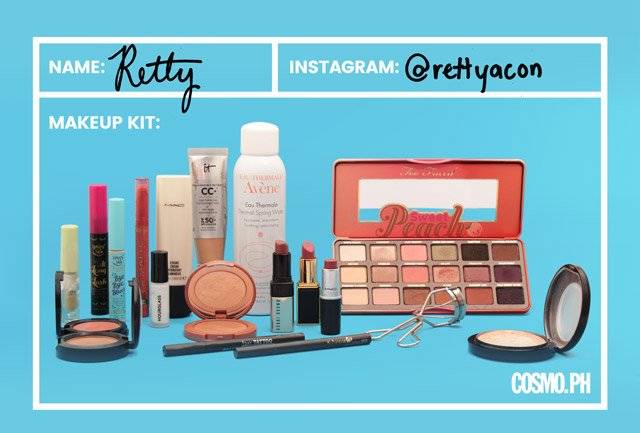 Skin Type: Combination to Dry
Products: Hourglass Veil Mineral Primer Travel Size, P1,200; It Cosmetics CC Cream in Light, $38/P1,894.68; Happy Skin Bye Bye Blues Concealer, P899; Bobbi Brown Pot Rouge in Powder Pink, P1,750; MAC Strobe Cream, P2,100; Tarte Amazonian Clay 12-Hour Blush in Sensual, $29/P1,445.94; MAC Powder Blush in Harmony, P1,400; MAC Mineralize Skin Finish in Soft and Gentle, P2,200; Too Faced Sweet Peach Palette, P2,953; K-Palette Real Lasting Eyeliner in Black Brown, P895; Shiseido Eyelash Curler, ¥1,000/P442.80; Happy Skin At Long Lash Mascara, P999; K-Palette Real Lasting Eyebrow in Grayish Brown, P795; Pixi Brow Gel in Clear, P540; L'Oreal Le Matte Lipstick in She's So Matte, P400; Tom Ford Lip Color in Casablanca, P2,680; Bobbi Brown Luxe Lip Color in Bobbi, P1,800; MAC Matte Lipstick in Twig, P1,100; Avene Thermal Spring Water Face Mist P866
Total: P26,360.32
I have this all-or-nothing attitude when it comes to makeup. It's either I wear a full face of makeup or none at all. I also don't retouch throughout the day, which is why I'm so particular about the products that I use. A former Beauty Editor and friend once told me that she doesn't carry any makeup in her purse—save for lipstick—because she believes that you should master your routine enough to confidently walk out the door without having to worry about your makeup melting away. I really took that to heart! So once I figured out what products and application processes worked for me, I stuck with them.  
Our takeaway
We all have our own definitions of the everyday makeup look, which dictates the essentials we choose. So, whatever amount or type of items one prefers, we should respect it. <3
How about you? What are your favorite makeup products to use every day? 
Innisfree, Y.E.T., and Althea are available at Althea. Avène, BLK Cosmetics, BYS, Essence, Revlon, Ever Bilena, Maybelline, Nichido, Sleek MakeUP, L'Oreal Paris, and VMV Hypoallergenics are available at The SM Store. Bobbi Brown, Chanel, Clinique, MAC, Estee Lauder, Laura Mercier , and Stila are available at Rustan's The Beauty Source. Tom Ford is available at Rustan's Makati. K-Palette, Yadah, Happy Skin, Prestige, Human Nature, Smashbox, and TheBalm are available at Beauty Bar. Pixi and HAN are available at Glamourbox. 3CE, Hourglass, Too Faced, Kat Von D, Fresh, and Marc Jacobs are available at Sephora.ph. Avon is available at Avon.ph. Banila Co. is available at SM North Edsa. Shiseido, Etude House, Tony Moly, and Make Up For Ever are available at SM Megamall.
Follow Tisha on Instagram.
Follow Ira on Instagram.