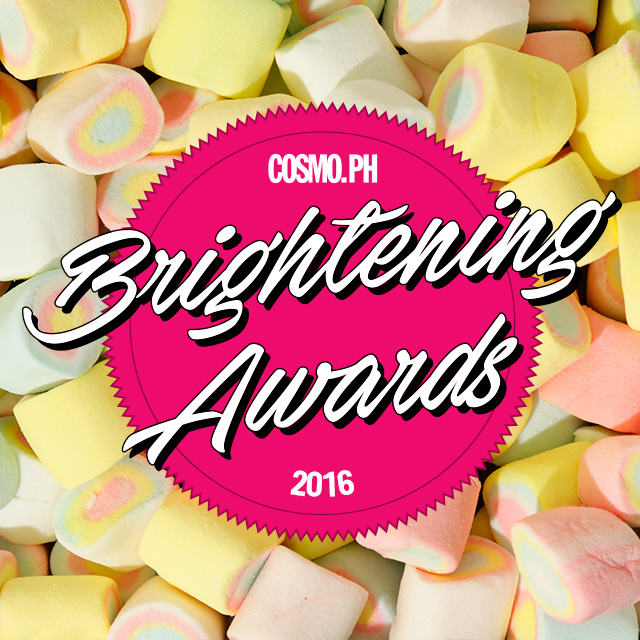 SKINCARE
Brightening Serums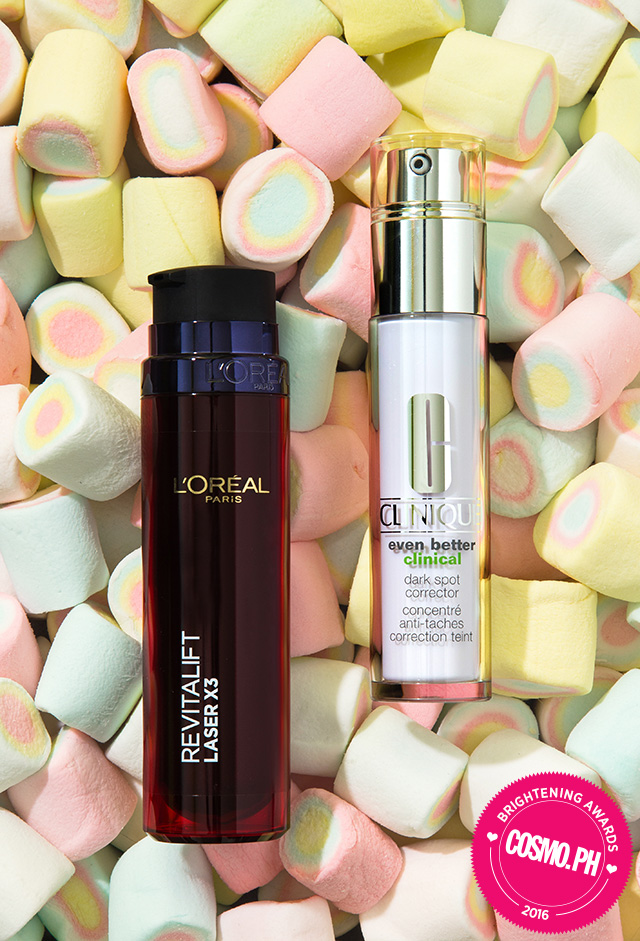 Clinique Even Better Clinical Dark Spot Corrector
Suffering from marks left by old pimples? Or maybe you've been a bit too lax with your sun protection and are finding more and more dark spots caused by exposure to it. After cleansing and toning in the morning and at night, take a generous amount of this serum and lightly spread all over your face. We've also tried it as a spot treatment for particularly dark and pesky pigmentation—and it works!
Revitalift Laser X3 Anti-Wrinkle + Anti-Spot Total Care SPF27 PA+++
A triple threat that packs a hefty punch, this lightweight serum has firmly found a spot in our daytime routine. With regular use, you'll notice your skin tone even out and dark spots slowly diminish. It also contains Pro-Xylane, an innovative ingredient that combats signs of aging and effectively plumps up skin.
Brightening Day Creams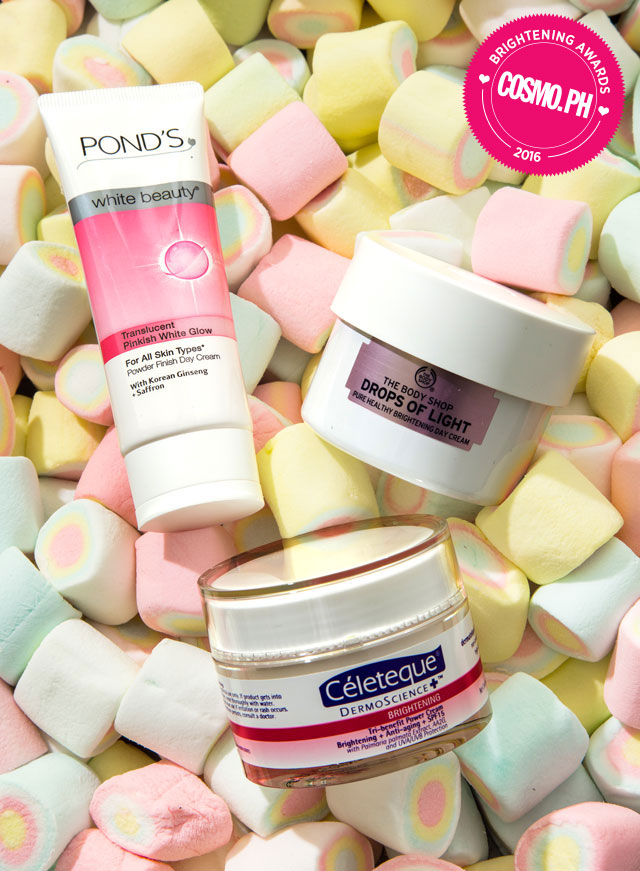 Continue reading below ↓
Recommended Videos
Pond's White Beauty Powder Finish Day Cream
If your oily skin and the humid climate constantly leave you greasy by midday, don't fret just yet. This moisturizer boasts a unique cream-to-powder texture that instantly mattifies the skin! It also contains ginseng, a powerful plant Koreans swear by for many reasons that go beyond skincare, though its nourishing, age-defying, and brightening capabilities are what we're most concerned about.
Céleteque Brightening Tri-Benefit Power Cream SPF 15
Dry-skinned gals, we found the hydrating boost you need throughout the day! This thick moisturizer isn't just great for tackling uneven complexions—it also works like a charm under your makeup, so you can finally say goodbye to foundation that crumbles or flakes off.
The Body Shop Drops of Light Pure Health Brightening Day Cream
Our pick for the day cream that works on virtually every skin type, this moisturizer is rich enough to hydrate the driest of faces. But it also melts like a dream and absorbs quickly, making it just as appealing for those with oily skin.
Brightening Night Creams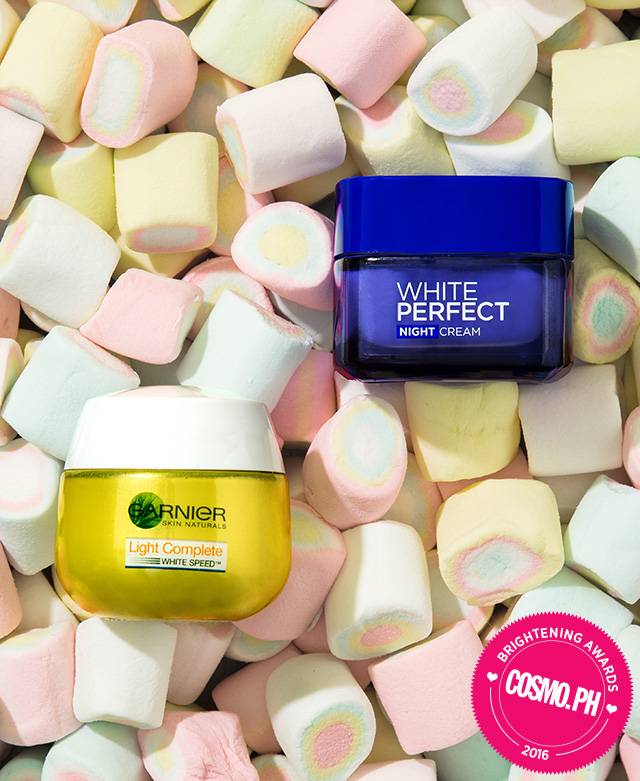 Garnier Light Complete Multi-Action Whitening Night Serum Cream
We're big fans of diets that include A LOT of fruits, and now, we're just as convinced we need them in our skincare regimens. With brightening lemon essence and exfoliating fruit extracts, this cream revives skin while you sleep. You won't have any trouble acing that makeup-free #WokeUpLikeThis selfie with this in your arsenal. 
L'Oreal White Perfect Night Cream
Gemstones in your night cream? Fancy! This pretty pastel blue moisturizer contains tourmaline gemstone, which has been proven to stimulate circulation deep within the layers of your skin. We kid you not, we couldn't stop touching our skin and admiring the rosy glow the following morning!
Brightening Sunscreen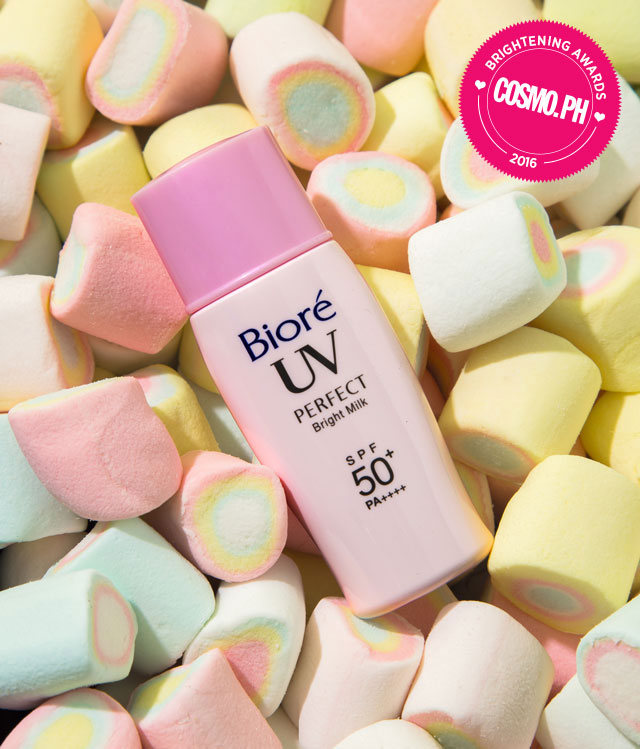 Bioré UV Perfect Bright Milk SPF 50 PA++++
Any girl who regularly uses makeup (read: most of us) knows perfecting the base is a tough job. But once you crack the code and figure out which skincare products work best to make your foundation look ~*flawless*~, you're pretty much set for life. We can thank the Japanese for this hardworking sunscreen—it dries down to an invisible matte finish, works as a primer so makeup goes on smoothly, and most importantly, boasts an SPF of 50+ and a super strong UVA protection rating of PA++++ (the best there is!) to kick sun damage in the butt.
MAKEUP
Brightening Primer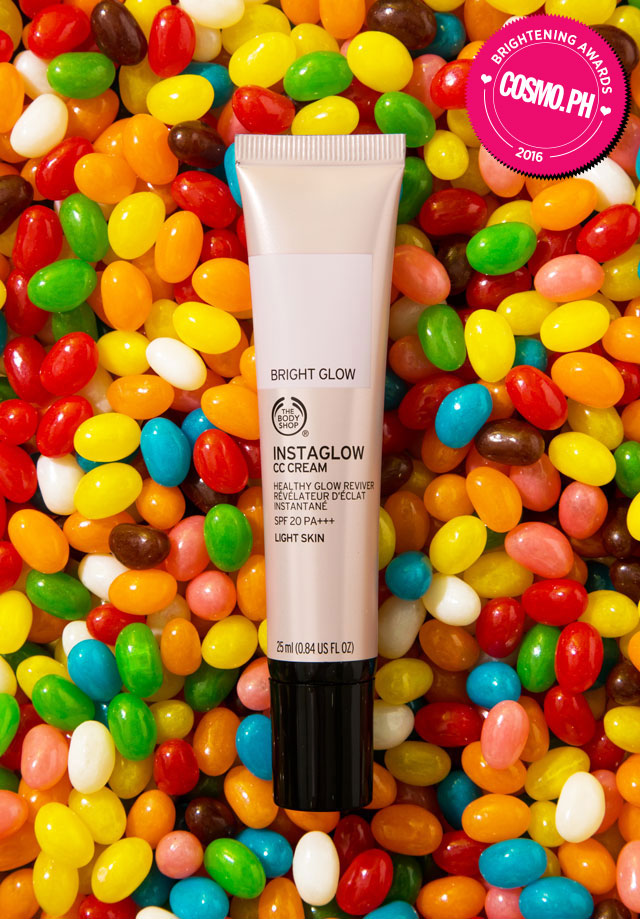 The Body Shop Instaglow CC Cream SPF 20 PA+++
If the pearlescent pink packaging isn't proof enough of this cream's illuminating properties, a light layer before foundation will. We're not ashamed to say we've been turning to this primer to score a healthy glow, especially on days when we're running on little sleep.
Brightening Makeup Base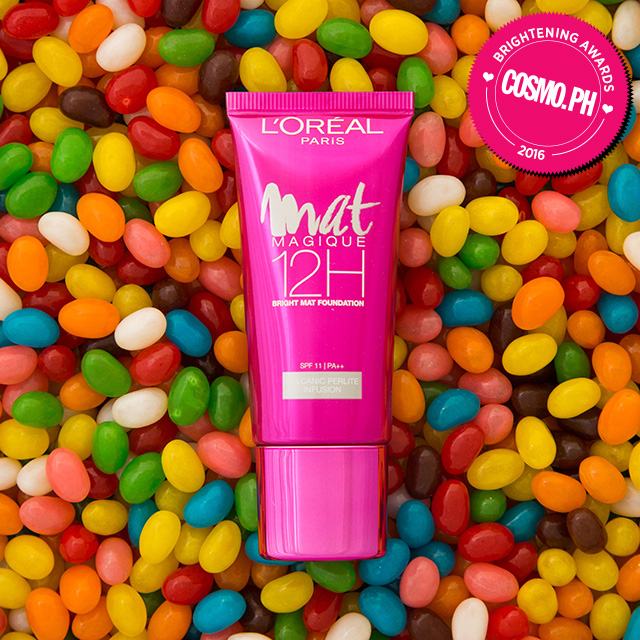 L'Oreal Mat Magique 12H Bright Mat Foundation SPF 11 PA++
Don't you just *hate* it when foundation transforms your complexion from bright and glowing to dull and ashen in a matter of hours? Well, CGs, we might have discovered your saving grace. This weightless base strikes the perfect balance between a fresh, natural glow and a smooth, matte finish all day long. It absorbs excess sebum without sucking out all the moisture in your skin—perfect for our tropical climate!
Brightening Highlighter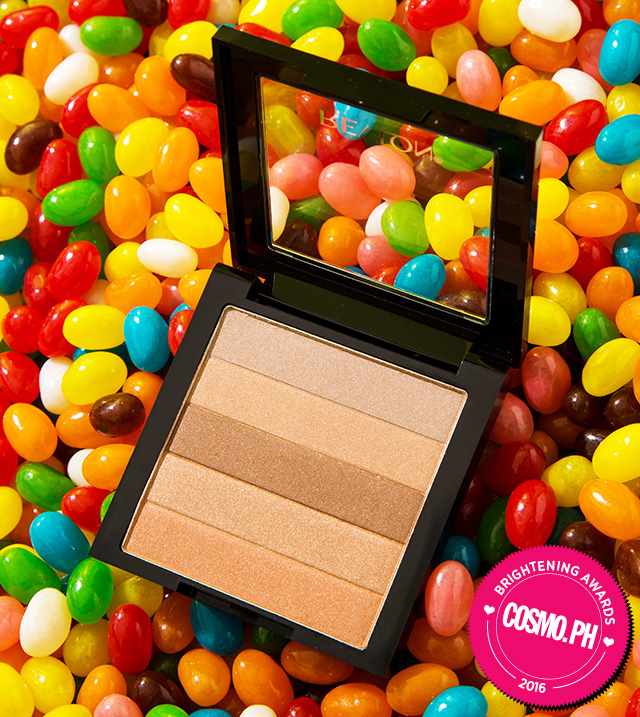 Revlon Highlighting Palette in Peach Glow
Have long hours of staying indoors in front of a computer compromised your gorgeous glow? If you can't make it to the beach just yet, this highlighting palette easily fixes that. Dust it on areas where the light hits your face—on your brow bone, on top of your cheekbones, on your Cupid's bow, and right on your chin—for a pretty sunkissed effect. We also highly recommend sweeping it on your collarbones and shoulders the next time you're in an off-shoulder top. *wink*
BODY CARE
Brightening Soap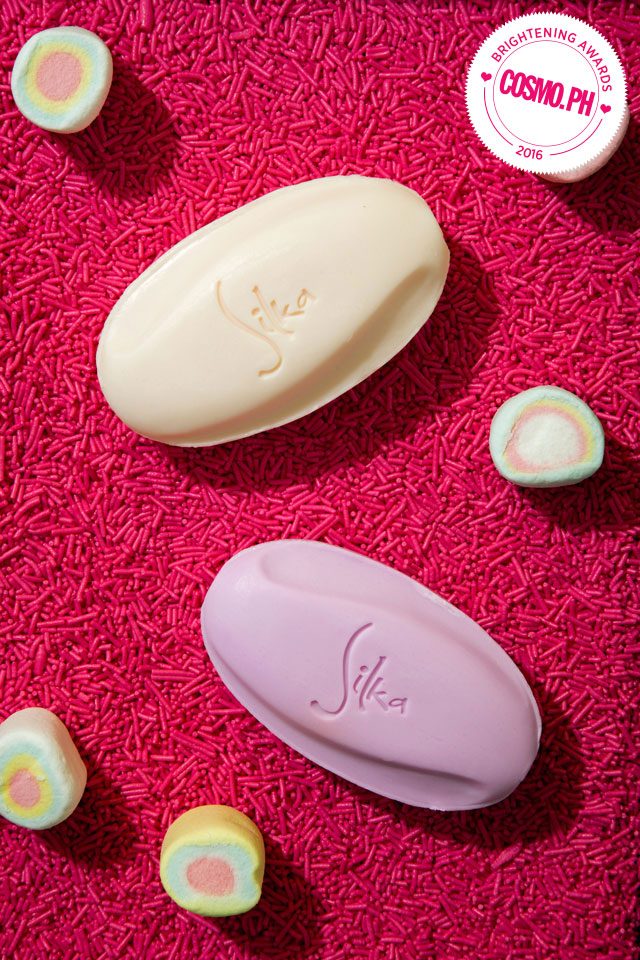 Silka Shea Butter Skin Whitening Soap and Avocado Oil Moisturizing Milk Soap
Some soap bars are notorious for stripping off moisture from the skin, leaving it tight and parched. Not these ones! Luxurious shea butter and avocado oil hydrate from top to toe, so you never have to worry about feeling dry once you step out of the shower. Meanwhile, niacinamide, another key ingredient, improves skin elasticity and evens out skin tone.
Brightening Lotion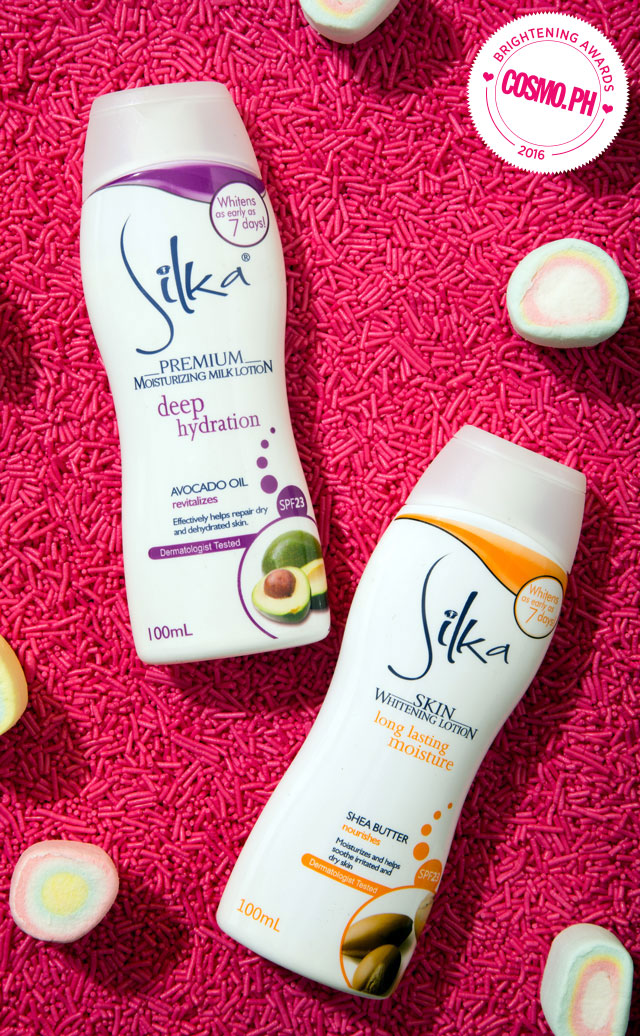 Silka Shea Butter Skin Whitening Lotion and Avocado Oil Moisturizing Milk Lotion
Keep all that hydrating goodness locked in by immediately applying lotion after you shower. We love these affordable yet highly effective options for leaving skin soft, smooth, and sweet-smelling.
Brightening Deodorant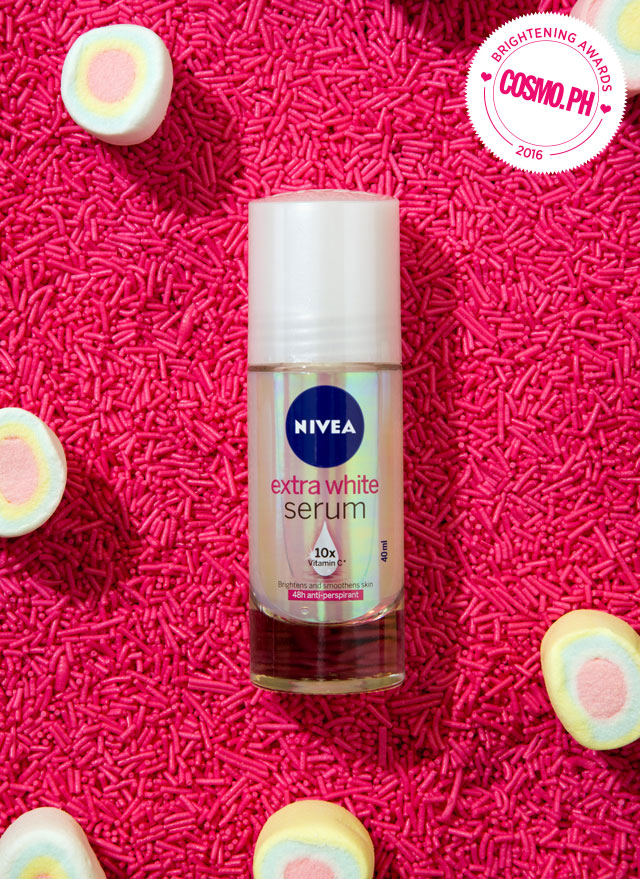 Nivea Extra White Serum
Serums already have a firm place in our skincare routines, so when we spotted this deo serum, we were intrigued. And after testing it out, we can proudly report that it does everything it claims to do. Like every good deodorant, it protects us from foul odors and unwanted perspiration. But it's also pretty effective in lightening underarms, thanks to a micro-emulsion base that absorbs the whitening vitamin C formulation at a speedier rate.
Follow Patricia on Instagram.