Truth time: I don't use a toner because I don't see the use for it. I like my skincare routine as short and efficient as possible, and adding a toner to it would just prolong the process. (FYI, I like doing my regimen but I am also a fan of the "skip-care" trend because I'm lazy.) So when I was tasked with trying out COSRX's Light Fit Real Water Toner To Cream, I was only *slightly* excited because this would result in having a longer skincare routine for a few weeks. Scroll below to find out if I've changed my mind about toners!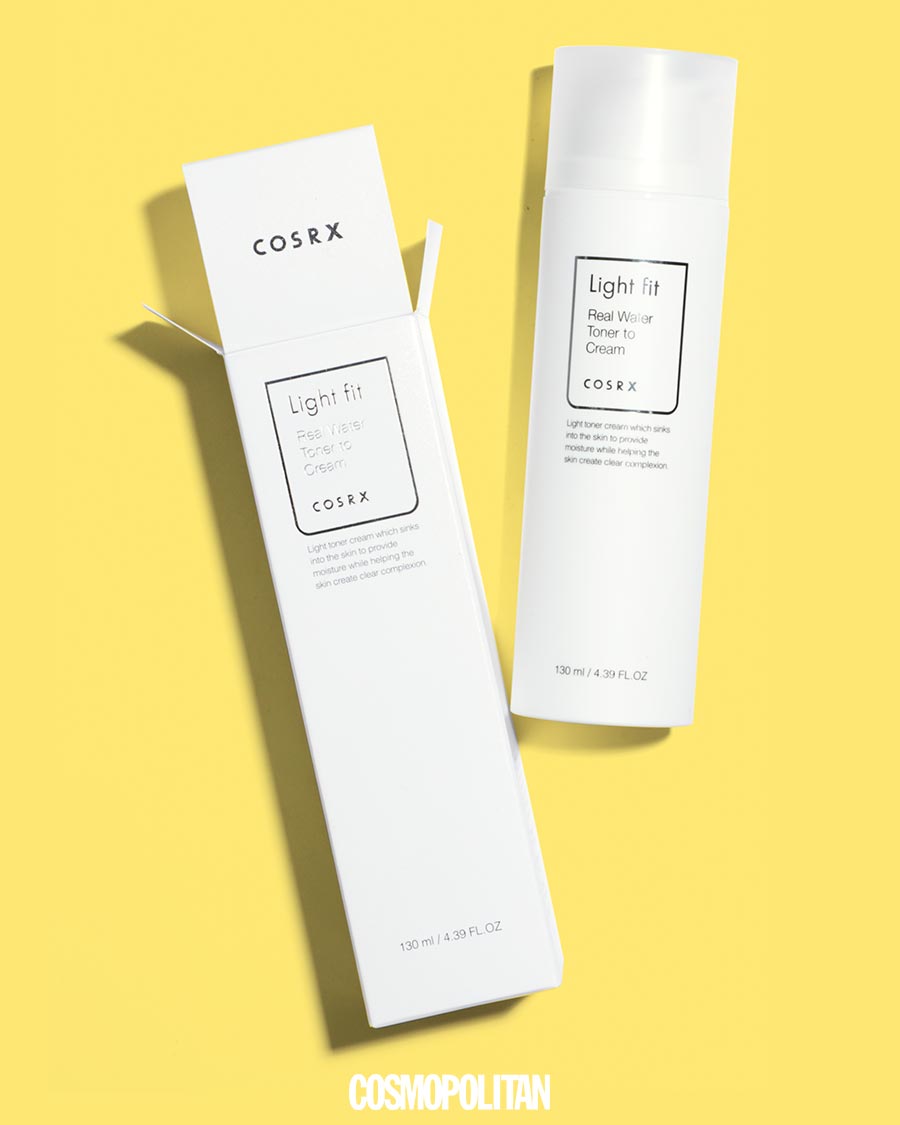 What is the COSRX Light Fit Real Water Toner To Cream?
I was surprised when the COSRX Light Fit Real Water Toner To Cream turned out to be the opposite of what it says it is. When pumped out, it's a lightweight cream product that ~*transforms*~ into a clear liquid once massaged into the skin. It's a hydrating and brightening toner that's meant to deliver and hold moisture in your complexion. COSRX's Toner To Cream is suitable for all skin types.
ADVERTISMENT - CONTINUE READING BELOW ↓
Claim to fame
I love multi-use makeup products. When I heard of a multi-purpose skincare product from one of my favorite Korean skincare brands, I was intrigued. See the product in action below: 
Pretty cool, right? As it was hyped up as both a toner AND a moisturizer, I wanted to find out if it could shorten my day and night skincare regimen.
Ingredients
Water, Sea Water, Cyclopentasiloxane, Glycerin, Cyclohexasiloxane, Niacinamide, Hippophae Rhamnoides Extract, 1,2- Hexanediol, Sodium Hyaluronate, Betaine, Sodium Chloride, Butylene Glycol, Cetyl PEG/PPG-10/1 Dimethicone, Ethylhexylglycerin, Citrus Aurantium Bergamia (Bergamot) Fruit Oil
Scent
The COSRX Light Fit Real Water Toner To Cream has a faint citrus scent that disappears once I rub the product in. The fragrance is not overwhelming, and it is actually quite refreshing. Those who are sensitive to scents don't have to worry about anything.
Texture
COSRX's Light Fit Real Water Toner To Cream comes out as a lightweight balm-cream that's hazy in color. Once rubbed in, it turns into a fast-absorbing clear liquid.
How much is the COSRX Light Fit Real Water Toner To Cream?
The COSRX Light Fit Real Water Toner To Cream costs P1,100 for 130 ml. 
Where can you buy the COSRX Light Fit Real Water Toner To Cream?
You can purchase the COSRX Light Fit Real Water Toner To Cream from these online retailers:  The Skincare Curator, Lazada, Go Bloom and Glow, and K-Beauty Cafe. It's also available in physical stores such as Watsons and Beauty Bar.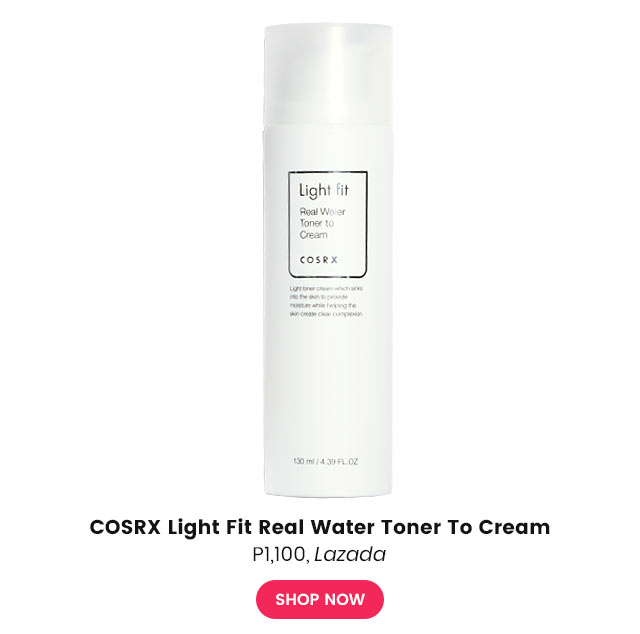 My skin type
I have both sensitive and combination skin—an oily T-zone and chin, with dry cheeks that are prone to dehydration, flaking, and redness.
My skincare routine
Morning: Cleanser, serum, moisturizer, eye cream, sunscreen
Evening: Cleansing oil, facial cleanser, serum, moisturizer, eye cream, face mist. I shared my full P.M. routine in detail here!
Day 1
Going into this skincare trial, I didn't know what to expect because I've never used a hydrating toner before. The ones I'd tried tended to have anti-acne (sometimes drying) properties. After cleansing my face, I pumped out the Toner To Cream and swiped the product on my cheeks, nose, forehead, chin, and neck. I gently rubbed it in and loved the way how my skin instantly absorbed the product. My complexion felt super soft after and I proceeded with the rest of my routine.
ADVERTISMENT - CONTINUE READING BELOW ↓
Throughout the day, I didn't notice any other changes in my skin other than the fact that it stayed plump, bouncy, and soft despite being subjected to 12 hours in an airconditioned environment. I didn't have to spritz my face with a hydrating face mist, yay!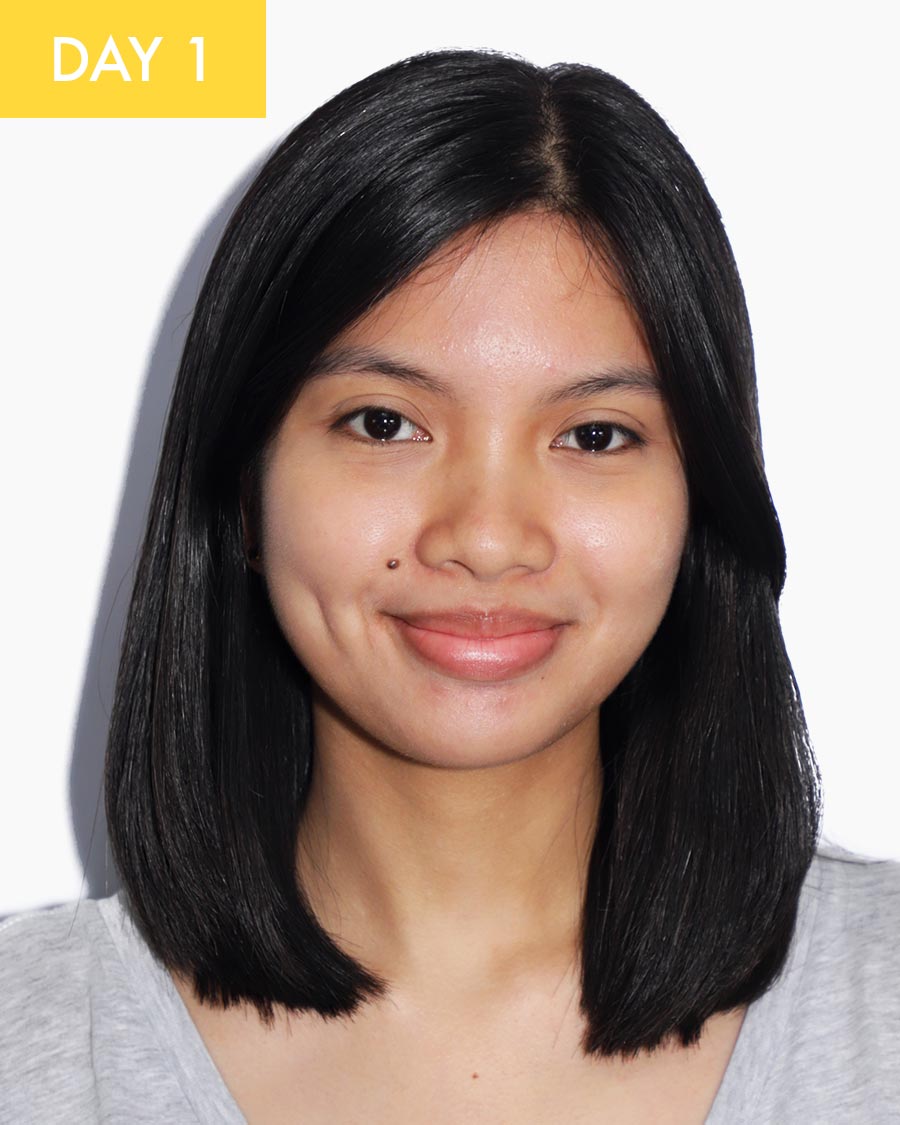 Day 5
Lately, I noticed how my skin would get these small, itchy red patches every time I used the COSRX Light Fit Real Water Toner To Cream. I didn't mind it at first because I could will myself into forgetting about the itchiness, but it reared its full ugly head today.
Over the weekend, I got a laser facial. Due to having sensitive skin, hive-like bumps appeared on my forehead. Of course, I continued using this toner because it also claims to be soothing due to an ingredient called Sea Water. Well, it didn't soothe my skin AT ALL. Instead, my cheeks became riddled with red bumps that looked like mosquito bites. Yikes!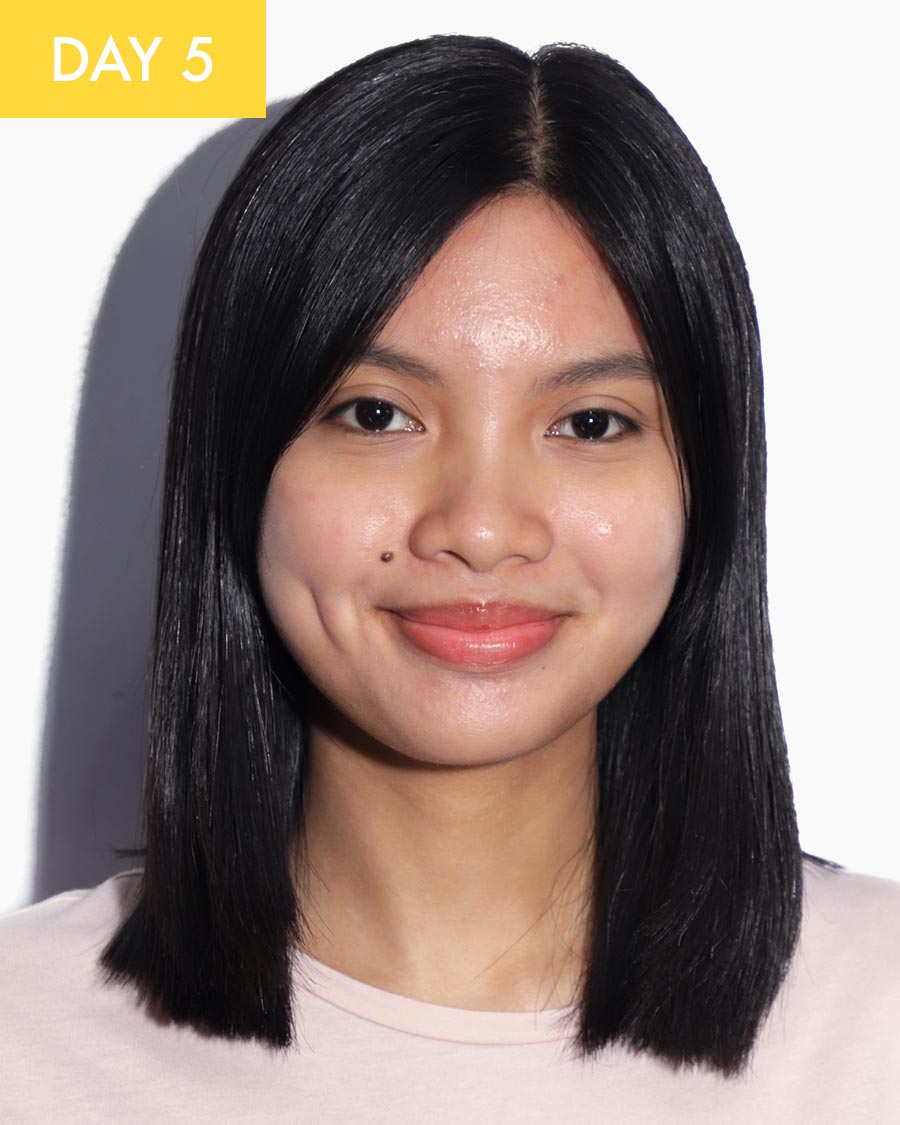 Day 10
After letting my skin heal itself, and applying a ton of calamine-based products, I was back to using the COSRX Toner To Cream. But this time, I discovered the perfect way to use it: As a makeup primer! A few days ago, I decided to give the toner a shot again as I was heading out. Before applying my makeup, I cleansed my face and applied the toner. It created such a soft and balanced base that my makeup applied smoothly and actually stayed on the whole night. The best part was it didn't irritate my skin anymore. 
I used it as a primer again and I was so happy with the results: My skin didn't get too oily and when I removed my makeup at the end of the day, it wasn't as red and irritated from all the rubbing and tugging.
ADVERTISMENT - CONTINUE READING BELOW ↓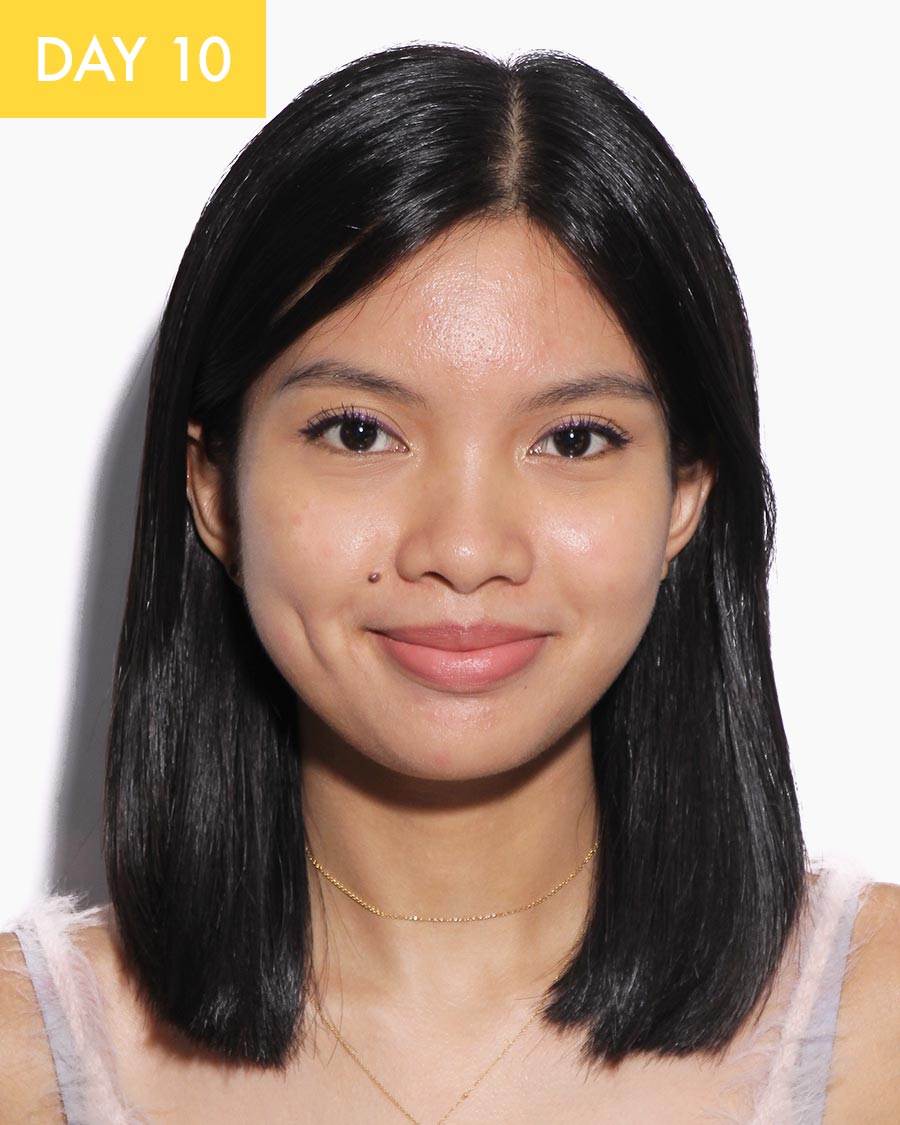 Day 15
It's the last day of this skincare trial and I'm glad to report that it has earned a spot in my ~*makeup routine*~! Honestly, I didn't expect it to go this way. After a few complexion ups and downs, I'm happy I was able to find a way to still integrate it into my regimen.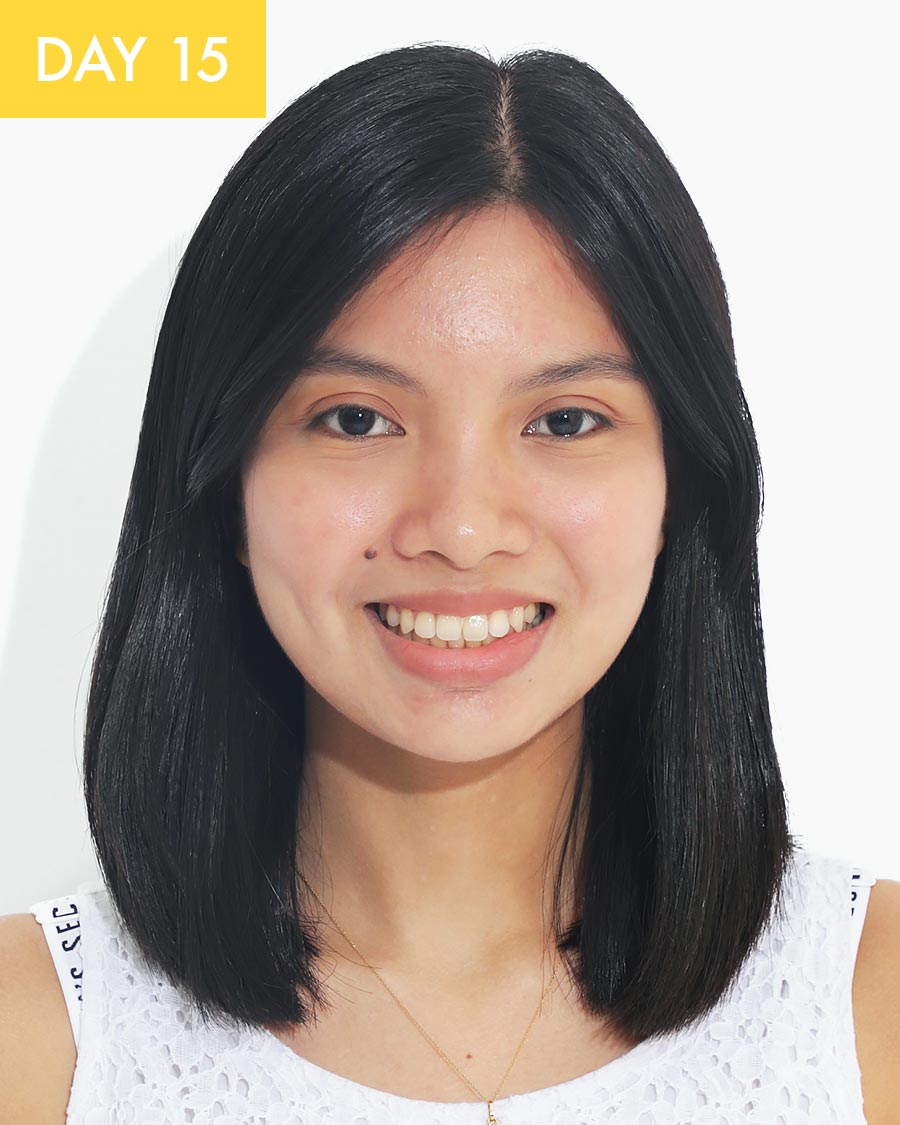 Is the COSRX Light Fit Real Water Toner To Cream worth buying?
OMG YES. It may seem expensive but there's a lot of product (130 ml) in the hygienic and airless pump bottle. And it's super sulit because you only need one pump for your whole face and neck! It's also perfect for traveling since it doubles as a moisturizer and a toner—and because of its packaging, you can be sure it won't spill, no matter where you place it.
Whether you have normal, dry, combo, oily, or sensitive skin, you'll be able to find a place for the COSRX Light Fit Real Water Toner To Cream in your beauty routines. ;)
Follow Tisha on Instagram.
***
Don't miss the chance to attend the biggest beauty and wellness festival in the Philippines! Buy tickets to the Cosmopolitan BEAUTYCON on August 31 AND September 1, where you'll find the widest selection of makeup, skincare, hair, and wellness brands with exclusive freebies, offers, and discounts. There will also be sessions with beauty experts, creatives, and celebrity speakers. It's gonna be epic! Get your tix here.