I've been experiencing a few acne breakouts on my chin lately so it has been riddled with post-acne marks that just won't go away. Luckily, I was able to try Simply Skin's new facial: the Clearlift Laser Treatment. The pain-free (We'll get on to that topic later!) facial claims to brighten dark marks, tighten and rejuvenate skin, and reduce the appearance of large pores. As someone who has a really low pain tolerance, I was kind of nervous to get this done because I feared it might burn my skin off. Keep reading to find out what happened.
What is Simply Skin's Clearlift Laser Treatment?
Simply Skin's Clearlift Laser Treatment is a facial that lasts for one hour and 10 minutes. It aims to brighten hyperpigmentation and post-acne marks, reduce the appearance of fine lines and pores, and rejuvenate the skin. It's a non-ablative treatment, which means it won't "wound" the skin to remove the outer layers. Instead, it heats up the complexion from within which promotes collagen production and causes it to tighten and firm up.
What are the benefits of the Simply Skin Clearlift Laser Treatment?
It refines the skin's texture, tightens pores, lightens dark marks, and refreshes the skin. It also leaves the complexion looking healthy, firm, and radiant.
Continue reading below ↓
Recommended Videos
Is the Simply Skin Clearlift Laser Treatment suitable for any skin type?
Yes, the Simply Skin Clearlift Laser Treatment is safe for all skin types—even acne-prone skin. But during the treatment, the laser will not target any active acne breakouts as this may cause further irritation and inflammation.
What happens during Simply Skin's Clearlift Laser Treatment?
If it's your first time to get a facial at Simply Skin, one of the nurses will brief you on each step and explain its benefits and possible side effects. Next, she will take you to a private room to start the procedure. The facial begins with a 30-minute Ultimate Modern Facial. This means the nurse will vacuum blackheads and whiteheads using various skin acids. It's followed up by a serum of your choice to leave your complexion cleaner and smoother—a perfect canvas for the laser to pass through!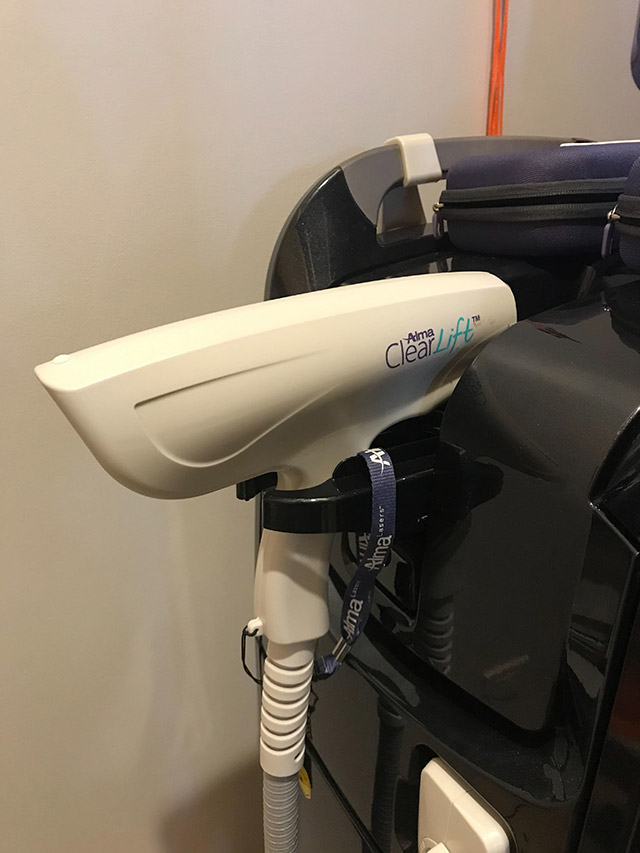 After, you will be led to a different room where the laser device is placed. On the table beside the bed, there will be five tips for the laser—each one delivers a different level of heat energy to various layers of the skin. The first one that's used is for the deepest layer of the skin, while the last one is for the topmost layer.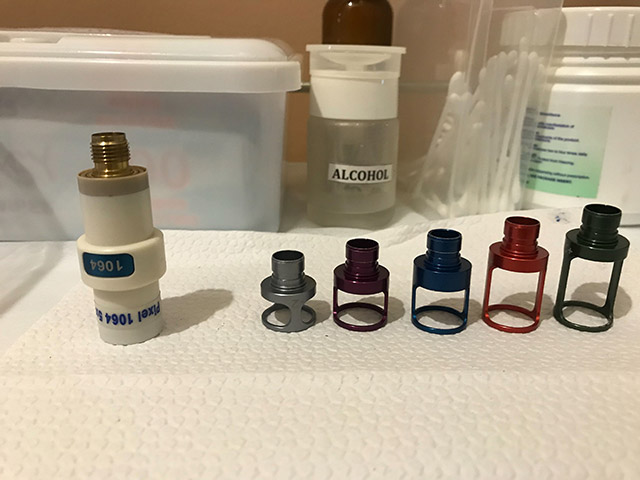 Your face will then be drawn on with an erasable white pencil to create grids for your nurse to follow. Each grid is exposed to the first three levels of heat energies before it moves on to the next area. After your whole face has gotten lasered with the first three tips, the last two tips will be used to target the upper layers of the skin.
What should I do before the Simply Skin Clearlift Laser Treatment?
Simply Skin strictly follows a set of rules before performing any facial on a client to ensure the complexion's barrier doesn't become damaged. If you plan to get the Clearlift Laser Treatment, take note of the following:
No waxing or tweezing 24 hours before the treatment.
Stop using active ingredients like glycolic acid, salicylic acid, lactic acid, Kojic acid, and hydroquinone three days before the facial.
Avoid laser treatments and retinol treatments a week before the facial.
If you're currently sunburned or was sunburnt two weeks before, you cannot undergo the Clearlift Laser Treatment.
Do not have any microdermabrasion, chemical peels, and ablative laser procedures done four weeks before your scheduled treatment.
What should I do after the Simply Skin Clearlift Laser Treatment?
You have to use sunscreen with at least SPF 30 every day. The good news with the Clearlift Laser Treatment is, unlike other facials, you can wash your face right after the procedure. Just remember to use a mild cleanser and an aloe vera gel-based product for the first 24 hours to soothe any itchiness or redness. The last rule is to avoid chemical (AHAs, BHAs, etc.) and physical exfoliants for the next three days.
How much is Simply Skin's Clearlift Laser Treatment?
The Simply Skin Clearlift Laser Treatment costs P2,500 per session. If you buy a package of four sessions, it will cost P2,250 for each one. And if you avail of the package with six sessions, it will only cost P2,000 per session. What's great about their packages is they can be shared with a friend and availed at any Simply Skin branch!
Where are Simply Skin branches located?
Simply Skin is located at the following malls: Ayala Malls Cloverleaf, SM Bicutan, Festival Supermall Alabang, SM North EDSA, Ayala Malls Feliz, and Shoppesville Greenhills.
EXPERIENCE
I was excited to try Simply Skin's Clearlift Laser Treatment because I had such a great experience with their Ultimate Modern Facial. I was a bit nervous in the beginning, but starting off the treatment with 30 minutes of the Ultimate Modern Facial did a great job at soothing my nerves. You can find out what goes down in the Ultimate Modern Facial here.
When it was time to start the actual laser procedure, I was nervous again, especially when my nurse, Matei, gave me a stress ball to play with. It instantly made me think that there really was *something* to be stressed about.
Matei did her best to calm me down and cheer me on. She started by doing a "swatch test" of the first laser (the one that would penetrate the deepest layer of the skin) and I was relieved it just felt like a warm sensation on my skin. After the first grid was finished, I realized that as more lasers penetrated my skin, the more my complexion felt sensitive and mahapdi. It also didn't help that whenever a laser would pass by a hairy part of my face, it would emit a loud snapping sound. It didn't hurt, but it was still shocking every time it did that. I opted not to have my upper lip lasered because not only is it a really sensitive area, but I have a bit of a 'stache there. I wasn't ready to hear (And maybe feel?) loud crackling and snapping sounds below my nose.
Once it was time for the last two lasers—which are for skin brightening—I was confident I would be able to take them without having to play with the stress ball. WRONG. By this time, my skin was incredibly sensitive so I actually felt the laser more. The sensation was like super tiny rubber bands were snapping on my skin. Yeah, it was tolerable, but I had to squeeze the stress ball hard whenever the laser passed through certain areas of my face.
After applying an anti-inflammatory lotion on my face, my complexion felt as smooth as a baby's butt. But when I looked in the mirror, certain areas of my forehead and cheeks were red and sore. Apparently, this is a common occurrence if you have sensitive skin.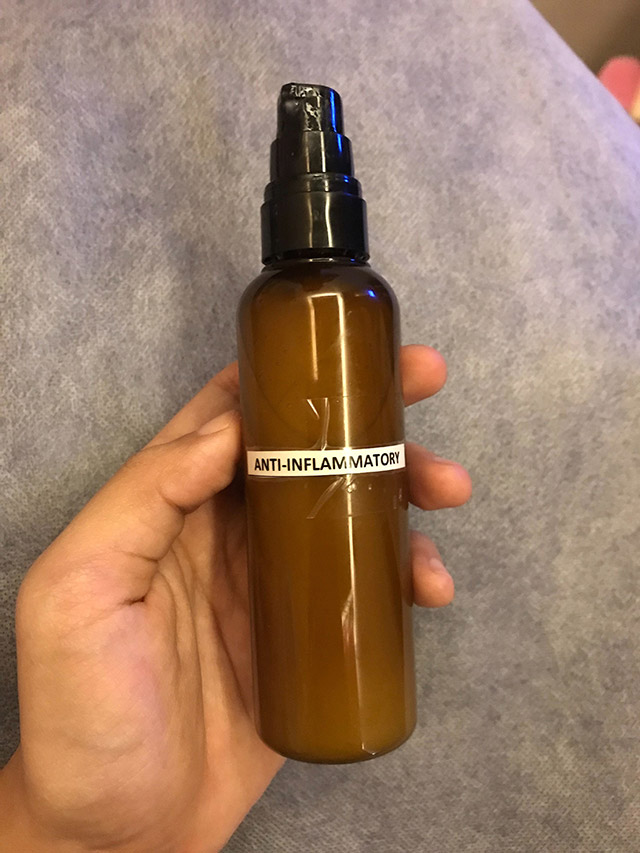 Matei said there's no downtime with this facial, but for my sensitive-combination skin there was. A day after the facial I had a few red bumps on my face that looked like mosquito bites. To remedy this, I just applied aloe vera gel after my moisturizer and sunscreen. My skin completely calmed down after a few days, and I love the way it felt and looked: It was def tighter, my pores were smaller, and some acne marks on my chin were completely gone!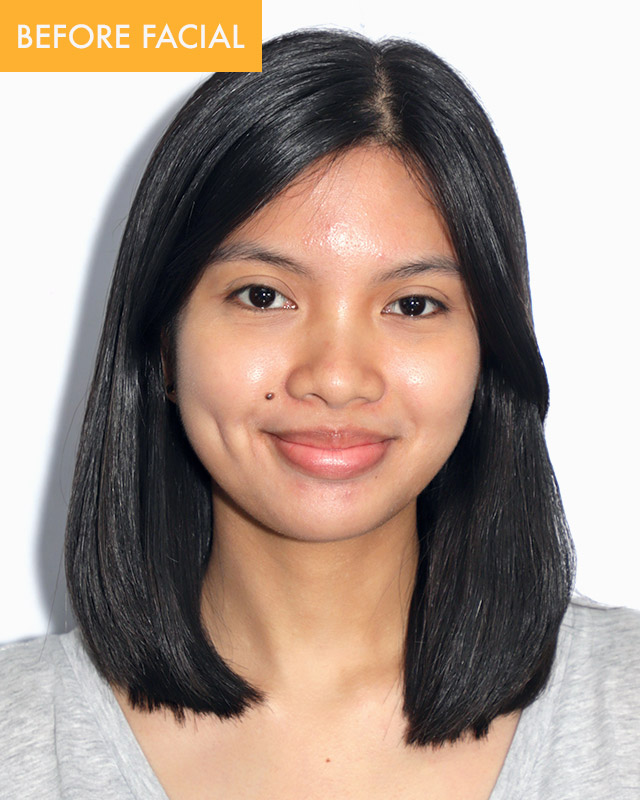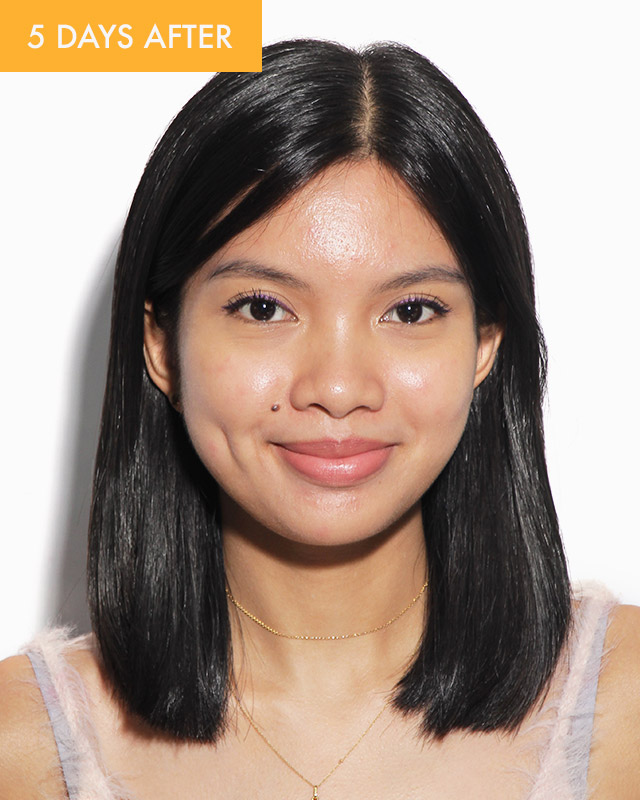 Will I recommend it to my friends?
Yes, of course—the Clearlift Laser Treatment was an ~*experience*~! While it's definitely not for beginners, if you're concerned about some fine lines, large pores, and dull skin, this is the perfect facial for you.
Follow Tisha on Instagram.