If you want your makeup to look flawless all the time, having good skin is key. And how do you achieve that? By eating right and following a solid skincare routine of course. If you're looking to start or improve your skincare routine, instead of of buying products from international brands, why not give local skincare brands a chance? These products cater to Pinays and our skin problems, after all. 
Here, we review Fresh Formula, a brand that launched in July 2019. They released three skincare sets: The Moisture Boost Series, the Glass Skin Series, and the Blemish Rescue Series. The three aim to treat common skin concerns of Filipinas with simple four-step routines. To see if each variant lives up to its claims, three members from the Cosmo team tried it out for a few weeks. See the results below.
What are the Fresh Formula skincare sets?
Fresh Formula currently offers three skincare sets: Moisture Boost, Glass Skin, and Blemish Rescue. Each set contains four products that make up a whole routine to help you fight acne, dryness, or dullness. Each set has a full-sized facial cleanser and travel-sized toners, moisturizers, and serums. 
Here is the complete lineup of products in each skincare routine:
Continue reading below ↓
Recommended Videos
Fresh Formula Moisture Boost Series - Clean and Bouncy Gentle Face Cleanser, On The Bounce Moisturizing Face Lotion, Bounce Back Ultra Moisturizing Serum, Jelly Bounce Daily Lite Moisturizer SPF 45
Fresh Formula Glass Skin Series - Milky Glow Illuminating Facial Wash, Rosy Glow Face Tonic, Morning Glow Brightening Serum SPF 45, Golden Glow Repair Serum
Fresh Formula Blemish Rescue Series - Skin Doctor Acne Defense Facial Wash, Blemish Doctor Anti-Acne Facial Toner, Doctor Blur Oxygenated Day Cream SPF 45, Doctor Clear Overnight Repair Cream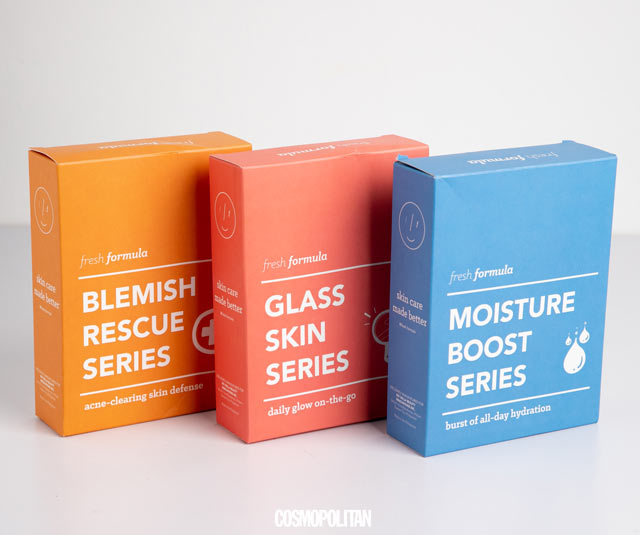 Claim to fame
When we found out Fresh Formula is the sister brand of well-loved local beauty brand Colourette, we were instantly sold! We love Colourette for their range of high-quality products at affordable prices so we expect Fresh Formula's, to be just as amazing. We don't expect a miraculous skin transformation after two weeks, but we are hoping Fresh Formula can make a positive difference on our complexions.
Ingredients
Below, the ~*main ingredients and actives*~ that can be found in each of Fresh Formula's skincare sets.
Fresh Formula Moisture Boost Series
Oat Protein, Urea, Niacinamide, Grapeseed Oil, Algae Extract, Argan Oil, Hyaluronic Acid, Indian Gooseberry, Aloe Vera, Green Tea, Vitamin C, Vitamin E
Fresh Formula Glass Skin Series
Grapeseed Oil, Sea Kelp Extract, Alpha Arbutin, AHA: Lactic Acid and Glycolic Acid, Vitamin A, C, E, Giga White, Pepha-Tight, Gotu Kola, Pepha-Protect, Pentavitin, Collagen, Horse Chestnut, Witch Hazel, Green Tea Extract, Ginseng
Fresh Formula Blemish Rescue Series
Witch Hazel, Indian Soap Berry, CoQ10, Collagen, Tea Tree Extract, Elastin, Beta Glucan, AHA: Lactic Acid and Glycolic Acid, Willow Bark Extract, Vitamin E, Vitamin A, Algae Extract
Scent
None of products smelled the same. But in general, their scents reminded us of baby cologne in varying intensities—nothing too strong. The scents also did not linger too long on the skin after application.
How much are the Fresh Formula skincare sets?
The three skincare sets of Fresh Formula cost P1,386 each. But right now they're all on sale at P999 each!
Where can you buy the Fresh Formula skincare series?
Fresh Formula is currently only available through online shopping platforms like Lazada, Shopee, and BeautyMNL.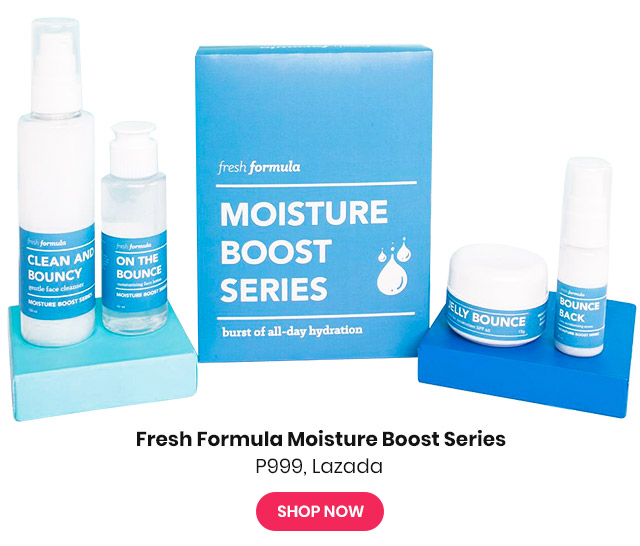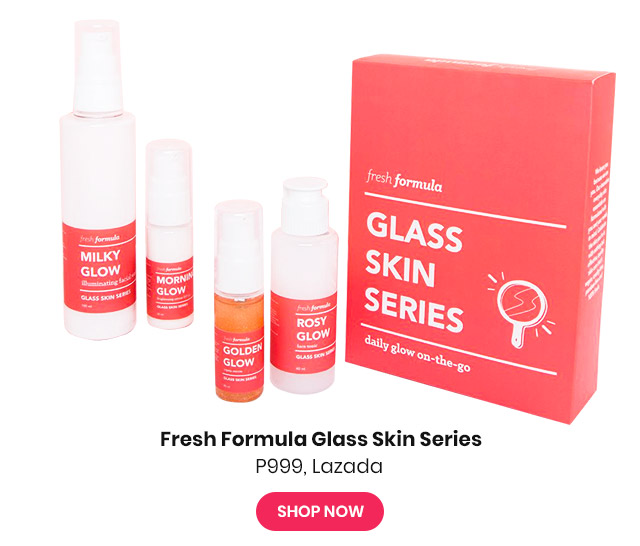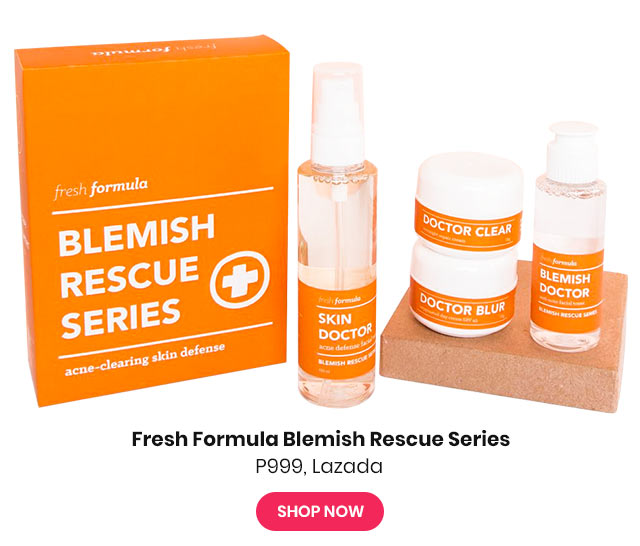 EXPERIENCE
Fresh Formula Moisture Boost Series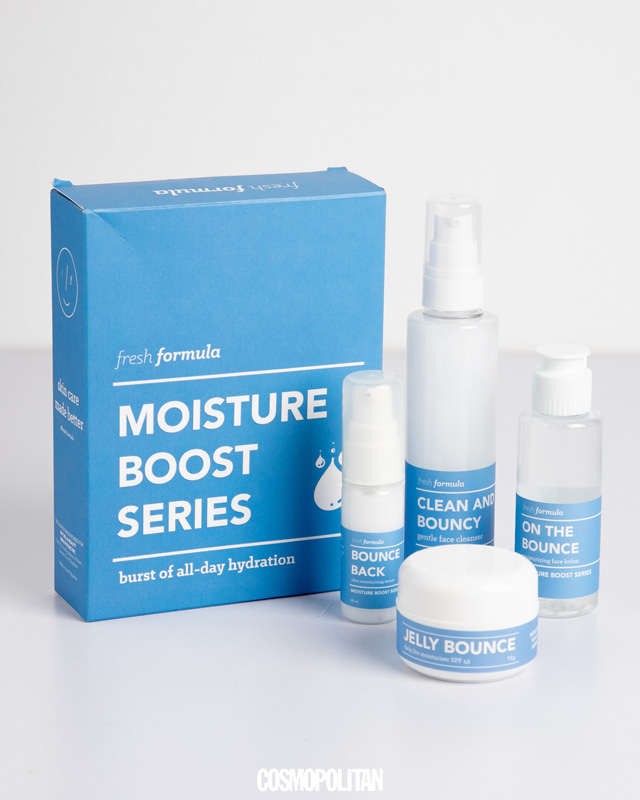 Tester: Jacinda Lopez
Skin type: Extremely dry and sensitive
Skincare routine: Cream or foaming cleanser, gentle exfoliating cleanser, serum, moisturizer, sunscreen, eye cream.
First Impressions: The facial wash and day moisturizer in the Moisture Boost Series are ah-mazing! They were both so gentle and left my skin feeling bouncy. I was iffy to try the face lotion at first because I never really use lotions or toners in my regimen. It stung a bit when I applied it, but I was thankful it didn't trigger any rosacea flare-ups or acne. As for the moisturizing serum, I couldn't see or feel an immediate effect so the only thing that made an impression on me was how tiny the bottle was.  
Overall Experience: It was weird for me to stick to the same products for two whole weeks because I like using different cleansers, serums, and creams depending on my skin's needs. But I'm really glad I used the Moisture Boost products because they didn't cause any reactions or redness. I also didn't get any blemishes or rosacea flare-ups so they must be doing something good! Overall, my complexion looked and felt the same to me but that's a good thing given that I was so scared about the Moisture Boost Series agitating my sensitive skin in the first place.
While I love the On The Bounce Moisturizing Facial Lotion and the Clean And Bouncy Gentle Face Cleanser, my ~*favorite*~ product is definitely the Jelly Bounce Daily Lite Moisturizer SPF 45 because it has SPF, it is non-greasy, and it made my complexion feel more "lifted" or taut.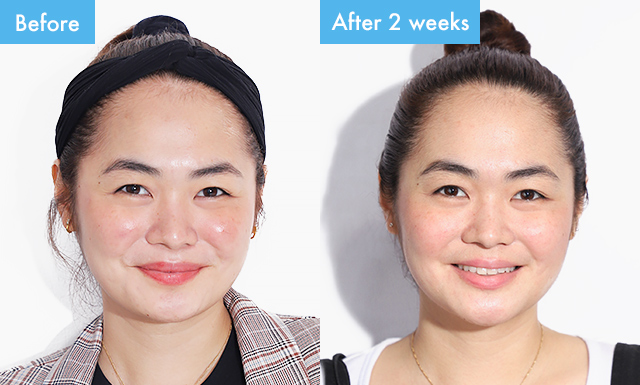 Fresh Formula Glass Skin Series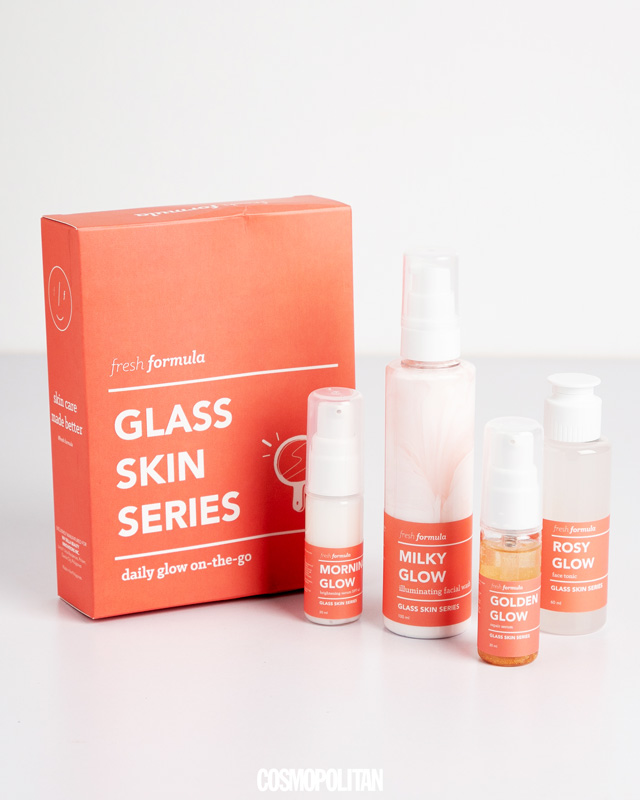 Tester: Tisha Caedo
Skin type: Combination and sensitive
Skincare routine: Cleansing oil, low pH cleanser, serum, eye cream, moisturizer, sunscreen
First Impressions: I was nervous to try the Glass Skin Series because it has AHAs which tend to dry my skin out. I slowly integrated the products into my routine to avoid my skin from developing break outs. I started with the Rose Tonic, but after just a few hours of trying it I already knew it was making my skin more dehydrated. My cheeks felt rough and my smile lines felt tight. I continued to use the Rose Tonic as I added the rest of the products into my regimen in the hopes that it would stop drying my skin out. 
I liked the Brightening Serum and Milky Glow cleanser because they left my complexion feeling fresh. As for the Golden Glow Repair Serum? I discovered it leaves a slightly greasy film on the skin, but I didn't mind this much because it was nighttime. The only thing that turned me off about the product was how the gold flecks stuck on to my hands. I thought they would disappear once I rubbed the product on my face, but I was left with glittery hands that only returned to normal after I washed them with soap and water. 
Overall Experience: I had to stop using the Rose Tonic toner after a few days because my complexion started becoming rough and textured. I knew it was the culprit because after a day of not using it, my skin felt a lot better. I also had to stop using the Milky Glow cleanser every day (*siiiigh*) because I think some of the ingredients in it were too harsh for my skin. Instead, I alternated it with my regular low pH cleanser and the combination of the two helped undo the mild "damage" I got from the Rose Tonic.
I really like the serums in this line. But since it's been a bit cold lately, I used the Golden Glow more to add extra moisture to my regimen. I think I'll just use the Brightening Serum during summer!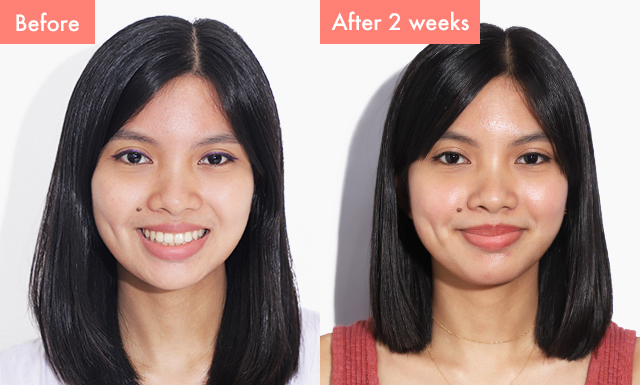 Fresh Formula Blemish Rescue Series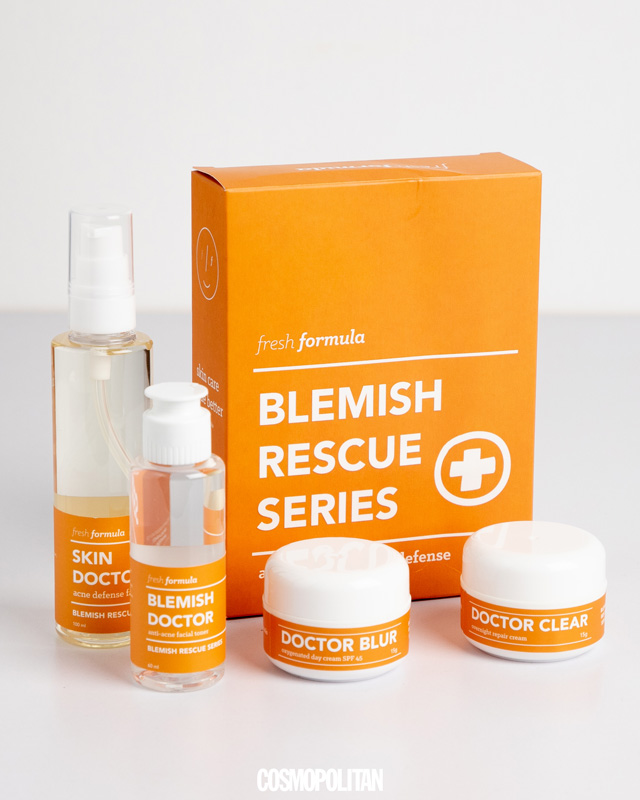 Tester: Ysa Singson
Skin type: Oily and acne-prone
Skincare routine: Cleanser, toner, serum, day and night cream. If I remember, I try to do a face mask twice a week. 
First Impressions: As someone with oily and acne-prone skin, I'm always looking for new products that could help with my pimples and dark marks. I tried Skin Doctor first, and as someone who's used to cleansers lathering up like crazy, I was surprised by how this felt different talaga. It barely foamed up but this wasn't a bad thing as it left my complexion feeling clean and ready for the next step. The toner and day cream didn't leave a good impression on me. The former had a stinging sensation upon application while the latter made me look like a walking IG filter. Doctor Blur does what it claims but it just wasn't what I was looking for in a day cream. I thought it would moisturize my skin but instead made me look like I was wearing a mask.
After my experiences with the toner and the day cream, I couldn't wait to try the overnight repair moisturizer when I got home. After doing my nightly routine I saved the Doctor Clear cream for last. Unfortunately, my skin wasn't able to absorb the product at all! *cries* The moisturizer felt like makeup as it just sat on top of my skin.
Overall Experience: Admittedly, I didn't use any of the products for the full two weeks because my skin broke out with large, inflamed pimples. It didn't feel like my skin was purging because the zits appeared in places I normally don't break out on.
During the trial period, I had to completely stop using the toner because after a few days, my skin started to feel itchy and like it was sorta burning. I gave the two creams another chance, hoping they would help calm my complexion down, but they ended up making my skin feel super dry. The only product that I liked and will continue using is the Skin Doctor cleanser. Out of all the four, it was the most gentle and didn't cause a serious reaction.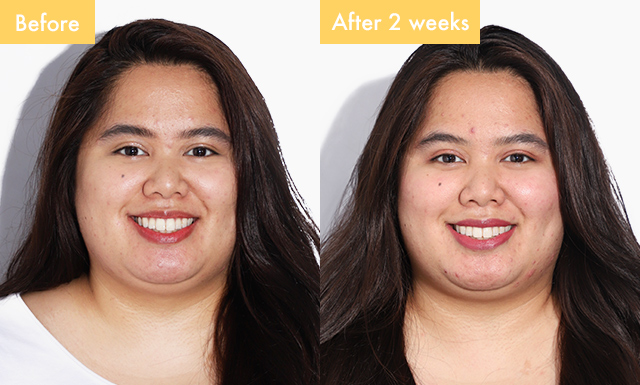 Are the Fresh Formula skincare sets worth buying?
Our complexions went through a lot during the testing period of Fresh Formula's skincare sets. This is why we're answering this question with both a yes and no. We love how they have ready-made regimens because it's a hassle-free way to start getting into skincare if you're a beginner. But if you know your skin well already—as in you already know what works and what doesn't for you—it's not the best idea to buy the sets because they're not customizable. As always, it would be best to do your research and consult a dermatologist to find out what your skin's needs are.
Follow Tisha on Instagram.