There is a new anti-acne skincare brand you should know of, and it promises to soothe and heal breakouts sans the matapang add-ons. Meet Kylaz—their products promise to combat acne from its roots, with the use of mild and caring ingredients.
The line currently has three products that work hand in hand in combatting acne. Check them all out below:
Step 1: Blemish Healing Emulsion
This is the first step to the line's three-step acne-clearing regimen, so it also preps your skin for the next steps. 
This blemish solution hydrates the skin, accelerates the healing of breakouts, clears pores, and reduces the occurrence of blackheads and whiteheads. Its key ingredients are the following:
4-Terpineol - an important component of tea tree oil known for its anti-bacterial, anti-fungal, and anti-viral properties
Clover flower extract - rebalances the skin and speeds up wound healing
Mucor miehei extract - a Japanese mushroom that serves as an alternative to alpha-hydroxy acids known to brighten, soften, and smoothen the skin
Lilac extract - a powerful antioxidant that helps protect the skin against free radicals and has strong anti-inflammatory benefits
ADVERTISMENT - CONTINUE READING BELOW ↓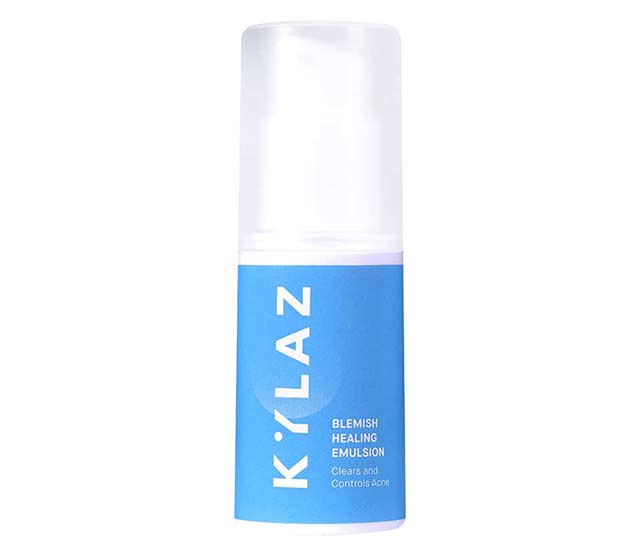 Kylaz Blemish Healing Emulsion, P785, BeautyMNL
Step 2: Moisturizing Blemish Defence
This reparative moisturizer improves skin health and immunity for a complexion that stays clearer for longer. It also works to brighten and smoothen the face with regular use. It features four potent ingredients:
Niacinamide - a blend of vitamin B3 and nicotinic acid that boosts hydration, brightens skin, smoothens texture, and reduces irritation
Acetyl glucosamine - an amino acid sugar that heals wounds, boosts collagen production, and prevents acne
Colostrum - protects against infection, rebuilds the skin barrier, enhances immunity, stimulates rejuvenation, and reduces redness and scarring
Lysozyme - an enzyme that controls breakouts and discourages new pimples from forming without causing dryness or irritation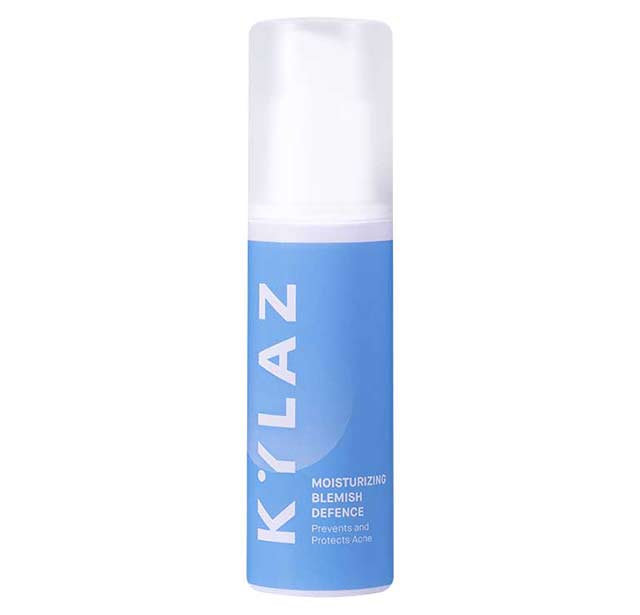 Kylaz Moisturizing Blemish Defence, P745, BeautyMNL
Step 3: Spot Off Treatment
Aside from clearing your breakouts, this SOS treatment also gets rid of your dark spots. It also calms the skin and controls oil production.
Here's a list of its active ingredients:
Salicylic acid - a beta-hydroxy acid that helps exfoliate skin cells, unclog pores, and clear blackheads and whiteheads
Centella asiatica extract - a.k.a. cica, an herb that boasts of anti-inflammatory properties. It heals pimples by speeding up skin cell production and collagen synthesis.
Aluminum chlorohydrate - a complex organic salt with astringent properties that help dry blemishes
Acetyl glucosamine - an amino acid sugar that heals wounds, boosts collagen production, and impedes acne
Scutellaria baicalensis root extract - a potent botanical with antioxidant, anti-inflammatory, and skin-brightening properties
Chamomilla recutita flower extract - relieves inflamed, red, and irritated skin
Licorice root extract - helps control sebum secretion on top of its anti-inflammatory and antioxidant benefits
ADVERTISMENT - CONTINUE READING BELOW ↓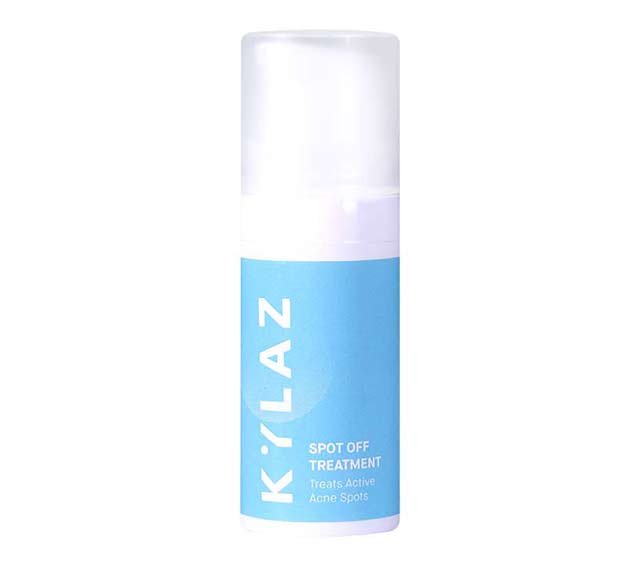 Kylaz Spot Off Treatment P670, BeautyMNL
You can buy the products individually, but you can try the whole anti-acne regimen by purchasing the Blemish Breakout Fighter Set for only P1,862.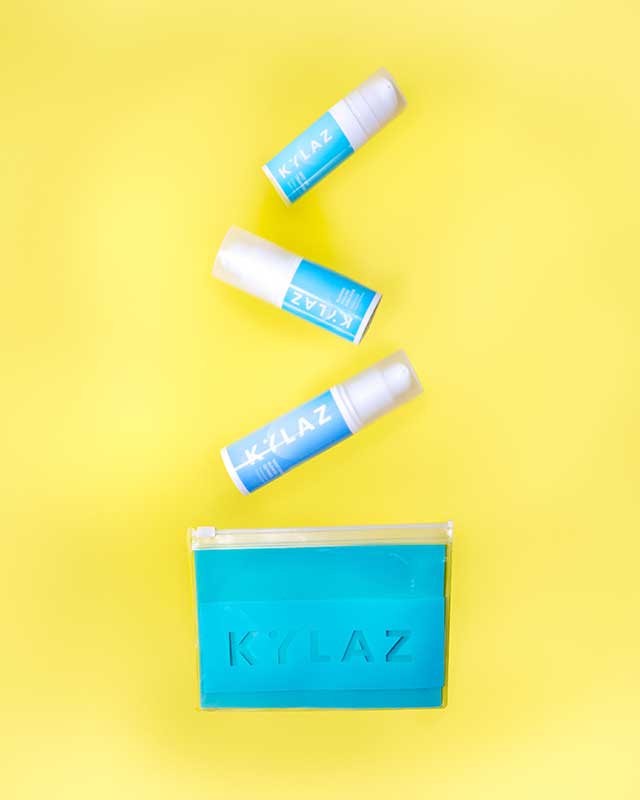 ADVERTISMENT - CONTINUE READING BELOW ↓
Kylaz Blemish Breakout Fighter Set, P1,862, BeautyMNL
We wanted to find out if Kylaz's simple anti-acne regimen would work, so we asked two Cosmo girls to try it. Read their skincare diary below:
OUR KYLAZ SKINCARE DIARY
Karla: Acne and I go waaaay back. I'd say that my relationship with it is even longer than what I had with all of my exes combined! And TBH, I want out. I'm so done with dealing with breakouts. When I heard about this new skincare brand that promises to cure these issues, I knew that I was sooo ready to try it out.
Paulina: As a beauty-obsessed girl, one of the things I really watch for is the annual Cosmo Beauty Awards list. While going over the list for 2019, I got curious about Kylaz because it was the first time I'd ever heard of the brand yet it won TWO awards this year. I immediately did some research and found out that one of its founders, Dr. SK Tan, is known as the "grandfather of aesthetics" in Singapore. He and his wife, Janifer Yeo-Tan, launched Kylaz and created products that work together to correct, protect from, and prevent acne and blemishes:
ADVERTISMENT - CONTINUE READING BELOW ↓
I have oily, textured skin with large pores and redness. When it comes to acne, my skin has its own weird cycle: Half of the time, it's *okay* (a.k.a. my skin doesn't break out), but the rest of the month, it's a mess (think huge pimples that just won't go away).
Day 1
Karla: The past few days have been rough skin-wise. I've been so stressed with life, and I haven't had time to get some proper sleep—let alone pamper myself. I looked forward to testing the Kylaz products as soon as I got them.
Right off the bat, I was drawn to Kylaz's minimalist packaging—the line consists of three items, all of which dispense product with a pump mechanism. 
I applied the Blemish Healing Emulsion on my T-zone and over my active acne. I felt a slight sting when I applied it, but the sensation eventually disappeared when the product was absorbed by my skin.
ADVERTISMENT - CONTINUE READING BELOW ↓
Next up was the Moisturizing Blemish Defence, which seemed to be super thicc at first, so I was surprised that my skin absorbed it stat.
I didn't have to wait a long time before I could apply the final step which was the Spot Off Treatment. The formula was light, which I liked!
All in all, the skincare regimen went by with just a breeze; I just hope that it delivers their promise of clearing my skin.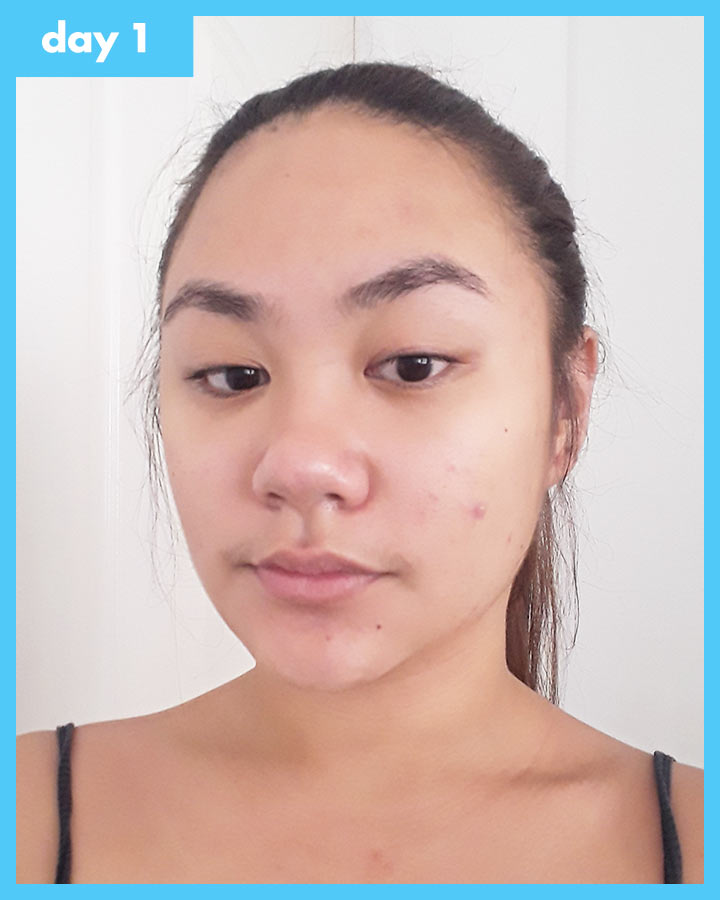 ADVERTISMENT - CONTINUE READING BELOW ↓
Paulina: My skin was at its worst due to stress and puyat. I had two huge pimples: One under my nose and another near the corner of my lip—two areas where I rarely get breakouts.
After washing my face, I first applied the Blemish Healing Emulsion. I immediately noticed the herbal menthol scent, which I personally liked because it felt like it was healing my complexion. The emulsion's formula was also lightweight and was easily absorbed by my skin. I then spread the Moisturizing Blemish Defence all over my face—it was a bit thick, but it eventually dried down to a comfortable matte finish that I believed could double as a makeup primer. Lastly, I dabbed the Spot Off Treatment on my active pimples as well as on the growing spots. There was a tingling feeling upon application, which for me meant that it was working its magic.
ADVERTISMENT - CONTINUE READING BELOW ↓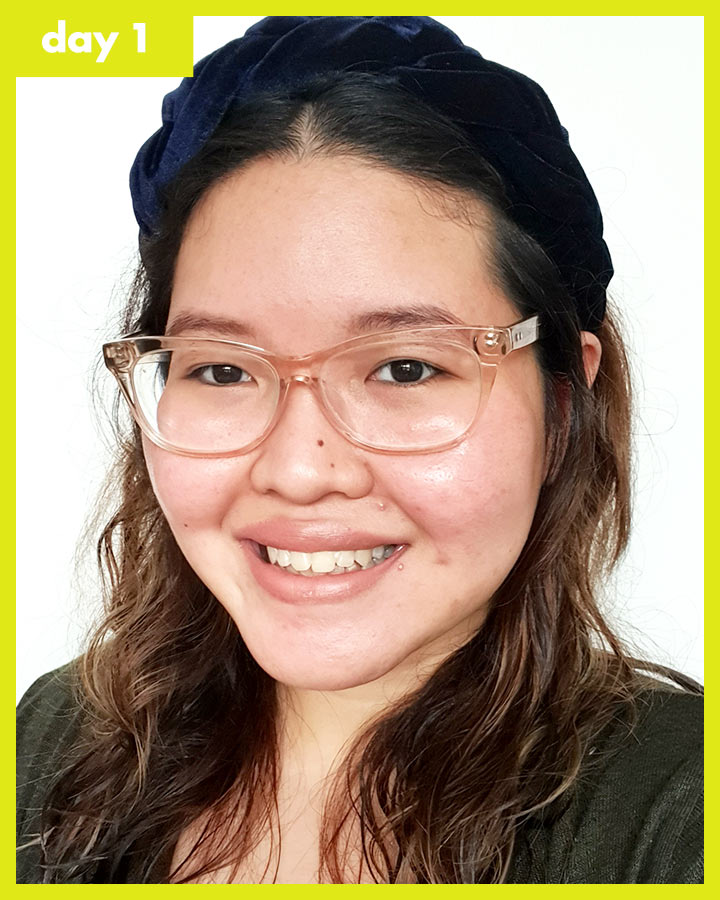 Day 5
Karla: My skin started to clear up. My pimples were getting smaller and my spots were slowly fading. The change didn't come overnight though, and it took me at least three days before I noticed a difference when I looked at myself in the mirror. However, that's not exactly a bad thing because I could feel the products working deep within. It has taken me years of dealing with sensitive skin to realize that most products that show immediate results involve harsh chemicals that do more harm than good.
ADVERTISMENT - CONTINUE READING BELOW ↓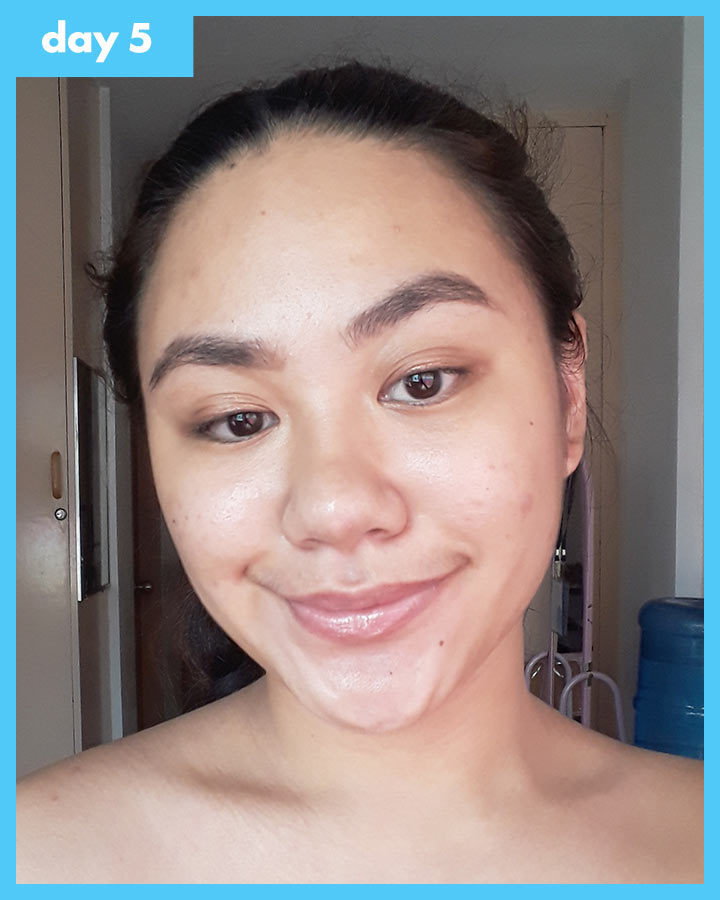 Paulina: My huge pimples were almost gone at this point; they were still a bit swollen but didn't have pus anymore. I was also pretty proud of myself because I didn't attempt to pop them at all!
A few small bumps also appeared on my cheek and chin, but I wasn't really bothered because I was PMS-ing at the time. Besides, the tiny bump on my chin that "bloomed" into a full-fledged pimple became completely flat the next day.
ADVERTISMENT - CONTINUE READING BELOW ↓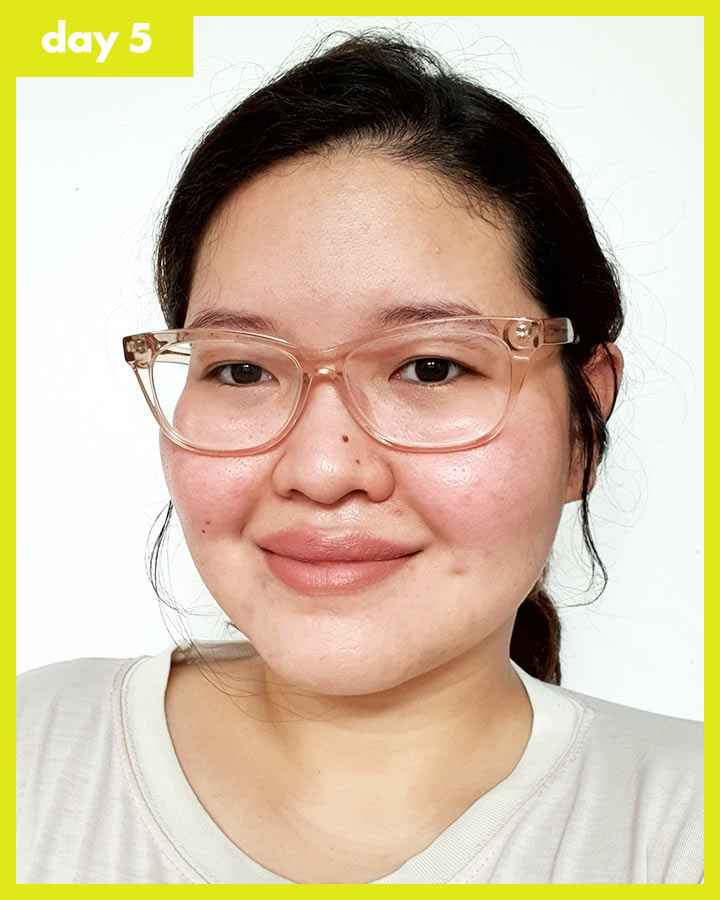 Day 10
Karla: My skin has improved great lengths since I started using this line! When I started this shift in my routine, I had a lot of tiny bumps on my temples, as well as a huge zit on my right cheek, have now subsided. My mom also noticed that my complexion was starting to get better, so it means that Kylaz is actually working for me. Yay!
ADVERTISMENT - CONTINUE READING BELOW ↓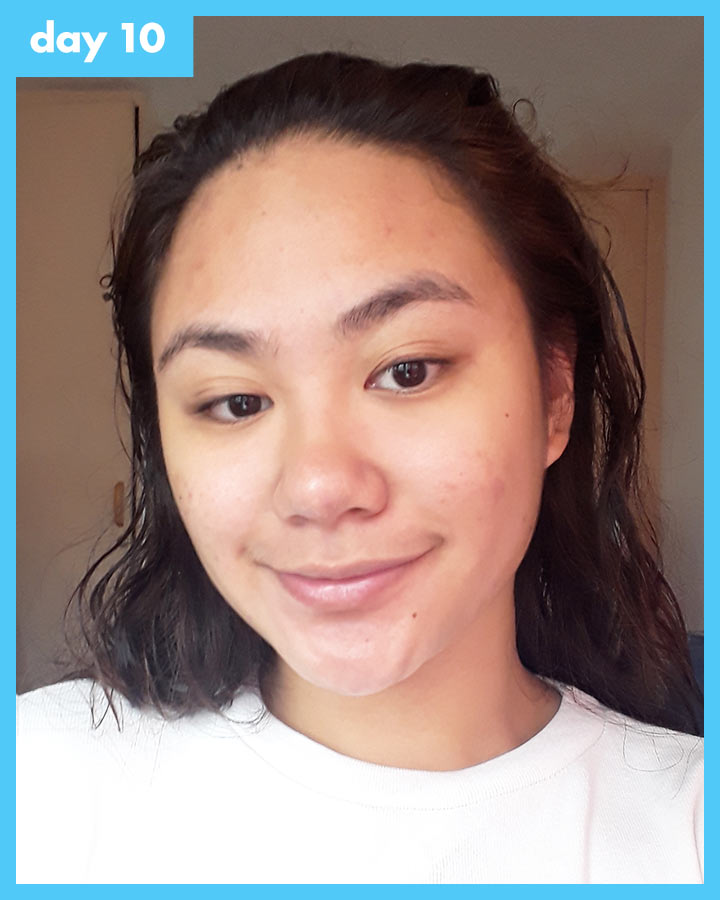 Paulina: By Day 10 of the experiment, my skin was looking clearer and brighter. I noticed that my old acne marks had brightened and the marks from the two big pimples I had at the start of the experiment had faded considerably. I also didn't have any new pimples, which I took as a sign that the routine was working!
ADVERTISMENT - CONTINUE READING BELOW ↓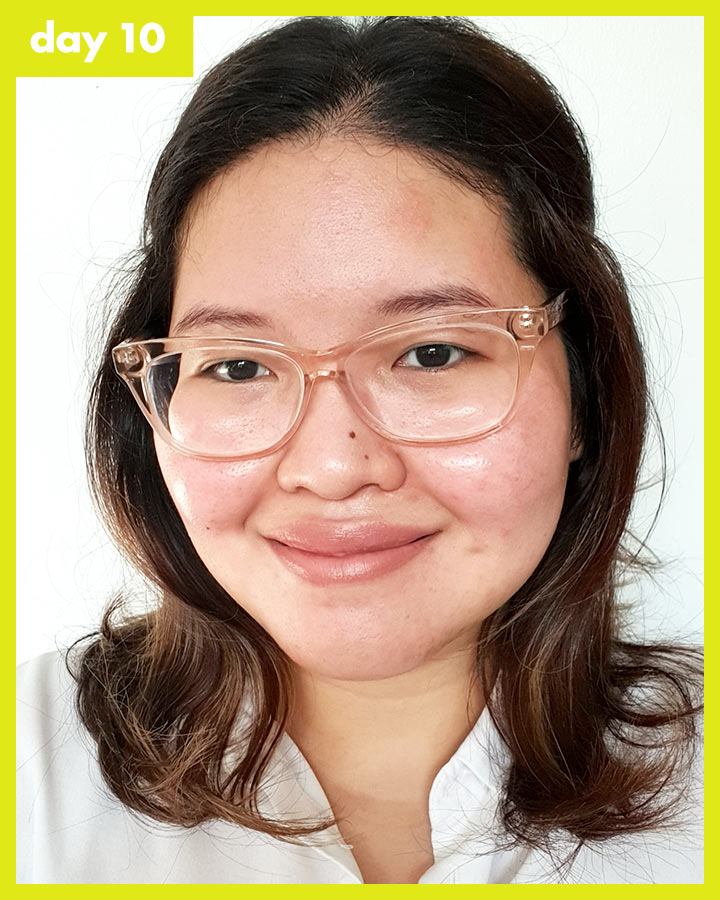 Day 15
Karla: This skincare line is a godsend. Needless to say, Kylaz delivered their promises of better, clearer skin. My active breakouts have subsided, my pores looked smaller, and my dark spots started to brighten. On top of all of this, I didn't experience further breakouts since I started using it. Most products I've used in the past have triggered breakouts, but this wasn't the case with Kylaz. It cured my blemishes instead of aggravating them.
ADVERTISMENT - CONTINUE READING BELOW ↓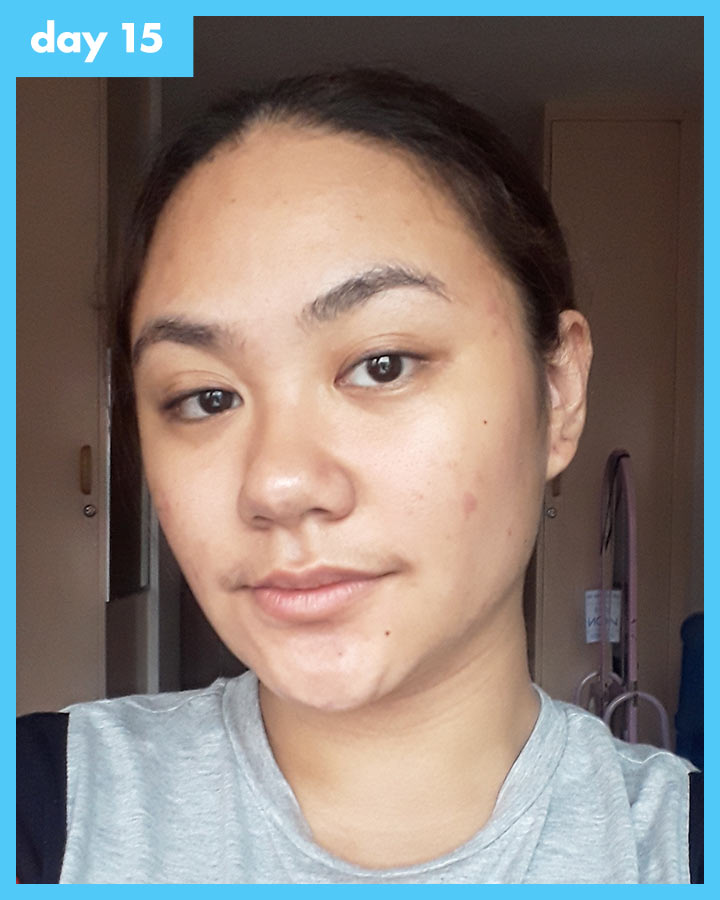 Paulina: Okay, first off, I noticed that my skin wasn't as oily as it used to be. I usually look like a shiny mess by noon (even if I use a setting powder). But over the last couple of days, I didn't even need to blot off the excess oil because my face was fresh and glowing! There weren't any new spots, plus my complexion appeared more even than it did a few days ago. With the way my skin looks now, you could barely tell that I had huge pimples half a month ago.
ADVERTISMENT - CONTINUE READING BELOW ↓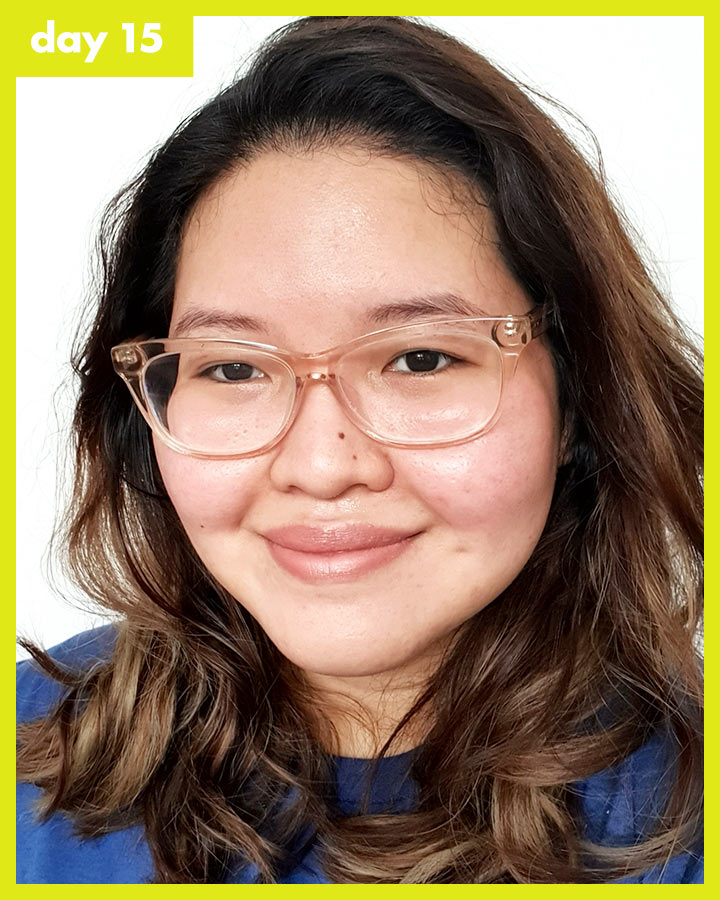 Overall results + rating
Karla: If I were to rate Kylaz's anti-acne skincare line on a scale of five, with five being the highest, I would give it a 4.5/5! I absolutely love it, and it may just be the key to the skin of my dreams. Who would've thought that I could solve my complexion dilemmas with just three items? As someone with sensitive skin, I try my best to stay away from applying tons of products on my face as this may result in more problems.
ADVERTISMENT - CONTINUE READING BELOW ↓
I'll continue using this Kylaz, and I hope it continues to change my skin for the better *fingers crossed*. The remaining 0.5 will be awarded if and when it clears my skin and so far, things are looking up!
Paulina: On a scale of one to five, I would give Kylaz a five! I love the way my skin looks and feels, and how the products didn't just help with acne but also with oil control. I also appreciate how the items already come in a set, so I wouldn't have to worry about finding a combination that works for me. With the results I've seen so far, I *know* my dream to go foundation-free someday is within reach!