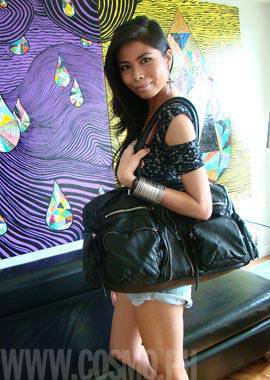 Cosmo visited fashion model-slash-radio jock
Raya Mananquil
at her home recently, just to take a look inside her everyday bag--a Topshop tote. The
host of The Magazine Show on NU 107
was very accommodating and totally game to show us her stuff. As a bonus, she also shared some tips on makeup and fashion.
She admitted that there really is a bit of pressure to be beautiful every time she goes out in public because of her status as a model. "You know, when people know that you're a model, I guess you can't help it," she said.
However, Raya explained, "You know, it's not necessarily a sad reality. It's just how it works in the industry. I mean, being a model, you have to protect yourself in a certain way. I don't think it's necessarily a bad thing. I think there's nothing wrong with trying to look beautiful. Everyone strives to be and look beautiful. It's one of the things that attract people, whether physically or intrinsically. I think, for some people, beauty can be a shallow aspect of life. It should be celebrated."
As an active member of People for the Ethical Treatment of Animals (PETA), she really practices its main advocacy. For example, Raya is very particular about the makeup products that she uses.
"I try to use products that are not tested on animals."
While Cosmo was taking a photo of her MAC powder, Raya told us, "I use MAC because they don't test on animals."
She also added, "
I try to use as many natural and organic products [as possible].
There are brands that I buy in Healthy Options. They're not really known like big brands. You know, you wanna
put as little chemicals on your face [as you can]
."
When asked for the most important beauty tip she could share with Cosmo readers, Raya answered, "Don't stress yourself too much. You know, I truly, honestly believe—it's a cliche—but
what you feel inside is manifested physically
. And I think, when you're more at peace with yourself and your life, it shows."
Check out the other stuff inside Raya's Topshop bag by clicking on the 'View Gallery' button below.416
Continue reading below ↓
Recommended Videos