My favorite part in my nighttime skincare routine is using a weekly face mask. It's incredibly relaxing and makes me feel like I'm ~*taking care of myself*~ (#SelfLove2019). Aside from it being able to make me feel luxurious and cared for, it also strips away the gunk that has built up in my skin from the past few days.
I make it a point to put on a clay mask at least once a week (the recommended frequency of use for clay masks), both for some much-deserved me-time and to deeply cleanse my complexion of bacteria and pollution. I heard about Quick FX Black Mask and its good reviews. I knew I had to try it out to see if it could work better than my go-to. Keep scrolling to check out how it fared on my complexion!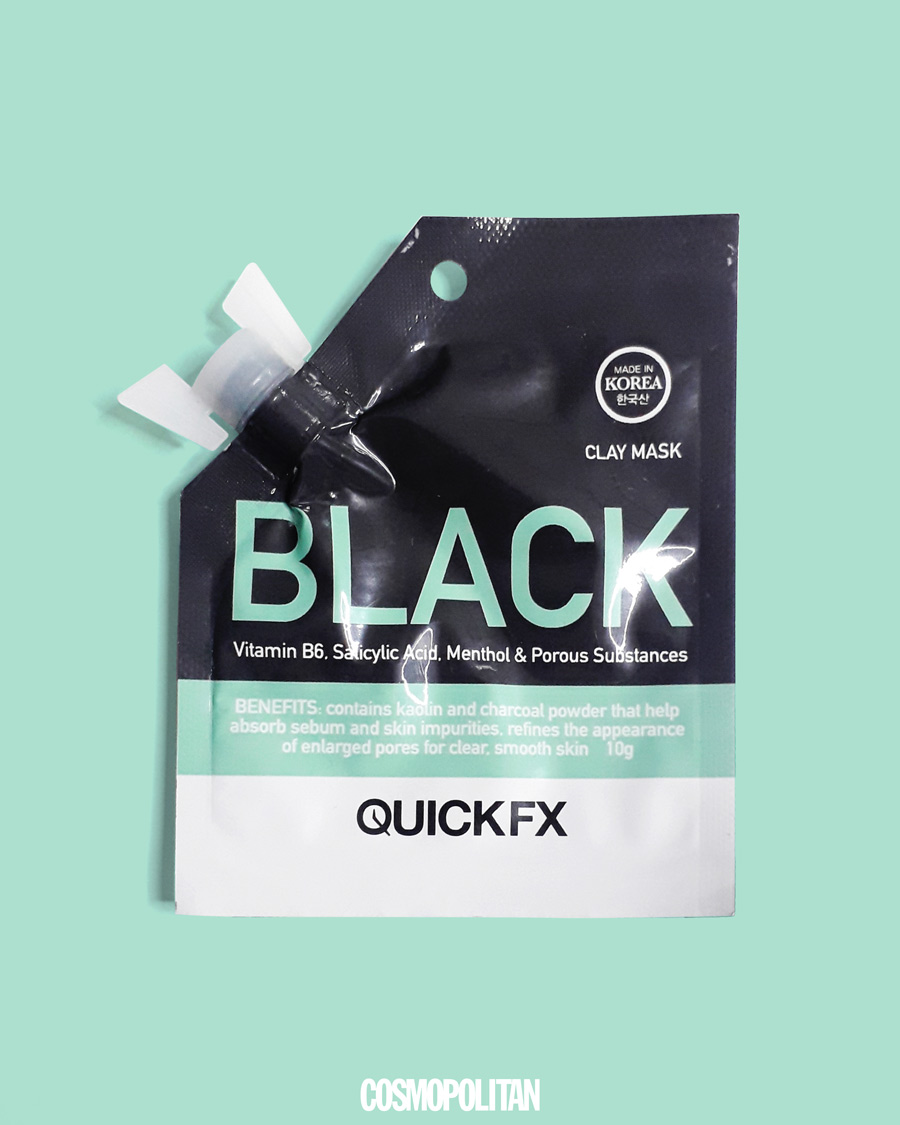 Continue reading below ↓
Recommended Videos
What is the Quick FX Black Mask?
It's a clay mask that promises to give you a clearer and brighter complexion. Among its ingredients are kaolin and charcoal powder (which help absorb excess sebum and other impurities), Vitamin B6, and the famous Salicylic Acid, a star ingredient that is meant to combat acne. It also has Menthol, Allantoin, and other soothing properties that aid in relieving your skin from redness, irritation, and stress. Sounds very promising, right?
Exfoliating masks, like the Quick FX Black Mask, should only be used once or twice a week, depending on your skin's needs. Using it more than the recommended frequency can damage your skin barrier thus, increasing chances for redness, sensitivity, and acne. 
Claim to fame
Like most Pinays, the drugstore (Watsons, in particular) is the first place I run to for my beauty needs. Whenever I passed by, I always saw Quick FX's products but never felt compelled to try something from their line until I read this hilarious beauty review by the Facebook page All Skincare, Sometimes Shade. While she tried another Quick FX product (the Dewy+ Hydrating Sleep Mask), her glowing praises convinced me to try the Black Mask. Not only is its price wallet-friendly, but it comes in a cute resealable sachet, too. 
Ingredients
Purified Water, Kaolin, Charcoal Powder, Butylene Glycol, Polysorbate 80, Bentonite, Magnesium Aluminum Silicate, Tocopheryl Acetate, Stearic Acid, Triethanolamine, Xanthan Gum, Chamomilla Recutita (Matricaria) Extract, Phenoxyethanol,  Methylparaben, Sodium Hyaluronate, Fragrance, Allantoin, Hydrolyzed Collagen, Dipotassium Glycyrrhizate,  Panthenol, Niacinamide, Salicylic Acid, Adenosine, Menthol, Disodium  EDTA, Pyridoxine HCL
Scent
Unlike most clay masks I've tried before, the Quick FX Black Mask has a faint cooling scent. Upon first application, I immediately smelled the menthol, which added to the product's charm. It soothed my senses while treating my complexion. 
Texture
The clay mask applied very smoothly on my skin and without much effort. It didn't feel sticky at all. The Quick FX Black Mask has a *slightly* lighter consistency than most clay masks—like a thick facial cleanser.  It settles and dries down to a light gray shade within a few seconds of being applied.
How much is the Quick FX Black Mask?
The Quick FX Black Mask is very affordable! A 10g sachet retails for just P99.
Where can you buy the Quick FX Black Mask?
Quick FX's Black Mask is available in Watsons branches nationwide.
My skin type
My skin is acne-prone and VERY sensitive, so I'm always cautious with the products I try. One wrong ingredient can trigger terrible acne breakouts and the itchiest hives.
My skincare routine
Morning: Soap-free cleanser, toner, moisturizing cream, sunscreen
Evening: Soap-free cleanser, toner, acne spot treatment, niacinamide serum, moisturizing cream
At least once a week: clay mask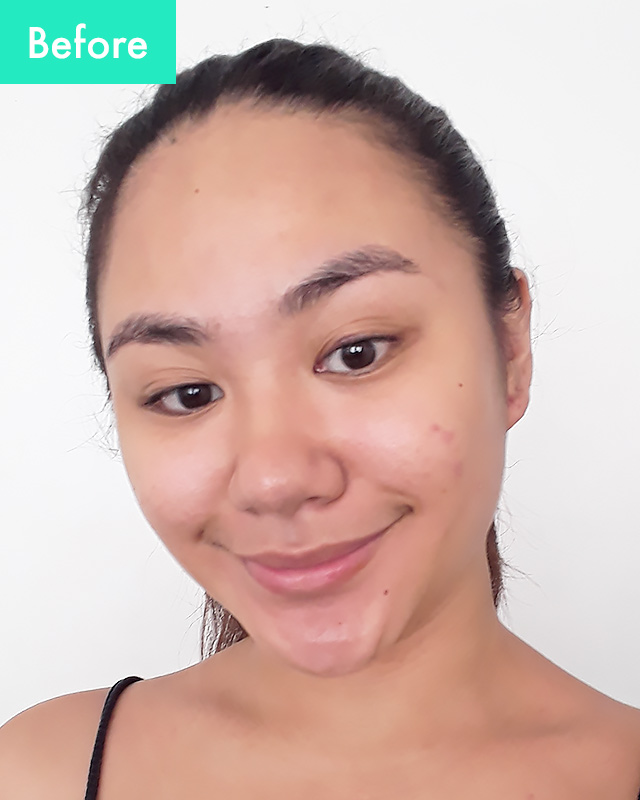 Week 1
Tonight was my first night back from Boracay. I was in the island for six days and while the trip was ~good for my soul~, it was definitely not good for my skin. I spent most of the week under the sun and was exposed to salty water, resulting in my complexion being both oily and dry. 
I was very tired and cranky that day. My flight was delayed for two hours, and I had to combat Metro Manila traffic and pollution. My skin was already feeling super icky and dirty. When I got home, I actually didn't want to put on a mask, I just wanted to rest and sleep. But, I forced myself to get up and try the Quick FX Black Mask since I knew my complexion needed it more than ever. 
First of all, let me just say: I loved the mask's packaging because I was able to precisely control the amount that came out.
As soon as the Black Mask glided onto my skin, I was immediately hit by the cooling effects of the product. It applied smoothly and effortlessly, and it didn't take me long before I was able to cover my whole face. It felt lightweight on my skin, and it didn't have an intense tightening or tugging effect.
Removing the mask was as easy as its application. It just felt like I was washing off a cleanser with a slightly thicker consistency. Once I was finished washing off the Black Mask, I immediately noticed that my skin looked brighter and less oily. I finished my routine with my serum and moisturizer. 
After a week, I was already able to see positive changes in my skin! See for yourself below: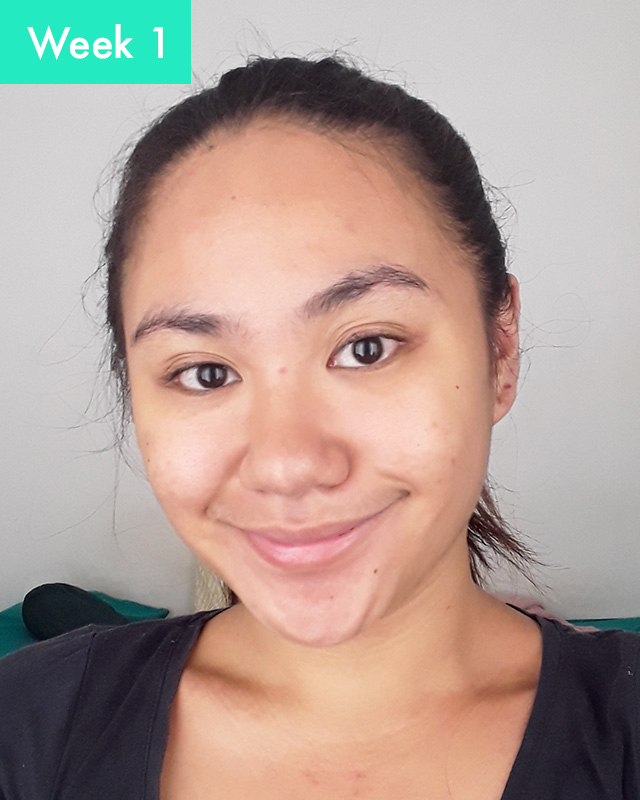 Week 2
Weekends are for self-care and much-needed free time! I devoted my Saturday night to a masking sesh so I could effectively get rid of the deep-seated dirt that accumulated in my pores throughout the week. Plus, I was still nursing my skin back to its pre-beach, healthy state. I had a couple of whiteheads on my forehead. The morning after I used the mask, I noticed they looked less prominent and smaller.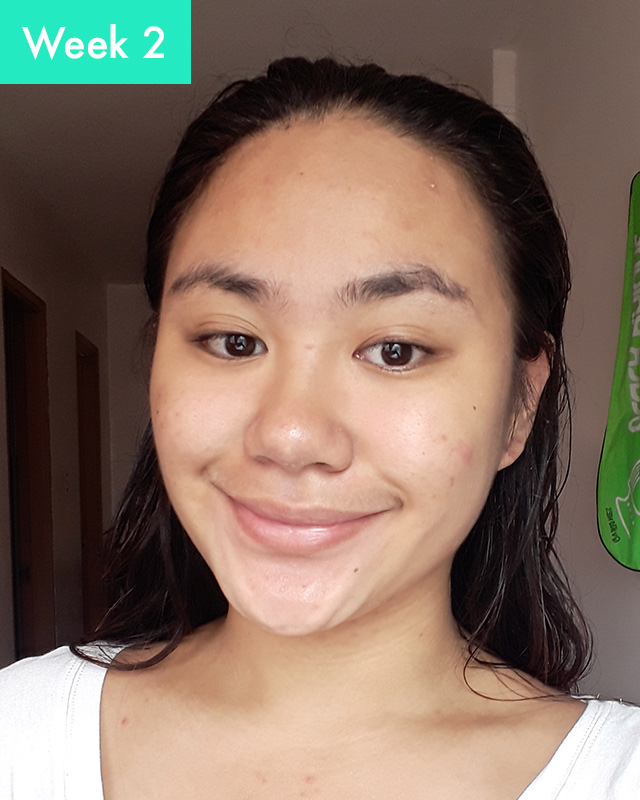 Week 3
I'm on my third week of trying the mask! It has been a great addition to my routine so I added an extra day in the week for clay-masking to see if the increase in frequency will make a difference. 
So far, my skin looked a bit more supple than usual. However, the mask wasn't able to get rid of the zit that I got from my recent period breakout. I haven't been applying my usual spot treatment as often as I usually would because I want to fully test this mask's zit-zapping powers.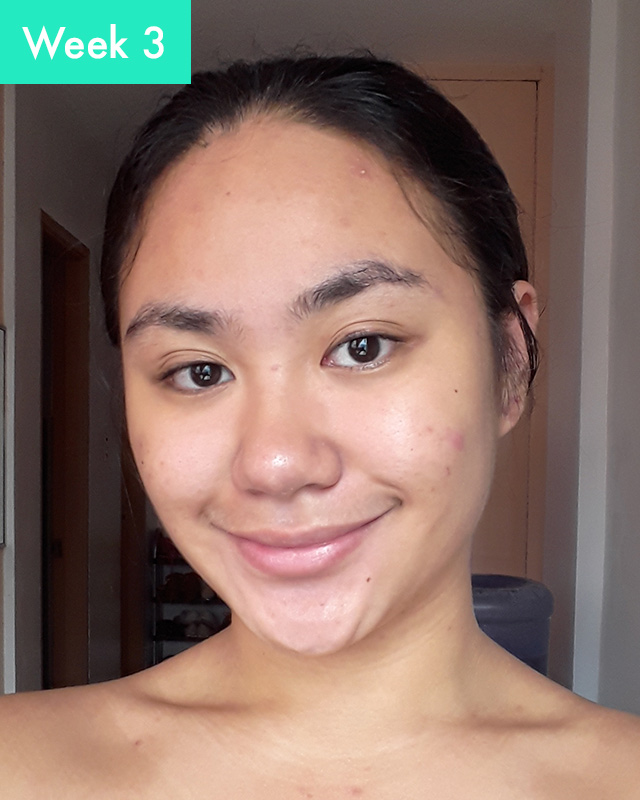 Week 4
I was quite busy this week so I struggled to find time for my mid-week mask. For the sake of better skin (And finishing this challenge!), I made it work.
In the past four weeks, my skin has seen some highs and a few lows. The major positive changes I saw were: My complexion has become less oily, people complimented me on my glow, and I noticed my skin looked brighter!
In terms of helping me get rid of my acne, the mask has helped me in some ways. Most of my whiteheads and small zits were gone, but it wasn't able to help me combat bigger and deeper pimples.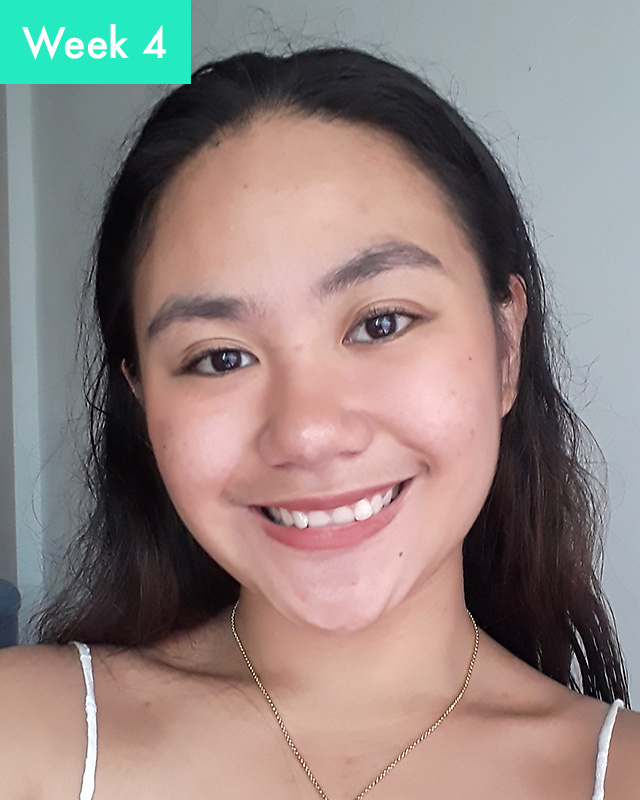 Results + rating
If I were to rate the Quick FX Black Mask on a scale of one to five, with five being the highest, I would give it a four. The mask was a lovely addition to my weekly skincare routine because it delivered most of its promises. The only downside was it wasn't able to get rid of my bigger zits. It just helped subside the swelling.
For the last two weeks of this challenge, I applied the mask twice a week instead of just once to see if there would be some changes in my skin. And I have to say, I prefer using it once a week instead of twice. But if you're someone who has excessively oily skin, a twice-a-week application may benefit your complexion.
I will definitely still put on this mask and put it on rotation with the other clay masks in my stash. I plan to use it on days when I need to get rid of excess sebum on my complexion because getting rid of oil is its biggest asset. 
Is the Quick FX Black Mask worth buying?
Yes! If you're looking to zap some minor acne breakouts, this mask is perfect for you. Quick FX's Black Mask is actually now part of my nighttime skincare routine because it helps me relax and it delivers its oil control claims. Plus, the small, resealable packaging is perfect for traveling! I'll make sure to bring one on my next trip.
Follow Karla on Instagram.