Getting a tattoo is in the bucket list of many people, but the one factor that's holding them back from booking that appointment is the *pain* level. Of course, pain is subjective and everyone's tolerance varies. Another important aspect you have to consider is the placement of your ink as this can greatly affect the ~ouch factor~. That said, if you want your first tatt sesh to be smooth-sailing, choose areas with more fat to serve as "cushion."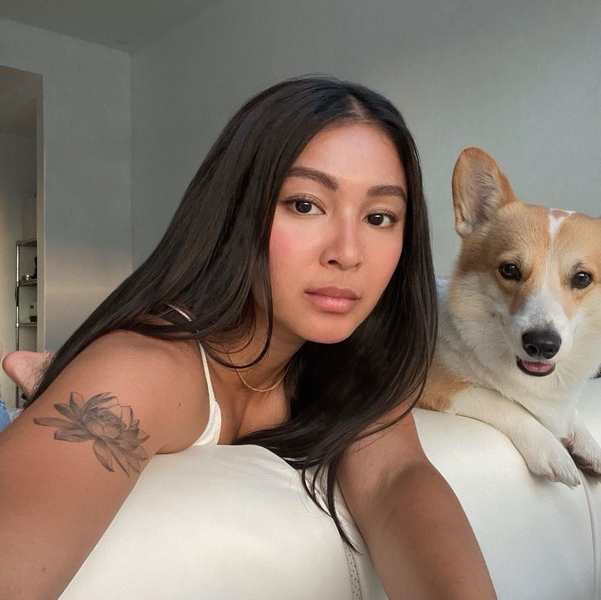 To make things easier, we've consulted with Kenneth Abad, a professional tattoo artist at 55Tinta, for this Cosmo exclusive interview to help us understand the best and worst places on your body to get a tattoo on. Keep on reading to learn more:
Tattoo pain level chart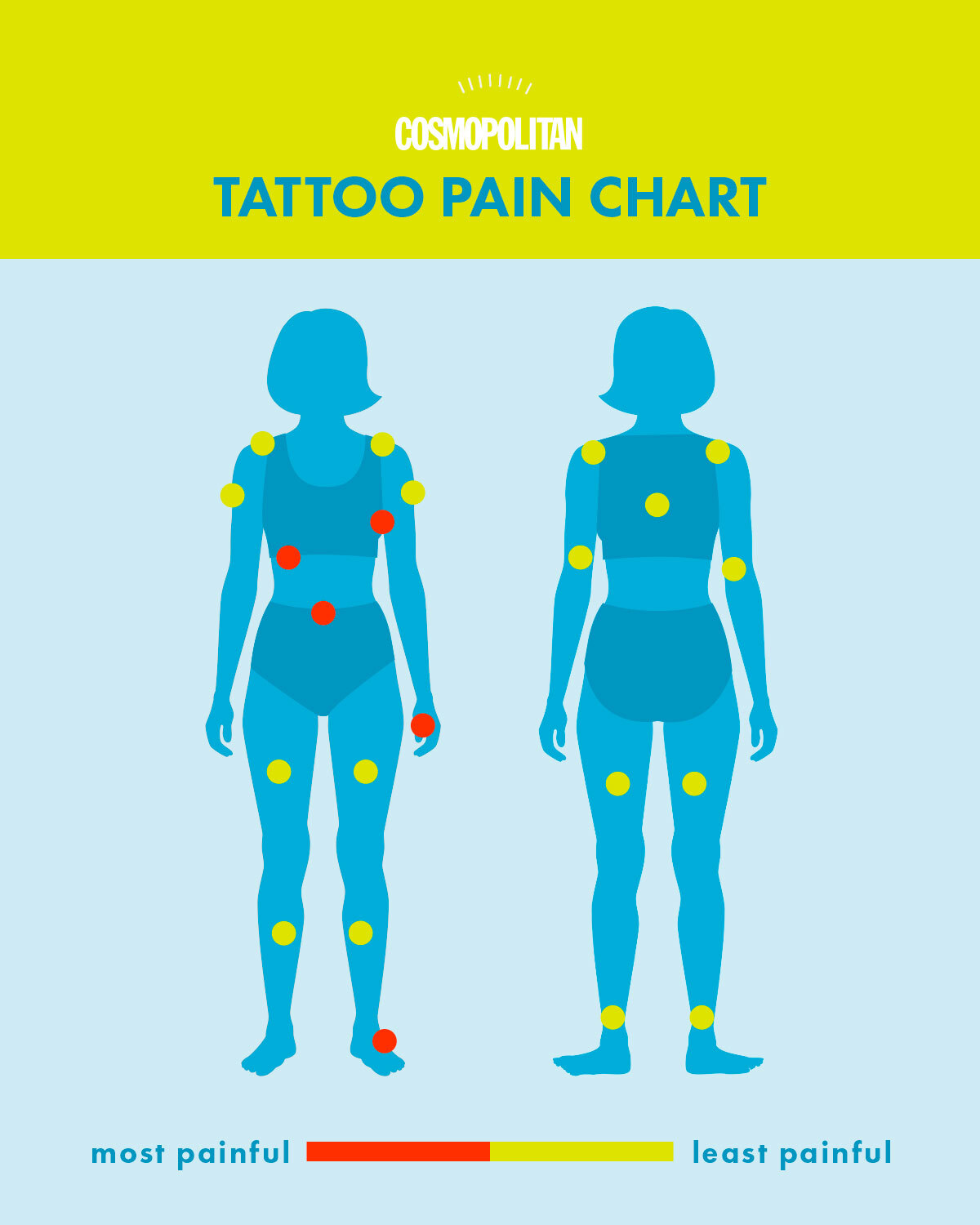 Continue reading below ↓
Recommended Videos
Which parts of the body are the *most* painful to get tattooed on?
According to Kenneth (whose body is almost entirely tattooed, BTW!), the bony parts where there isn't much muscle or fat to act as cushion hurts the most. Of course, everyone's pain tolerance is different, so it will never be the same for two people. Check out his top five areas where getting inked on would hurt the most:
Abdomen or stomach

If you think getting inked on your stomach will be all sunshine and daisies because we all have *some* cushion to protect us, you are mistaken. According to Kenneth, it's a lot harder for tattoo artists to work on the abdominal area because of the constant movement we do whenever we breathe. The skin in this place is also very soft and bouncy, which makes it harder for the needle to penetrate the skin, so the artist must constantly stretch it out before putting the ink.

Foot area

A tattoo on your foot area (ankle, instep, and side) will always look cool, but the process isn't as easy. It is a very bony area with little muscle separation of the skin and bones. It also has fewer nerve endings which makes it a super sensitive place.

Armpit area

Out of all the tattoos he's ever had, Kenneth shared that his armpit ink was the most painful one he got done. The kilikili has a weird texture—it's very thin, soft, and it rests on the bone. This makes it very sensitive and the pain level is off the charts. Kenneth compared it to a "burning sensation." (!!!) The healing process is also a bitch because you can't put any type of deodorants on it. Plus, you always have to lift your arms up a bit to avoid sweating which can ruin the tattoo.

Ribcage

We must say, the ribcage is one of the coolest and sexiest places you can get a tattoo, but the process of getting it done hurts like a bitch, LOL. It's a *super* bony area, so just imagine a bunch of needles puncturing your skin hundreds of times per minute—not fun at all. The end result will be worth it, though. You'll have the ~coolest~ pictures for the 'gram!

The palm of the hand

This, according to Kenneth, was the most painful tatt sesh he's ever experienced—he said it was the longest 15 minutes of his life. There are a thousand nerve endings in the palm of our hands, which makes our hands very sensitive to different sensations and textures. Its surface is also different from the rest of our body, making it harder for the ink to sink in and heal properly, which is why the artists must go a little deeper than the usual strokes they do.
How about the least painful parts?
You'll be glad to know that the basic limbs like the back, shoulders, forearms, biceps, triceps, and shoulders are the least painful ones because there is a good amount of fat protecting the bones. For the lower part of your body, your thighs, calves, and shin are prime spots for a less painful first tatt sesh. It is important to note, however, that everyone's bodies are different. What might not hurt for them might be painful for you, and vice versa!
Are there any factors that might affect the pain level?
There are also a few factors that can affect the pain level of a tattoo, other than its placement.
Age

According to Kenneth, age is definitely a big factor that affects the pain level. He said that there is a huge difference when he got tattooed in his 20's than now in his 30's. He shared that he was able to sit through a 10-hour session when he was in his 20's and that the longest he can endure now is just two to three hours. He clarified, though, that it's always a different case for other people. He's had younger clients that whined about the pain, and older ones that took it like a champ. It all depends on your tolerance.

Weight

Older skin may be more likely to bruise or feel pain as compared to their younger counterparts. According to Kenneth, however, weight isn't really a big deal as he had tattooed all shapes and sizes before. He shared that the bigger and more muscular people actually feel a lot more pain than someone who's skinny, so it really varies.

Experience

According to research, you'll most likely have a higher threshold to pain as compared to those who have never gotten a tattoo. Better get more, then! ;)
What can we do beforehand, during, and after the session to minimize the pain?
Follow Kenneth's tips for a smooth and easy tatt sesh:
Make sure to get enough sleep and rest the night before your appointment.
Don't go to the tattoo parlor on an empty stomach.
Avoid getting tattooed while you're on your period, as everything is more delicate and sensitive during that time of the month.
Don't get tattooed when you're drunk or have a bad hangover. Alcohol thins your blood and can cause bleeding and bruising.
You can ask your tattoo artist to take breaks in between so you can catch your breath.
Follow Cheska on Instagram.
Follow Cosmo PH Beauty on Instagram.
***
We're officially on Viber! Be part of our growing community and subscribe to Cosmopolitan Philippines now!