You know that when you pull out the beauty stops, your guy can't help but notice that you look amazing. But did you know that some get-pretty moves can actually yield a passion payoff as well? "There are all sorts of primping rituals women enjoy that can also serve as love stokers," says Carol Queen, PhD, author of Exhibitionism for the Shy. Try Cosmo's seven hair, makeup, and skin moves—which all double as passion tools—and discover a slew of new ways to burn up the bed...this Valentine's.


Beauty Move 1: Get Groomed (Down There)
Maybe you're thinking of going totally bare down there. Or you're considering ditching your landing strip and returning to a full-on triangle. Going against your usual grooming grain can give you a huge boost in the boudoir. Why? Switching from your usual style tells your guy that you'll also mix things up in bed.
Each bikiniline look has its erotic advantages.
"I have found that going Brazilian makes the area more sensitive, so it's possible you may feel more sexual sensation,"
says Queen. And because the clitoris may be more exposed, some women say it leads to a more intense orgasm, adds Sari Locker, author of
The Complete Idiot's Guide to Amazing Sex.
Going from naturally-trimmed to bare 'n' bold will also give your guy some new sensations, as Mike, 27, found out. "As long as I've known my girlfriend Kat, she's had this triangle thing going on, and I thought that was hot," he says. "But one day she got a Brazilian, and I was blown away by how sexy her bare mound looked—and felt."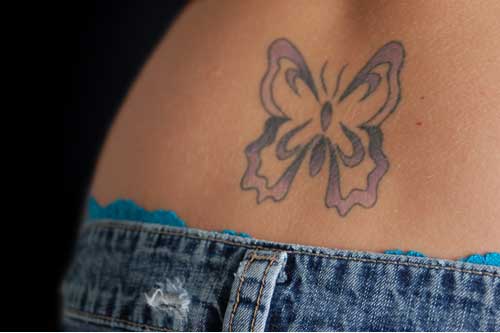 Beauty Move 2: Try A Surprise Tattoo

Sneak a temporary tattoo—from a pretty butterfly to a kick-ass spider—on your inner thigh, and "accidentally" flash him while crossing your legs. Then look out. "Many guys are visual when it comes to their arousal, so sexy sights like a tattoo do it for them," says Laura Berman, PhD, coauthor of Secrets of the Sexually Satisfied Woman. Plus, the shock of stumbling upon a racy image on your skin causes his brain to pump out adrenaline, getting him even more excited.

Turning your bod into a canvas of many sexy tattoos can get you worked up too. "Great sex requires fantasy," says Queen. When you contemplate whether to put that scary scorpion between your breasts or below your belly button, "you'll get yourself focused on that steamy encounter to come," says Queen. So let your mind run wild. As for the unveiling, "suggest a sexy tattoo hunt, asking him to track down every last one," advises Locker.

Photo source
[nextpage]

Continue reading below ↓
Recommended Videos
Beauty Move 3: Put On A Minty Lip Gloss
Have you ever heard that popping a mint before a makeout session can cause him to quiver all over? Well, kissing, etc., after applying a minty lip gloss packs an equally explosive passion punch. According to experts, when you lock lips with a guy with a minty flavor in your mouth or on your tongue, he's going to feel an icy, tingling sensation—and that's a huge turn-on for him.
To get the most bang for your buck, stroke the gloss on your lips with your fingers, then tantalize him by running your tongue over your lips. Slowly work your way up to a lip-lock, just to make sure he finds the mint more "wow!" than "ow!" Here's why: "Some people are sensitive—in a bad way—to mint," says Queen.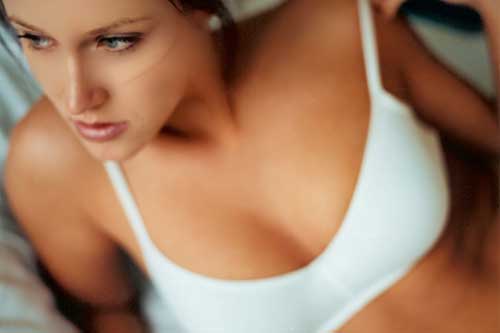 Beauty Move 4: Apply Self-Tanner Everywhere But...
If you want to knock his socks off, self-tan all over—but leave your nether regions in relief. "When skin is tanned everywhere but the bottom bikini area, you give him a target for nooky," says Locker.
Hot hint:
Get a faux glow while wearing just a thong, but be sure to use a nonstaining self-tanner, so you don't ruin your favorite panties.
Photo source
[nextpage]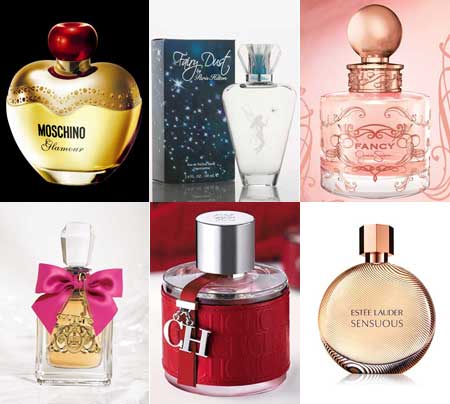 Beauty Move 5: Find Your Special "Do Me" Perfume

You may love your citrus fragrance for a day, but don't count on the same scent whipping him into a frenzy later that night. Instead, find a sexy scent that you wear only when you want to get horizontal. "You can actually imprint a scent on a man," says Locker. "If you wear it only when you're feeling frisky, then anytime he smells it, he'll get turned on and want to ravish you."

Why is a signature shag scent such an aphrodisiac? Scientists have found that the same area of the brain that processes scent (the limbic system) also rules emotion and memory, so scents trigger potent memories and moods. Julie, 28, discovered the passion potential of perfume by accident when she spilled some of her Burberry Brit on her new boyfriend's messenger bag. "He called me from work and said my perfume was making him crazy and he had to—had to—see me that night," she said.





Beauty Move 6: Love Him With (Fake) Lashes

Okay, so putting on false eyelashes isn't the easiest way to turn your guy on. But pairing a silver or peach shadow with full-on faux lashes yields not one but two(!) passion payoffs. How so? For one, it gives you the look guys find irresistible—literally. "Your eyes seem huge when wearing shimmery light eyeshadow framed by bold eyelashes, and women with large eyes are more attractive to men," says Locker.

Also, fake lashes are the perfect erotic accoutrement for making a guy shiver with pleasure. "Start fooling around, then give him fluttery eyelash kisses, so that you're grazing his body alternately with your lips and lashes, tickling and teasing him with different sensations," says Queen. "Keep doing your tickling-teasing thing as you work your way from his face and neck on down."

Beauty Move 7: Let Your Hair Down

"There's nothing hotter than when a girl wears her hair up when we're out and takes it down as soon as we're alone," says Rob, 27. "It means she's totally comfortable with me and probably won't hold back in the sack." This mane makeunder also makes him gaga for you because it's an ego rush—after all, you're saving your sexiest side for when it's just you and him. "Men love a visual reminder that you're available to him in a way you aren't to any other guy," says Berman.

To work this fantasy, twist your hair into an easy-to-release updo using chopsticks. Once you're back in the boudoir, give him what he's been aching for all night. First, slip out of your clothes. Instruct him to sit on the edge of the bed. Then slowly pull each chopstick out of your hair, shaking out your locks so they tumble over your shoulders. Next, undress him, letting your hair lightly graze his body as you go.

Hot hint: Contrast the soft, silky feel of your hair against his skin with the cool, hard touch of the chopsticks, which you can gently scratch him with. "His skin is an erotic organ, so varying the sensations will send him over the edge," says Queen.