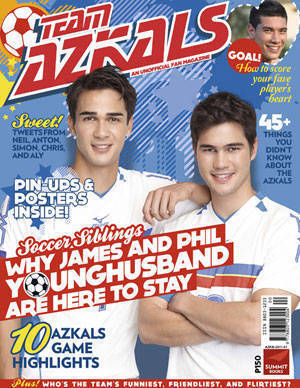 Calling all Azkals fan girls! We know you've been craving for anything and everything Philippine football since these gorgeous boys rose to fame. Well, here's a treat to satisfy that Azkals appetite: a hefty dose of your favorite players (and all you could possibly want to know about them) in the new Team Azkals Magazine (from Summit Media, Cosmopolitan Philippines' mother company).

Get even closer to these soccer hunks, as Team Azkals Magazine gives you more than 45 things that you didn't know about the Azkals—including their respective sports heroes, dream dates, and even their relationship status! The players themselves also reveal who is the team's funniest, friendliest, and flirtiest member.

"As the team's well-deserved wins have caught the interest of the Filipino public, we are hoping to be able to produce a publication that would cater to their fans with the inclusion of features on the players as well as a brief history of the team's evolution," says Joanna Manalastas, editor-in-chief of Team Azkals Magazine.

The magazine also gives you a quick lesson on the basics of football (so we can somehow follow the game while we're swooning), a chronicle of the team's humble beginnings, and a recount of ten Azkals game highlights. Manalastas says, "We hope that this would benefit the team by further increasing awareness about not only them, but about football in general, in the Philippines."

With Team Azkals Magazine, you'll get to know your favorite player inside (learn how to snag his heart) and out (FREE pin-ups and posters). Grab a copy, available in newsstands, bookstores, and supermarkets nationwide for only P150.
Continue reading below ↓
Recommended Videos