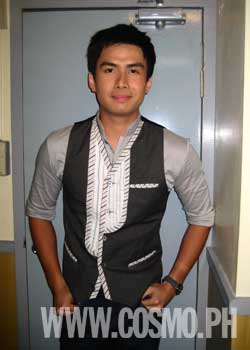 Christian Bautista
is hot, hot, HOT right now. Not only was his recent concert,
Christian Bautista: Romance Revisited,
hugely successful, he was recently chosen to perform in New York for the Philippine Independence Day celebration of the Pinoy community there on June 6, as entertainment columnist
Ricky Lo reported yesterday
. It is reportedly "the biggest Philippine Independence Day celebration outside the Philippines, drawing tens of thousands of Filipinos across the US East Coast and from as far as California and Canada," says Lo.
Which is why even if we've already featured him here in Cosmo.ph early this year, during the shoot for his
"Beautiful Girl" music video
, we're bringing him back for you--with a few more nuggets of info that you'll love. Cosmo got to chat again with Christian when we went backstage after his recent concert. Last time, we asked him about his music video and being around some of the country's most beautiful women. This time, since the balladeer constantly sings about romance, we wanted to ask him about his own experiences when it comes to love.
We got Christian to dish his thoughts on romance, which he says "really takes time, a lot of understanding, and planning." We also got him to reveal one romantic memory he had of his certain special someone from the past. Christian shared that when they were in a romantic place abroad, they surprised each other with gifts--without knowing that one was already thinking of giving the other something. And the song he'll sing to a special girl? "Cause there's something in the way you look at me," he divulged. We wonder if it's this special girl with whom he'll spend his summer vacation in Bali, Indonesia (he remained mum about it).
After grilling him about his romantic life, Cosmo got Christian to share some advice to couples:
For DATING couples, show your true self. Dating is the time when you get to know each other.
For STEADY couples, learn deeper stuff from your partner.
For MARRIED couples, stay committed.
And to everyone, in general, it is okay to break up. It may mean that you are not meant to be with each other.
Continue reading below ↓
Recommended Videos