WARNING: *Major* spoilers ahead for It's Okay To Not Be Okay! Don't read if you haven't seen the latest episodes yet.
Our new fave K-drama It's Okay To Not Be Okay tells the love story of a storybook writer with an antisocial personality (Seo Ye Ji) and a health worker (Kim Soo Hyun) who has dedicated his whole life to his older brother with autism (Oh Jung Se). 
Ever since its first episode, the drama showed us that writer Mun Yeong didn't have a good relationship with her parents as a child. In fact, she hates her father, who is now staying at a psychiatric hospital. In the show's thirteenth episode, when Gang Tae tells Mun Yeong that her father will pass away soon, Mun Yeong says that she will never forgive him and that she won't even see him for the last time.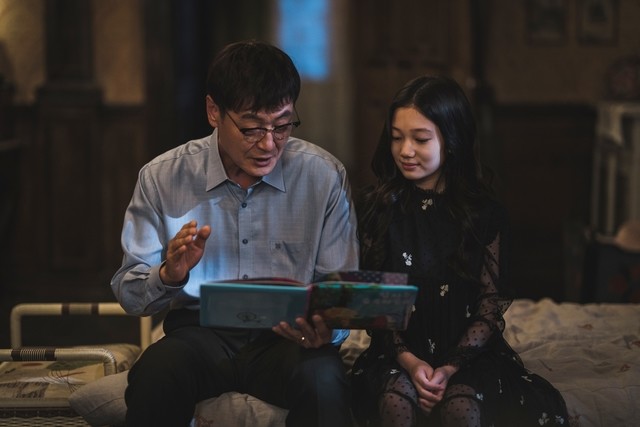 She then tells him a story she hated as a kid, about two sisters who were abused by their stepmother and who were on the ~verge of death~. Their father, however, never did anything to protect them and "turned a blind eye to it all." She concluded that those two sisters were practically killed by their own father. Mun Yeong also said something that struck many viewers: "The one who neglects and turns a blind eye to the abuse is worse than the abuser."
IOTNBO also shows us the heartbreaking story of a patient at the psychiatric hospital whose father needed a liver transplant and who was asking her to give him hers. However, it is revealed that his wife "beat his daughter to death" in the past and he never did anything about it. Instead, the father abandoned her, claimed that "she was possessed," and "sold her off to a shaman." 
Continue reading below ↓
Recommended Videos
During a confrontation, the patient told her father: "You just left whenever mom abused me. I kept calling you for help. But you just left. You didn't protect me. Mom may have been the person who hit me, but I hate you even more...I kept waiting for you. I waited for you to come back for me." Finally realizing what he did, her father *dejectedly* walked away. 
IOTNBO reminds us to always stand up for what's right and good and pure. Whether it's to defend someone who's a victim of injustice or whether it's to help people who are being deprived of their basic human rights, you know what to do! 
*** 
We're officially on Viber! Be part of our growing community and subscribe to Cosmopolitan Philippines now!
Follow Lily on Instagram.
K-UPDATES