Erwan Heussaff, Anne Curtis, and their adorable daughter Dahlia are back in the Philippines after a year-long stay in Australia! Because we want to ~bask~ in the good news, here's a timeline of Anne and Erwan's relationship, from 2009 to 2021: 
2009: Erwan starts crushing on Anne.
On August 25, 2017, Anne posted a throwback video of her and Erwan with their friends Liz Uy, Raymond Gutierrez, Isabelle Daza, Adrien Semblat, and Bea Soriano, during a trip to Europe in 2009. Anne noted that at that time, they were all single, but Erwan was already "majorly crushing" on her.
July 2010: Anne and Erwan start dating.
In a PEP.ph article published on July 5, 2010, Anne admitted that she was dating Erwan, with whom she was spotted at the Bench "Uncut" fashion show on July 2, 2010. In the same article, when asked if they're officially a couple, Anne replied, "Wala, hindi. Kasi kapag European [Erwan is half French, half Filipino], walang 'sinasagot na kita.' Pero eventually, I guess it will become official. But as of now, we're both taking our time."
February 2011: Anne and Erwan spend their first Valentine's Day together.
On February 22, 2011, A Youtube user named AgentVankohav posted an interview with Anne during a press conference for the TV series Green Rose, where Anne played one of the main characters. In the video, a member of the press asked Anne if it would be the first Valentine's Day she'd be sharing with Erwan.
Anne answered, "First na kami. Kasi last year medyo hindi. Parang it was just—we started to go out. So, hindi pa. Eto yung first namin."
Continue reading below ↓
Recommended Videos
February 2011: Anne receives jewelry from Erwan for her 26th birthday.
One of the best things that Anne received for her 26th birthday was jewelry from Erwan. When asked to describe the jewelry in an interview with PEP.ph on February 23, 2011, Anne replied, "Akin na lang 'yon, baka nakawin. He's a very sweet guy. Very thoughtful." 
September 2011: Anne and Erwan go to Europe with family and friends.
Before launching her new album, Anne and Erwan headed to Europe to spend some quality time together. Anne explained in an interview with PEP.ph on September 2, 2011: "You know naman, I really work so hard and [it's] almost every day. So now, whenever I get time to have a vacation, of course, I spend it with him."
January 2012: Anne dedicates a song to Erwan during her concert.
On January 22, 2017, Anne guested on The Buzz to promote her first concert, Annebisyosa: No Other Concert World Tour. During the interview, Anne was asked to sing a few lines from songs she would be performing during the concert. One of the songs she sang was "Dreaming," which she said was for her boyfriend Erwan.
She then talked lovingly about Erwan, "I like everything about him. He's such a blessing in my life, and I'm just so happy that he's part of it. And you know, he's all my dream. He's everything I could ever dream [of] talaga."
April 2012: Anne and Erwan go on vacation to Siargao during Holy Week.
Erwan posted a photo on Twitter of him and Anne while on vacation in Siargao Island. He wrote: "Surfs up! Waves were good and we weren't too shabby on the boards. @annecurtissmith"
February 2013: Anne reveals her ideal marrying age.
In an interview published by PEP.ph on February 21, 2013, Anne revealed that Erwan gave her a painting as a birthday gift. Later in the same interview, Anne was asked about her ideal marrying age. She replied, "I don't have a marrying age, but an ideal age, maybe...I think an ideal age bracket [would] probably [be] 32, 34—around there. I wanna say, '32, you better!'"
December 2013: Anne and Erwan travel to Quebec with friends.
After her infamous slapping incident on November 23, 2013, rumors spread that Anne and Erwan's relationship had become rocky. The two shut down breakup rumors when Anne posted an Instagram photo on December 30, 2013, of her, Erwan, Isabelle Daza, and Adrien Semblat while on vacation in Quebec, Canada.
January 2014: Anne posts a heartfelt birthday message for Erwan.
On January 10, 2014, Anne posted a sweet birthday message for Erwan, whom she described as "my rock."
The message reads: "To my happiness, my rock, and my favorite person to be a goofball with, Happy Birthday! So proud of everything that you've achieved so far! Wishing you another year of success in everything that you choose to do! I'll always be your #1 cheerleader! Joyeux Anniversaire Mon Amour! Je t'aime!!!! @erwanjheussaff"
February 2014: Anne reveals Erwan is not yet ready for marriage.
In a PEP.ph interview published on February 17, 2014, Anne shared her thoughts on marriage. When asked if she thought Erwan was ready for it, Anne replied, "Feeling ko, hindi pa, because he's two years younger than me." She added, "Hindi pa. 'Di ba, a guy will only think about that when he's already 30? Wala pa sa isip ko. When it happens, it happens. Maybe in three to four years."
May 2014: Erwan reacts to their breakup rumors.
Despite their sweet posts, rumors of their breakup persisted. As reported by PEP.ph on May 14, 2014, Erwan, who rarely speaks about their relationship in public, broke his silence on Twitter.
October 2014: Anne and Erwan's "engagement" is mistakenly announced.
As reported on Cosmo.ph, wedding blog Bride and Breakfast congratulated Anne and Erwan for their "sweetest engagement" on October 15, 2014. Anne and Erwan immediately denied the rumors through their Twitter accounts.
Bride and Breakfast later issued a public apology for the false news.
February 2015: Erwan posts a sweet message for Anne's 30th birthday.
On Anne's 30th birthday on February 17, 2015, Erwan posted a photo of Anne looking at her birthday cake with candles.
The post was accompanied by this sweet message: "Happy birthday to [the] most caring and hardest working woman I know. Today you turned 30, a number that freaks out most people, sending them into a frenzy of 'What have I done with my life?' In your case, you've accomplished so much already. You've kept a strong head during tough times and have arrived more fulfilled than ever. I can't wait to conquer more countries with you, eat our way through bizarre cities, wreck ourselves at workouts, binge-watch TV series, and bounce around like idiots at different concerts. Remember you're just 18 with 12 years of experience under your belt. Je t'aime."
October 2015: Anne and Erwan run for UNICEF.
On October 25, 2015, Anne joined the 21-kilometer leg of the "Heroes for Children" run, her first fundraising initiative as UNICEF's celebrity advocate for children. Her pacer was, of course, her supportive boyfriend Erwan.
February 2016: Erwan writes another sweet message for Anne's birthday.
2016 started with Erwan sharing another sweet post for the birthday girl. On his Instagram account, he wrote: "Through my eyes, sun-kissed, speckled with freckles, and carefree is how I see her. Hands clasped through rough terrains and the cliche walks on the beach, we'll keep each other company through this nomadic adventure. Happy birthday to the one whose presence will always be more than enough."
July 2016: Anne and Erwan celebrate their anniversary at the Fuji Rock Festival in Japan.
In July 2016, Anne and Erwan attended the 20th Fuji Rock Festival in Japan to celebrate their sixth anniversary. Anne had these sweet words for Erwan: "I couldn't imagine a better way of spending another year with you Mon Amour. Albeit late, it was definitely worth the wait. Here's to all the music festivals we will conquer across the world together. Just You & I. Awesome atmosphere. Great music and conversation. Perfect date. Je t'aime Mon amour."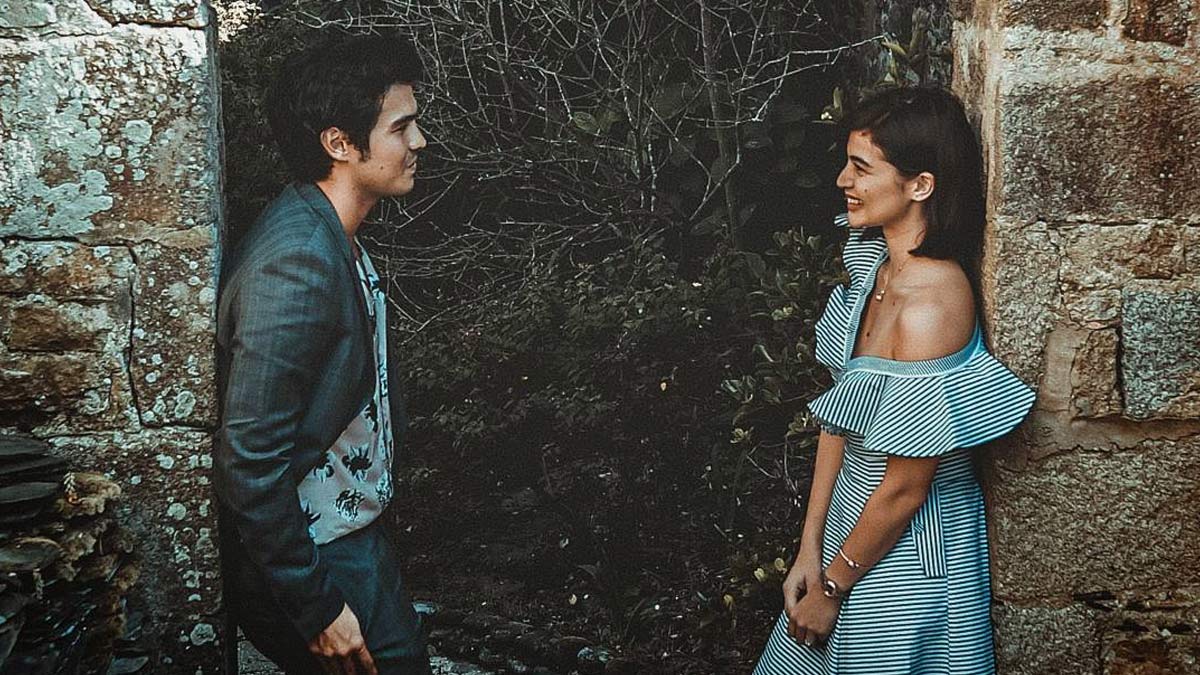 December 2016: Anne and Erwan announce their engagement.
On December 18, 2016, Erwan and Anne announced their engagement via a video posted on Erwan's YouTube channel. The video highlighted their recent trip to the United States which ended with Erwan going down on both knees and Anne saying an emotional "Yes."
January 2017: Anne gives a surprise birthday salubong for Erwan.
Erwan celebrated his 30th birthday with his fiancé and his family. On January 10, Anne posted a photo of her kissing Erwan on the cheek. The caption read: "Little surprise salubong for the love of my life. Gotcha. Happy 30th birthday Mon Amour. Je t'aime. @erwanheussaff"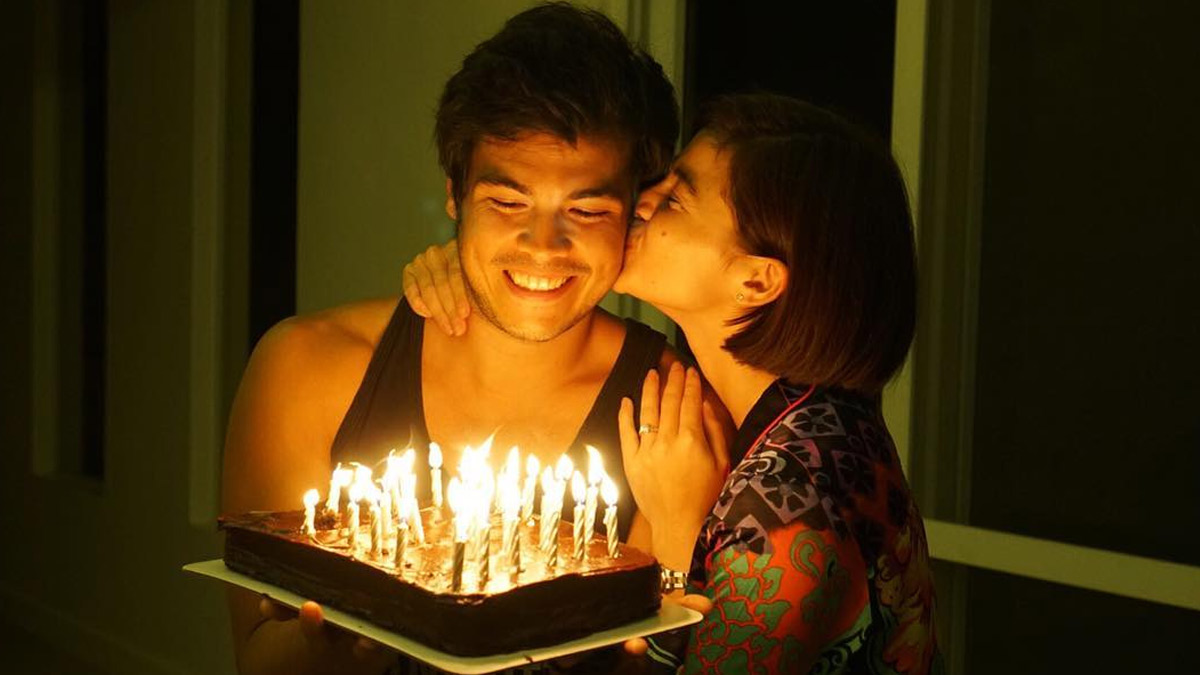 PHOTO: Instagram/annecurtissmith
February 2017: Erwan posts a super kilig birthday message for Anne as his fiancee. 
Erwan's first birthday message to Anne as her fiancé was everything any girl could ask for. The food enthusiast wrote on Instagram: "I have always enjoyed taking pictures of you. Even though you are frequently affronted by harsh flashes, I still feel that I can capture pieces that only I seem to witness. Moments of candor, insecurity, joy, and reality. At the end of the day, I ponder over your puzzle, perplexed as to how things fit together, always learning something new. I will consistently be there to help you give context to the world, fill in the blanks, color in or outside of the lines, demystify crosswords, and to simply make sense of the irrational. Happy birthday, mon amour, I can't wait to see you in that white dress."
August 2017: Nico Bolzico "kidnaps" Erwan for his bachelor party.
On August 11, 2017, Erwan's brother-in-law Nico Bolzico wrote on Instagram that he, along with their other guy friends, "kidnapped" Erwan and brought him to Siargao Island for his bachelor party: "After a pretty solid night where we kidnapped @erwan from Yes Please, and tour around where we did all sort of stuff (nothing that would make our Wifezillas upset of course), we made it to Siargao in one piece! We definitely look much better than last night!"
September to October 2017: Anne celebrates her bachelorette party in California.
On September 30, 2017, Anne posted a photo of her with her friends at Knott's Scary Farm, a Halloween event at the Knott's Berry Farm amusement park and theme park in California, United States.
On October 1, 2017, Anne shared a photo of her and her friends in Los Angeles. This time, she wore a sash with the words, "Bride to Be."
November 2017: Anne and Erwan get married!
On November 12, 2017, Anne and Erwan tied the knot during a beautiful ceremony at Thurbly Domain in Queenstown, New Zealand. The wedding brought together some of the biggest names in Philippine showbiz, and the couple and their friends definitely enjoyed their wedding reception!
Here are some photos from the emotional event: 
November 2018: Anne and Erwan go on their much-awaited honeymoon. 
A year after their wedding, the couple took a trip to South Africa, where they went on safaris and ~hung out~ with wildlife! The couple visited areas where the internet was scarce (for seven whole days), but they later shared photos from their incredible vacation. 
For his anniversary gift to her, Erwan fostered a baby elephant named Enkesha under Anne's name. Awww! 
November 2019: Anne and Erwan announce that they're having a baby! 
Anne and Erwan took Instagram by storm on November 10, 2019, when they posted separate video announcements about their soon-to-be firstborn. We were gifted with a dreamy video of them ~frolicking~ through fields in Seoul, South Korea, with a big reveal at the end: Anne's baby bump! 
Anne and Erwan's family and friends posted congratulatory messages for the couple, including Anne's sister-in-law Solenn Heussaff, who is also expecting her first child. 
March 2, 2020: Anne gives birth to Dahlia Amélie. 
Erwan took to Instagram to share the good news a few days later, writing in the caption: "Our beautiful little daughter was born on March 2, 2020. I never knew that my heart could grow so quickly in just one day. I also had no idea that I could fall even more in love with my wife. Anne was so impressive throughout her pregnancy and in labor. I will forever be in her debt." Anne and Erwan welcomed their daughter in Australia. 
The couple soon shared more photos of their adorable daughter, with Anne documenting her growth every month! 
June 2020: Anne and Erwan celebrate their 10th anniversary as a couple! 
Anne took to Instagram to share their first photos together, plus the sweetest anniv message for her hubby: 
"Happy 10th anniversary, mon amour. A decade's gone by just like that. Who would've thought that the pair in the last photo would end up where we are today—with a mini version of you and I. Wouldn't change a thing. Je t'aime, mon amour! P.S. I know we said we would stop celebrating our 'original' anniversary when we got married BUT I couldn't help it, because this one is still special. From here on, we'll celebrate just our wedding anniv. Hope you like the pics. Took me the whole day to search for our first few pics together." 
February 2021: Anne, Erwan, and Dahlia return to the Philippines.
Because of the pandemic, the family extended their stay in Australia—which spanned for over a year!