By now, you probably already know that Bridgerton is based on the novels by Julia Quinn, and that each book tells the love story of one of the Bridgerton siblings. The first novel, The Duke And I, focuses on Daphne Bridgerton and her debut into society to ~look for a husband~. Simon Bassett, the Duke of Hastings, enters the picture, but there's one problem: He's determined to never marry or fall in love! Well...get ready, because the show has been renewed for a second season, and it's going to focus on Daphne's older brother Anthony. 
It's been almost a month since the scandalous show came into our lives, and by now, we know you're just as *hungry* for more trivia about the show as we are! During a roundtable interview with Netflix, Cosmopolitan Philippines got the chance to talk to creator + producer Chris Van Dusen and the show's stars Regé-Jean Page, Phoebe Dynevor, Jonathan Bailey, and Nicola Coughlan, and we got them to tell us a bunch of set secrets! Here are 15 Lady Whistledown-worthy facts about Bridgerton: 
1. Gasp! Phoebe wears a wig in the show. 
Phoebe: "I'm wearing a wig! That's my secret. And wigs are great because I literally didn't wash my hair apart from on Sundays. Sundays were like, 'Okay I can wash my hair today.' And then the rest of the time, it was just sort of glued back on my head, so no social things for me in the evening...I was going to dinner or something on a Friday and I had to style out and try to pull off the scrape back."
Continue reading below ↓
Recommended Videos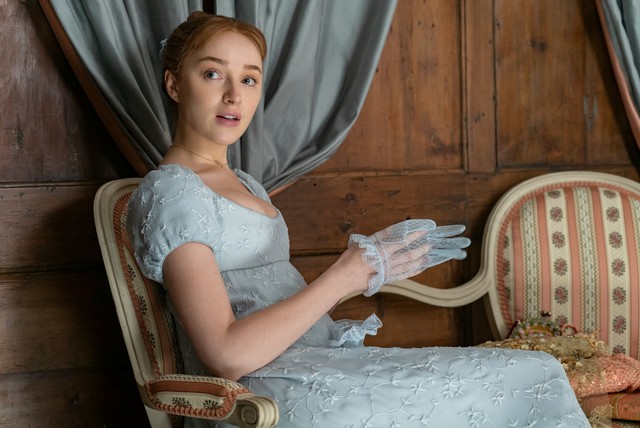 2. Jonathan actually hid snacks in his boots during filming.
Jonathan: "I had a pair of riding boots: black boots that have suede on top. So they're quite loose in the top so you can just fit a little pack of popcorn in there...I'd always have snacks for everyone!"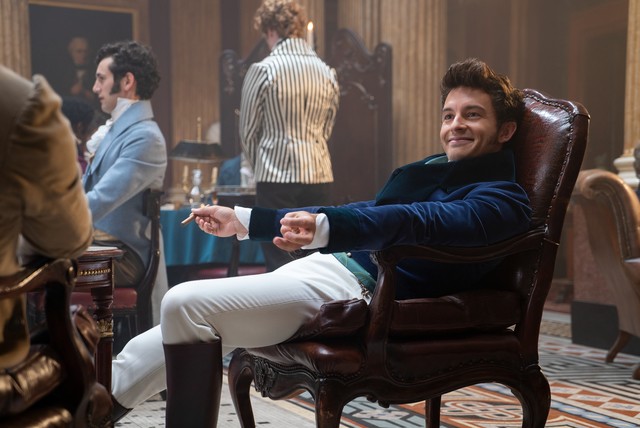 3. Nicola wore a "full-body" corset as Penelope Featherington.  
Nicola: "The corset that I had was like a full-body corset. So basically if I dropped anything on the floor, I couldn't bend over. I couldn't tie my shoes. So you're sort of walking around like a baby. [If] you drop something, you're gonna need to get up for me."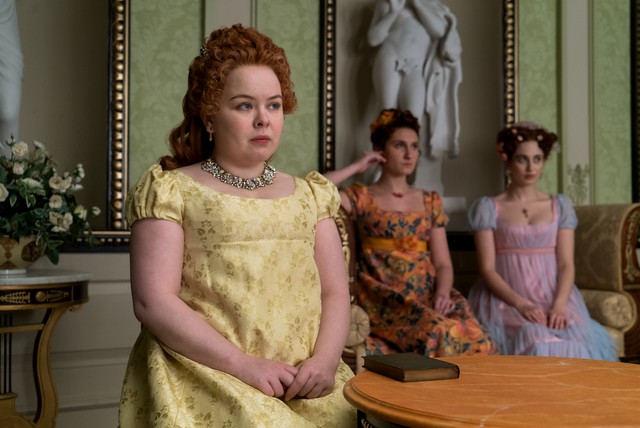 4. Regé often sees Simon as the "antagonist" of the story! 
Regé: "With my character, in particular, the things I find most exciting about him was being able to reinterrogate what we find attractive about this kind of archetype: the tall, dark, mysterious, broken, romantic hero, and kind of really dissect why that broken man is attractive in the first place and kind of where his redemption arc is. I often see Simon as the antagonist of this story, I think Daphne's absolutely our hero. And Simon has to be kind of 'defeated' to realize that there is a strength in vulnerability. He has no idea how to be vulnerable, and it's only once he's able to let people in that he can learn how to love and be loved, and a larger and stronger more significant version of himself can be possible. I think reexamining what the values of masculinity are in this 20th century through a 19th-century lens is very exciting to me."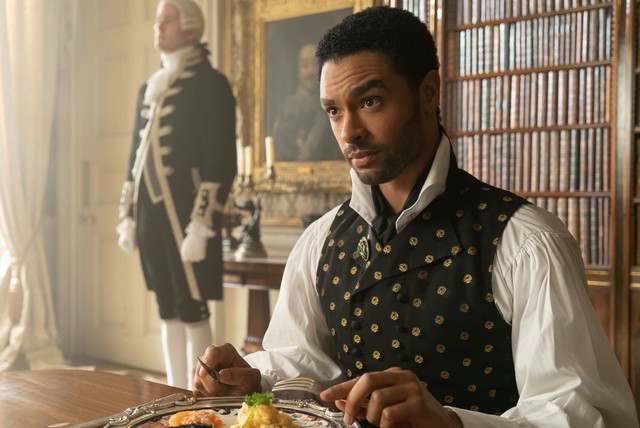 5. Show creator Chris Van Dusen would TOTALLY read Lady Whistledown's Society Papers if it existed today.
Chris: "I would because I'm a little bit of a tabloid junkie. I feel like with Lady Whisteldown, we really get to explore the power of the written word and see how she affects characters and the narrative in the story. It's a modern reference to the same things that the tabloids and social media do today."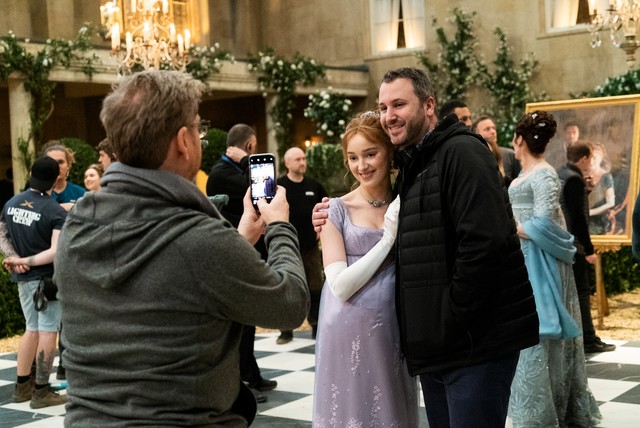 Regé: I think that I'll probably steer clear. I'm a very delicate soul, and I'm not sure that I could take the kind of brutal razor-sharp wit that Lady Whisteldwon brings to society. I think that I'd have to shield myself and have someone read it to me, maybe."  
6. Most of them took horse riding lessons, and Jonathan had some very *strong* feelings about those horses, LOL. 
Jonathan: "I got to know the different nationalities of the horses and basically all of the Bridgerton brothers wanted the same horse. The Spanish horse is really bouncy. And I remember having a riding lesson and going out on a hack with Luke Thompson who plays Benedict. And I was like, why are you so calm? They were like, it's Spanish. It's Spanish. Right. Okay, great. Well, can I not have the Spanish one? And then the Spanish horse got passed around. I was lucky 'cause managed to have riding lessons with Phoebe as well, and Regé as well. And whilst I was riding around, Regé would be doing boxing training. It felt like a real boot camp. And I feel like maybe that's the newest thing for fitness in 2021."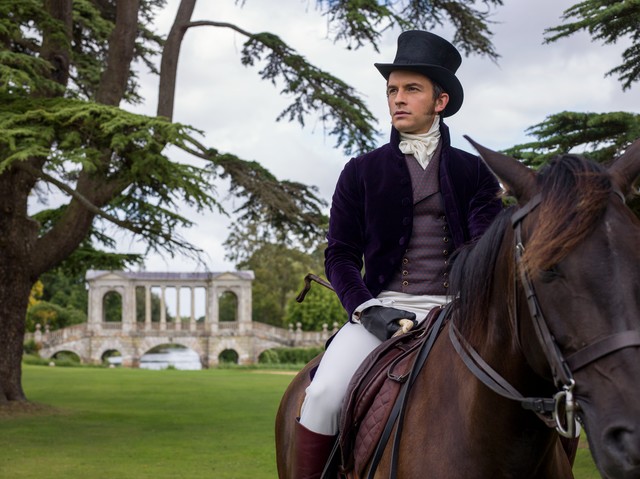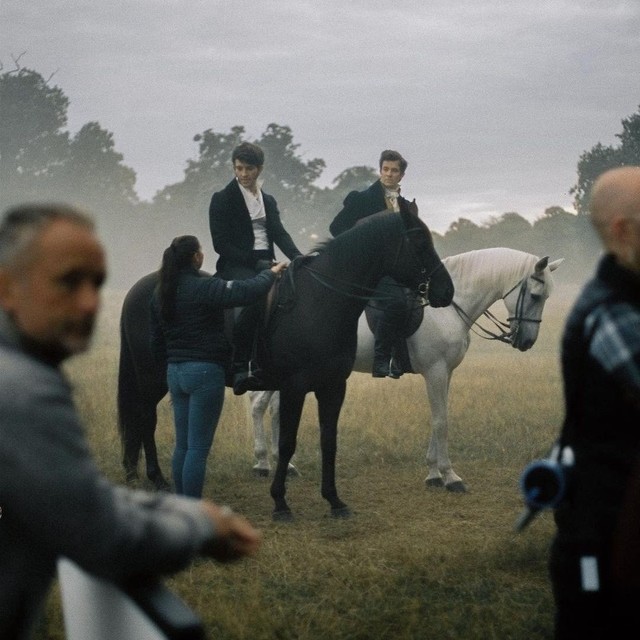 Phoebe: "I requested the oldest horse 'cause I just wanted the one that was not gonna do anything, you know, too crazy. It was one of the oldest ones that was gonna be really lazy and not move that much and then I wouldn't fall off." 
7. Also, Phoebe didn't read The Duke And I before auditioning for Bridgerton.
Phoebe: "I read the novel when I got the part. And there was a lot that excited me about reading the novel 'cause I only had a few [parts] of the scripts. It was quite interesting to see the way Chris Van Dusen, our amazing writer, and the team had sort of taken these beloved books and brought them to life. Yeah, it was very exciting to me to see how they'd done that and how they'd created this world." 
8. Nicola isn't a big fan of period dramas! 
Nicola: "I'm actually not a big period drama watcher, I'll admit. I loved what the script for Bridgerton did because it didn't feel like one in a way. I think that we kind of—Bridgerton feels like we had the real book, read it, and threw it out, and did something completely fresh and new and different. The thing that I loved is that how snappy the scripts were. Things happen quickly. There's not 20 long shots, some people staring at windows, violins playing, and nothing happens. Things are happening all the time. This is a world that feels very alive and very sparkly and I think that's what made me love it so much really." 
9. Regé's favorite set secret? The carriage "horses."
Regé: "Half the time when we're in the carriages, those aren't horses pulling them: You just have four grips shoving the carriage and shaking it so it looks like they're horses. And we're sitting completely still with a green screen inside the studio. And it's like 'Okay, at a gallop!' and so you hear people, the grips, going 'Oh, god, gallop.' And you're just trying to keep a straight face having a very deep and intimate moment with your co-star, knowing you've got four guys going 'How long is this take gonna last?'"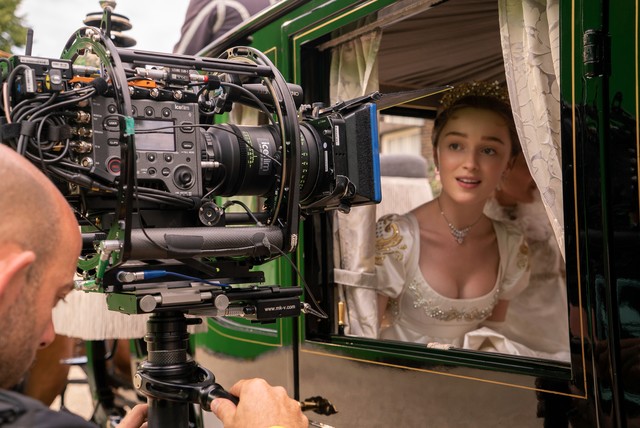 10. If Regé could play another character, Regé would choose Colin or Lady Danbury. 
Regé: "On reading the script and the book, I really always liked Colin's character (Luke Newton) hugely. I love his naivety, I think he has one of the purest arcs of discovering what love is. I think he has one of the most painful stings from that and realizing that you can't go through the world quite as naive and kind of baby-faced as he is. I was always drawn to that story. But on the other hand, I kind of just want to be Lady Danbury (Adjoa Andoh), because who doesn't want to swing through the world wielding a cane in fuschia? So somewhere between those two."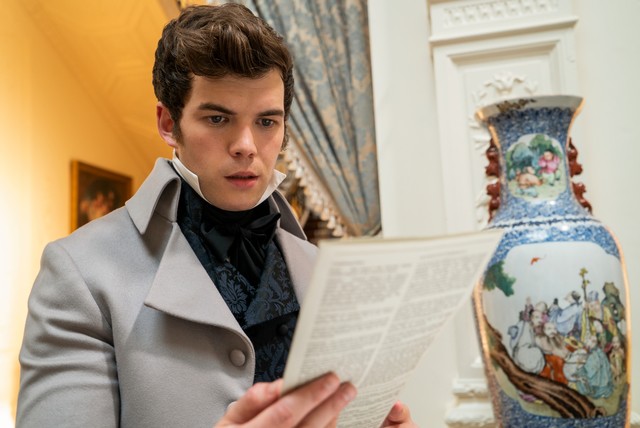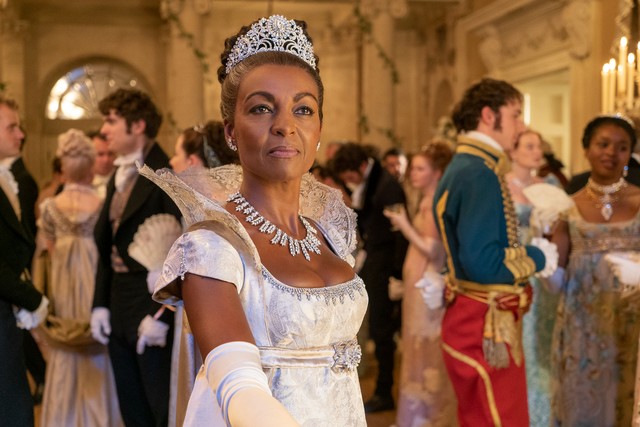 11. Regé attributes his *amazing* chemistry with Phoebe to Chris Van Dusen and Julia Quinn: 
Regé: "I would give a lot of credit to Chris and Julia Quinn, I don't think we created any chemistry. I think a lot of our work is to let what chemistry already exists come through and not get in the way. I think a lot of work went into creating these characters, into their relationship, into this world, and when you have that kind of material, you do your best work just to let that through you. And then beyond that is just a question of working with the person in front of you. I think Phoebe and I spent a lot of time in dance rehearsals together, we spent a lot of time together. We spent weeks on end without seeing a human soul outside of this production. So I think it's mostly about relaxing into what you have and doing it justice."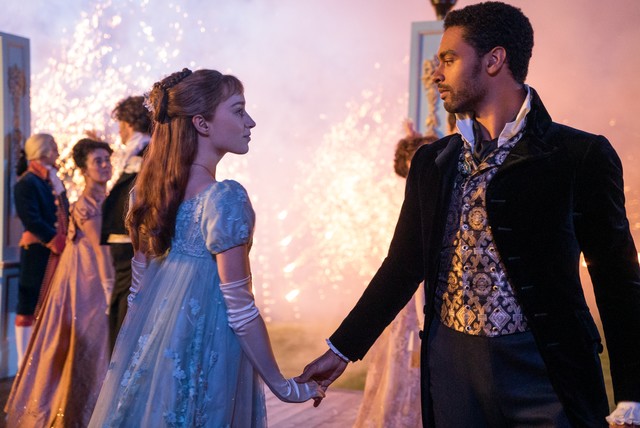 12. The cast listened to Rihanna—and other contemporary artists—while filming those dance sequences. 
Chris to Regé: "Some of the most fun days for me were really the days I got to watch all you guys dance and watch the cast perform these really intricate regency-esque dance steps. When we film those sequences, we would be playing really modern music, so we would be hearing Rihanna on the loudspeakers and you guys would be doing these amazing 19th-century dances. The atmosphere and the energy there, it really kind of turned into a little bit like a dance club, a little bit like a dance party. I think that was really fun to watch, at least from my vantage point, I wasn't the one dancing."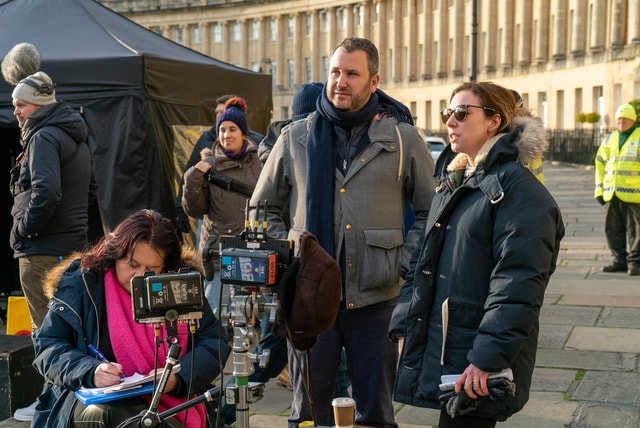 13. The cast would low-key ~panic~ when executives came to visit the set. 
When asked about a funny + memorable moment from their etiquette classes, Regé shared that they were great and it was fun to see the parallels between the "modern" world and the "old" world.
Regé: "We did these big things about how you would greet someone, how a bow changes if it's to someone at the same level of status as you, or to the queen, or a duke, or to a servant, how greetings change. And then instantly seeing that play out, when someone said, 'By the way, the American executives are coming to this rehearsal,' and then suddenly everyone's body language changed and it's like 'Oh my god, the American execs are coming!' And then you see exactly what we've been talking about play out in real life, which was kind of hilarious to me."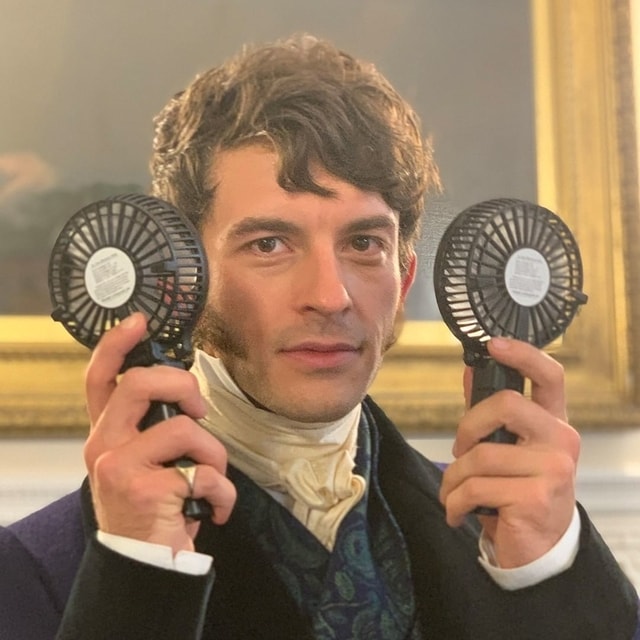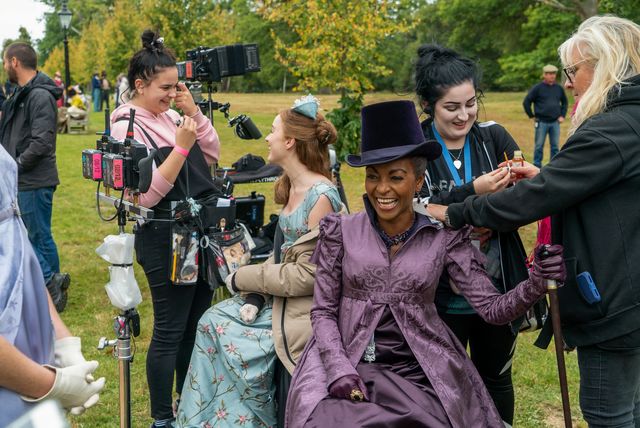 14. Here are Phoebe's thoughts on Daphne being an "ideal" female character: 
Phoebe: "Oh, no. I don't think there is an ideal woman. I think that's what's interesting about playing a woman in the Regency era is there probably was an ideal woman then. And I think Daphne definitely conforms to that. When we first meet her, you know, she's well-trained, she's ready to go, she knows who she has to be in public, she's got her mask ready to go on all times. And I think as the series goes on, that's definitely broken down and we sort of see that that's not her on the inside. She just has to do that in order to, sort of, be loved—or she feels that's what she needs to do. And then she meets Simon, and then those walls are broken down a bit. And then, you know, it's a coming-of-age story so she sort of finds herself by the end of it. And we see those walls are broken down and we get to see who the real person is. But no, I don't think there is an ideal woman."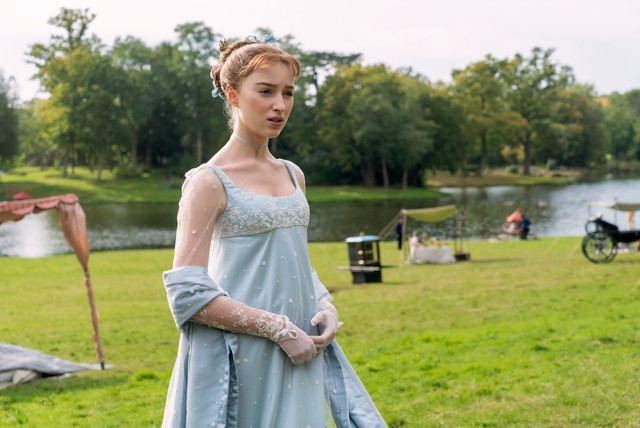 15. The show's corset-maker, Mr. Pearl, has worked with big celebs.
Nicola: "We were quite lucky in that our courses were custom made by Mr. Pearl, and there's literally nobody better in the world that's doing that than he does. You know, he made Kim Kardashian's corset for the Met Gala. He works with Dita Von Teese. He's incredible. So they were made to fit us like gloves. So I mean, I'm not saying you're not happy to take them off at the end of a long day of filming, but they were amazing wear. They felt like little works of art that, you know, are just for you." 
Bonus: Bridgerton The Musical is actually a *thing* now!
It was started by singer Abigail Barlow on TikTok, and so far she's written songs from the POV of Daphne, Simon, Eloise, Penelope. One song that really stood out is "Burn For You," which is inspired by Simon and Daphne's honeymoon night when they finally admit their true feelings for each other. Listen to it here. 
***
We're officially on Viber! Be part of our growing community and subscribe to Cosmopolitan Philippines now!
Follow Lily on Instagram.
Follow Jacinda on Instagram.