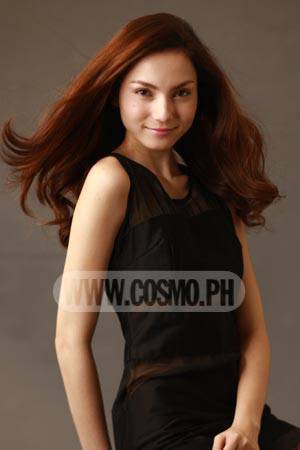 Look out for a sexy comeback this November! Our fashion editorial in this month's issue is extra special because it marks the return of "Cosmo's 8 Sexiest" feature, which we last had in 2005. For the first time since we launched it in 1999, however, we're giving you a peek behind the scenes! First, we showed you how we prettified Asian beauty Ana Sideco; now you can see how we glammed up fresh-faced Jasmine Maierhofer for her feature (found on p.166 of this month's ish)!

The 20-year-old half-Austrian model turns heads wherever she goes, thanks to her statuesque figure and mestiza features. We got to chat with Jasmine during her photo shoot at the Summit Studio and gained some insight into the fun personality behind the stunning looks. Here's what we learned about her during our brief interview:

1. She's an ambitious woman who wanted to be a model at a young age.

Jasmine got a taste of professional modeling when she was named first runner-up at an Elite Model Management competition back in 2005. She's paved her own way to success in the fashion industry, and she looks up to local supermodel Ria Bolivar (a former Cosmo's 8 Sexiest Model).

2. Despite her success in modeling, she's remained down-to-earth.

"I'm a simple, funny girl," she tells us. Even if she's graced countless runways both here and abroad, she claims that people treat her the same way they did before she was famous. She's grateful to her family (including her brother, PBA player Rico Maierhofer) for supporting her modeling career.

3. She's an adventurous gal who loves a challenge.

Her favorite thing about being a model is all the traveling she gets to do. But, she says she has yet to experience the ultimate thrill of shooting on a helipad, which she hopes to do one day.

4. She used to have problematic skin, but now follows a low maintenance beauty regimen that works!

Jasmine's biggest insecurity growing up was her struggle with acne. "Five years ago, sobrang dami kong pimples tapos walang kumukuha sa akin [sa modeling]. Sabi ko, 'Kailangan kong ayusin 'to.' Tapos nung maayos na, 'yun na, nag-start na lahat." These days, she maintains her radiant complexion by always applying moisturizer, sunblock, and eye cream.

5. She has a healthy appetite but works hard to maintain her sexy figure.

Many people think models have to starve themselves to look perpetually sexy, but that isn't the case for Jasmine. "Sobrang lakas ko kumain, 'di nila alam!" she exclaims. But to keep fit, she makes sure to drink lots of water and lessen her rice intake.

6. She invests in the basics when it comes to fashion.

In an industry where people sacrifice comfort for style, Jasmine prefers practical items that allow her to move. Her wardrobe consists of black and white tops and an assortment of shorts and loose dresses. You can shop like this top model by scouring her favorite retail stores: H&M abroad and Forever 21 right here in Manila.

7. She has big plans for the future.

In five years, Jasmine hopes to be settled down--and still successful. "Nakatira sa mansion, may maraming cars, at may husband na" she says her goals are. But in the meantine, she's enjoying her time in the spotlight and believes that aspiring models can achieve her success, too. Her advice to girls who want to follow her footsteps: "Just pray, think big, and feel it here (points to her heart)."

Launch the gallery to see behind-the-scenes photos from Jasmine's "Cosmo's 8 Sexiest" shoot!


Grab a copy of Cosmopolitan Philippines' November 2011 issue with Carla Abellana on the cover to see who else made it to this year's "Cosmo's 8 Sexiest" fashion editorial!
Continue reading below ↓
Recommended Videos
1609