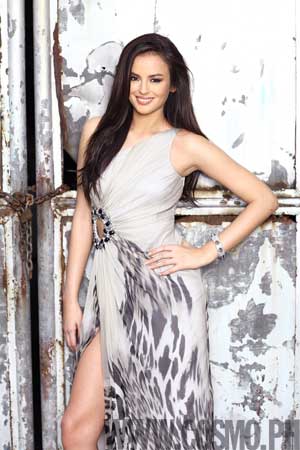 Let's face it: even a season as joyous as Christmas can be tainted by some difficult, drab, and disappointing life situations (just look at what's making headlines in newspapers and television to see what we mean). And it's not like there's a holiday for our own personal woes, right? In spite of that, we Cosmo girls can add glitter and cheer to any scenario, armed with just our winning smile, our unique sense of style, and our arresting presence. That is actually the concept behind Cosmo's cover story this month, featuring the incredibly gorgeous model and TV personality Georgina Wilson.

Cosmopolitan art director Red de Leon shared that Cosmo decided to put together contrasting elements For this cover shoot: the uber-glammed up Georgina, decked out in the most party-ready outfits, and a rugged, industrial setting as backdrop. Stylist Sidney Yap picked clothes that are perfect for the holidays, made of head-turning materials like sultry sheer, glittering sequins, feminine jersey knits, and fierce fur and fringes. Most of them were done in solid neutral shades like black, white, and red, with an ample splash of metal and beadwork.

But allow us to share a little trivia about this month's cover: Georgina's cover outfit was actually a flowy backless mini dress which she wore backwards, held together by pins, knots, and clips. See what stylish wonders you can come up with when you learn how to improvise with clothes!

Check out how the dress really looks when you launch our gallery of outfits, shoes, and accessories used in the shoot.

Get the latest issue of Cosmopolitan, with Georgina Wilson on the cover, in stands now!
851
Continue reading below ↓
Recommended Videos