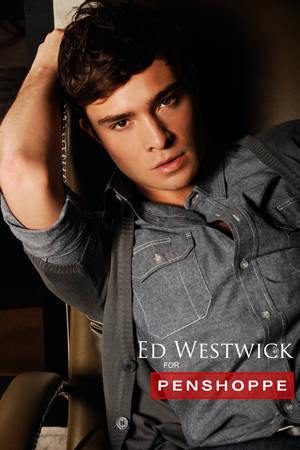 When your beloved Ed Westwick came to Manila to shoot his campaign for his latest endorsement, local fashion brand Penshoppe, he spent most of his time out of the public's eye. But now, you'll see just what went down in those hush-hush photo shoots. We know you've already gazed lovingly upon the billboards of this sexy bad-boy icon all over the metro. Now, Cosmo.ph shows you something more: a behind-the-scenes look at his fashion shoot for the brand!

The international actor, best known for playing Chuck Bass in the CW TV series Gossip Girl, was chosen to be the face of Penshoppe's pre-Holiday 2011 to Summer 2012 collection, which are made up of casual yet sophisticated wardrobe staples. In his press conference at Salon de Ning in Manila Peninsula, he identified what garments he particularly loves in the collection. Find out what they are in the Q&A below, and check them out in the stores if you want Ed-approved outfits for your guy!

Read on for more of Ed's interview with the Philippine media--we're only posting NOW the fashion-related questions from the original presscon excerpts posted here. Learn his personal sense of style, dressing for the role of Chuck Bass, and why he agreed to be the new (gorgeous) face of this Pinoy brand! Then, make sure you browse through the gallery of behind-the-scenes photos of Ed at his Penshoppe shoots, plus some photos from the press event.


Q: Penshoppe has prepared a great collection of clothes for you. Do you think they're more Ed Westwick than they are Chuck Bass?

Ed: I think that they're a combination, actually. But we tried to pick clothes that were more what I'd wear. So, you won't see many multi-colored bowties or anything like that. But it was a great combination, you know. I'm wearing some of the stuff right now. I'm a really big fan of this coat, and what I'm wearing (Ed's note: Click here to see that coat on the runway, and check out the gallery to see it on Ed!) They've got really great denims, really great shirts, really great jackets. We're trying to show everything that people could wear--a great range of stuff.

Q: There's definitely one thing you and Chuck Bass both have--a great sense of style and fashion. Do you agree?

Ed: Well, like they say, it's nice to look nice. And I think fashion is a very important part of our lives in this day and age; it's self-expression and self-reflection. It's kind of like a knight going into battle: you get dressed wearing the clothes you want to wear, and it makes you feel confident, makes you feel good. That's the approach I have, definitely, when working with my character for Chuck Bass. He's somebody who's got a very unique sense of dress and a very strong sense of dress. That sort of makes it so much for fun for me to play. I get to dress up in really fantastic clothes.

Q: What made you say yes to this campaign with Penshoppe?

Ed: Well, I think Penshoppe is such a strong brand. It's an ambitious brand, and they're celebrating their 25th year, this year. Just from seeing some of the clothes and getting to know some of the people in the company, [I know] they have a very strong vision of what they want to do. They've got really nice pieces--taking elements of high fashion and making them accessible… It is very fashion-forward. And to work with the Penshoppe company, [I] got to know different regions around the world… [I] got to know the different fashions… I enjoyed getting to know the culture around this part of the world. It's my first time in the Philippines.

So, you know, it was the perfect thing. We could tie it together and make it happen.

Q: You're following a pretty strong roster of past and present local Penshoppe endorsers (including Akihiro Sato, Solenn Heussaff, Victor Basa, and Bea Soriano). What new thing have you brought to the table?

Ed: I'd like to think I brought a lot of my personality to it. You know, I'm somebody who's driven, somebody who's ambitious, somebody who's approachable, and somebody who's always out to bring the best. I think that's what Penshoppe is trying to do. It's also got international appeal. It's something that I'm hoping I bring--you know, a global kind of feature. It's not just something to be localized to the Philippines, and I'm not somebody who can just be tied to the United States or to England…


Launch the gallery to view behind-the-scenes photos from the shoot, the final images, and event photos--all with Ed in them.
Continue reading below ↓
Recommended Videos
1384