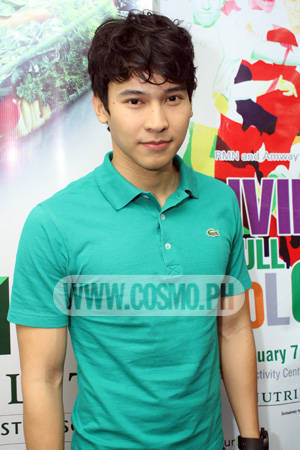 If you think achieving and maintaining a healthier lifestyle sounds like a lot of work, just think of the benefits in the long run! It also helps when you've got role models who inspire you to live healthy like they do. One such example is actor and champion swimmer Enchong Dee.

This heartthrob is described as the epitome of clean and healthy living. Enchong engages in several sports, not just swimming, and makes sure to eat healthy everyday. He also makes sure to take the right vitamins and minerals.

His healthy lifestyle is not lost on a lot of wellness brands, which is why one of them, Nutrilite, a brand of vitamins, minerals, dietary supplements, tapped him to be its newest ambassador. We attended Nutrilite's day-long event at Market! Market! to get the chance to ask Enchong himself for tips on how you, too, can follow his healthy lifestyle. Read our Q&A with him below, and launch the gallery after to view some photos from the event.

How do you stay fit?

If I can't go to the swimming pool, I run around the village. And of course, through healthy eating, balanced meal everyday, every single time I eat.

What diet do you follow?

Eat everything, but make sure you're going to work it out. Kumbaga gumagalaw ka. The amount you eat, gumagalaw ka rin, ganoon din.

How often do you swim?

I make sure na kahit once a week, I go to the pool.

What are the benefits of swimming as a sport?

It's the one na pinaka-less 'yung injury. Another thing is, kung may hika ka, sobrang good 'yon. And of course, the discipline involved.

Apart from swimming, what other sports do you do?

I run, bike, and walk. Keep on walking.

What healthy habits can you share with our girls?

Water. Dapat sobrang you constantly drink water. Kung lalampas sa eight servings, okay lang 'yon. Second is, tamang bilad lang sa sunlight. Third, ihiwalay mo lang 'yung taba sa mga kinakain mo. 'Yun lang 'yon. 

How do you fight stress?

Don't forget to smile when you wake up. Nakakatulong 'yon. And when you smile, some people, nadadamay sila sa pag-smile mo. 

If our girls would like to get into a sport for the first time, what should they remember to do?

[Invest in] shoes and [do] exercise. Or [pick a] sport na mag-e-enjoy ka, hindi 'yung napipilitan ka, because if you do 'yung napipilitan ka lang, magsa-stop siya at a certain point and tatamarin ka lang. Hindi mo magagawa 'yung pagiging healthy.

What's the state of your heart right now?

Healthy and colorful.

Is there anything you're insecure about, physically?

Insecurity ko is, takot ako talagang makalbo.

What's your favorite part of your body?

Favorite part ko would be, ngayon ko lang na-appreciate 'yung eyes, because it's the window to your soul and your emotions.


Launch the gallery to view photos of Enchong from the Nutrilite event.
Continue reading below ↓
Recommended Videos
1805